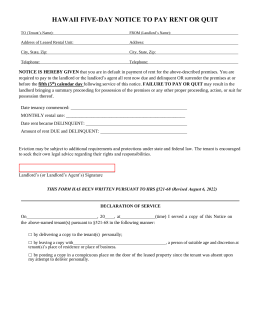 The Hawaii 5-Day Notice to Quit (Non-Payment of Rent) is a document typically delivered to the tenant in person which details the breach (failure to pay rent) and when the amount needs to be paid in full or else an eviction will take place. Upon delivery of the notice, the tenant will have no less than 5 business days to pay the unpaid rent in full and if done so successfully, the tenant may continue to remain on the property.
The notice should naturally be served to the tenant in person but if the tenant is absent during that time, the landlord may post the notice in a conspicuous place on the dwelling unit. If the tenant remains in default after the allotted period of time (which can't be less than 5 business days), the landlord may bring a proper proceeding, action, or suit for possession against the tenant.
Laws – § 521-68
How to Write
Download: Adobe PDF
Step 1 – The landlord of the tenant in default must fill in the following information before serving the tenant this notice.
Start by filling in the tenant's name, address, city, state, zip code and telephone number.
From there enter in your (landlord's) name, address, city, state, zip code, and telephone number on the right.
Enter the date the tenancy commenced
Enter the date the rent become delinquent (late)
Enter the amount of rent due
Step 2 – Complete the Declaration of Service (this part should be filled out after the notice was served to the tenant).
Enter date served to tenant
Check the method in which the notice was served
Enter the date served again
Complete the form with a Signature of Server & Printed Name of Server, Signature of Witness & Printed Name of Witness, Signature of Tenant