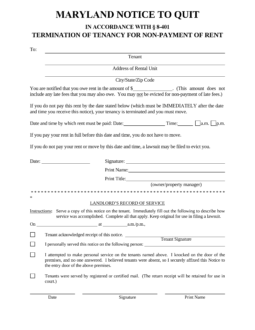 The Maryland immediate notice to quit is a document that is sent by a landlord to their tenant, out of courtesy, to notify them that they are late on their monthly payment. This form is not required to be given to the tenant and, at the landlord's option, may choose to not give this form to the tenant and proceed with a legal eviction (known as a Summary Ejection) by filing the Complaint Form.
Laws – § 8-401
Guide – Frequently Asked Questions (FAQ's) on the process when a Tenant does not pay rent.
How to Write
Step 1 – After downloading the document you will want to begin filling in the document by entering the Tenant along with their address (same as the property for which rent is late).
Step 2 – Enter the amount that will be required to be paid including any and all fees associated with the late payment.
Step 3 – The date the rent should be paid by should be written (5 days is recommended).
Step 4 – The sender should sign the form and continue with the Certificate of Service and deliver the document to the tenant by personally giving to them, place on their door, or send via certified mail.