Updated March 27, 2023
A catering invoice is a document that details the billing and payment that occur in relation to the catering of a special event. The caterer(s) will go over the event and what kind of event the client would like to create. The caterer would then collect (usually a non-refundable) deposit to secure all aspects of the catered event and provide the client with the date in which the remainder must be paid in full (usually just prior to the event taking place). The invoice will provide all of the pricing and service information needed, as well, an attached document that will collect all of the client's preferred payment information.

Reasons for Using a Catering Invoice
Provides clients with an itemized list of services and costs, and specifies payment terms.
Serves as both a summary of work and a formal written request for payment, and should be considered an essential document in any catering job.
Step by Step: How to Cater an Event
1. Receive inquiries from client
Clients often shop for multiple caterers before choosing who to hire. When a caterer receives an inquiry, they should take it as an opportunity to prove their chops by asking the right questions and demonstrating mastery of the trade.
Some basic details are needed to formulate an estimate: Is there a general price range that the client has in mind? Will alcohol be served? Are other ancillary services required? Depending on the circumstances, food prep may be done either on-site or remotely; on-site service is usually preferable, but it can cost more.
2. Take a headcount and give a quote
With an expected headcount and some critical event specs, the caterer should provide a written quote. Remember that there may be potential for negotiation, so a proposal for services should not be delivered in final terms. If a client is unhappy about the suggested parameters, the quote might be altered by changing the menu or service plan.
The quote should specify payment terms too. Will an upfront deposit be required? When is final payment due? What about adjustments to the initial quote in response to price changes or other variables?
3. Negotiate and Draft an Agreement
After coming to a price on the catering event, a contract should be written between the caterer and the client. Use a simple agreement and is recommended to collect a non-refundable deposit of at least 50% of the total amount.
---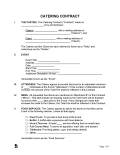 Download: Adobe PDF, MS Word, OpenDocument
---
4. Prepare staff and food
Readying for an event means more than just gathering ingredients or prepping dishes. Successful catering turns on careful staff preparation. Team members should be clear on their responsibilities going in. Some caterers even use software programs such as CaterPro, Event Master, or others to diagram floor plans, map workflow, and generally prepare the whole team for the event.
5. Deliver service in a professional manner
Good food cannot offset any lackluster service. Execution should be meticulous, regardless of how "discerning" the client may be.
6. Complete and deliver Catering Invoice with final adjustments
When ready to request payment, deliver the invoice to the client. Some late-hour changes may be necessary, if, for example, prices for critical ingredients have changed, or the headcount has been revised upward.