Updated August 31, 2023
A Georgia notary acknowledgment form acts as an affidavit to establish the authenticity of signatures on a document. The acknowledgment form must be attached to the original document; alternatively, the acknowledgment language can be placed within the document itself. The notary acknowledgment form is to be completed by a notary, or other public officials, after verifying the identity of all signing parties and witnessing the signing of the document. Signature fields are to be filled in before presenting the document to the public official, however, signatures can be completed in the presence of the notary instead. A document is considered "acknowledged" once the notary signs and seals the acknowledgment form.
Laws – § 45-17-8
Notary Handbook – The Georgia Notary Handbook is the ultimate guide to notary law, and includes procedures, guidelines and tips concerning notarial responsibilities and duties.
How to Notarize in Georgia (5 steps)
1. Find Notary
Those in search of a notary can visit one of the following public places (there are many other locations where notaries are employed):
Banks or Credit Unions (Wells Fargo has the most branch locations in Georgia)
Verify a Notary in Georgia (3 steps)
Step 2
To verify a notary public, searchers must enter at least one of the following criteria into the search engine:
Name
County
City
Postal code
Appointment date
Expiration date
Email
Click Search to proceed.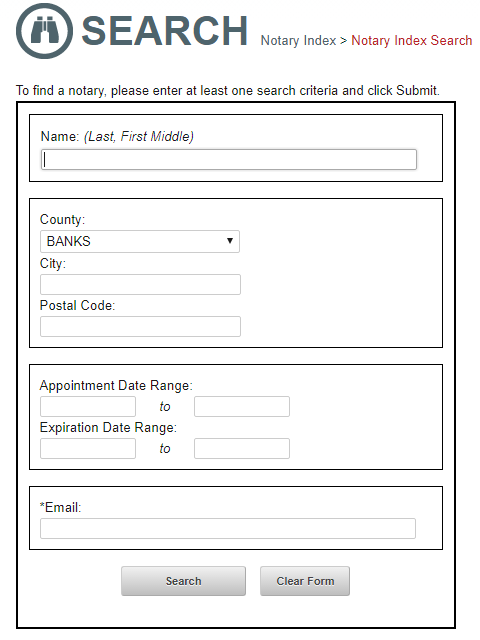 How to Write (For Notary)
Step 1 – Download form in PDF, Microsoft Word, or OpenDoc.
Step 2 – Enter the following information into the first five (5) empty fields:
County
Day
Month
Year
Name of signer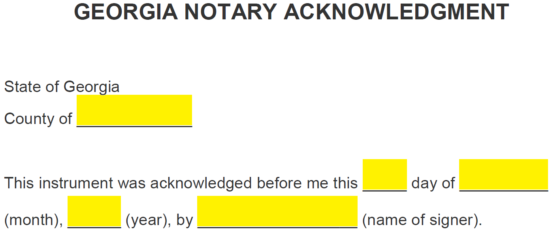 Step 3 – The notary must put a checkmark beside either "Personally Known" (if notary recognizes signer personally) or "Produced Identification". If the latter was selected, enter the type of ID and the ID number. Lastly, notary must include their seal, signature, and printed name.