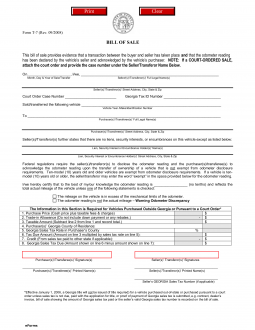 4.8 Stars | 87 Ratings
1,243 Downloads
Updated August 16, 2023
A Georgia bill of sale legally transfers the ownership of personal property in exchange for cash or trade. The buyer and seller are required to sign the document and it should be kept for accounting purposes by both parties.
For a vehicle transfer, the seller must sign over and send the Certificate of Title that allows the buyer to register.
Forms (4)
Vehicle Registration Forms
Vehicle's Original Valid Title (if the title is not available, a Manufacturer's Certificate of Origin (MSO) or a Certification of Inspection from non-title state/county);
Valid Georgia Driver's License or State ID;
Proof of Insurance, via one of the following:

Filed by your insurance company directly in the Department's database; or
Insurance Binder showing insurance liability coverage;

Title Registration and Transfer Fees;[1] and
Motor Vehicle Power of Attorney Form, if an agent shall represent the seller in the transfer of the vehicle.
Boat Registration Forms
Bill of Sale or other valid proof of ownership;[2]
Original Certificate of Title or Current Registration (only for out-of-state titles transfers);
Manufacturer's Certificate of Origin (only required for brand-new boats);
Valid Photo ID or Proof of Identity; and
Registration fees[3] ($35-$210, depending on the boat's length).
Sources