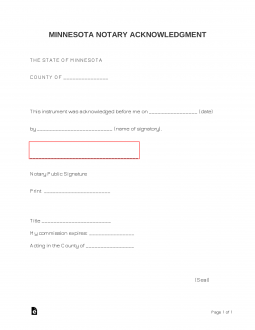 A Minnesota notary acknowledgment form is a document which is used to authenticate the signing of a legal instrument. Certain legal documents, such as a transfer of ownership, a living trust form, or a power of attorney, may require notarization in order to be valid. In order for an individual to have their document notarized, they will need to fill out their document and bring it, along with the notary acknowledgment form, to a notary public. After identifying themselves to the notary, the individual can sign the document with the notary as a witness. Upon witnessing the signing of the document, the notary will fill out the acknowledgment form, furnishing it with their signature and seal.
Laws – § 358.66
Notary Commission Guide – A guidebook describing how to become a notary in Minnesota and what their responsibilities are.
How to Notarize in Minnesota
Step 1 – Locate a notary public in your county. Notary publics can often be found at any one (1) of the following three (3) locations:
Banks or Credit Unions (Wells Fargo has the most branch locations of any financial institution in Minnesota)
Step 2 – Fill out the documents that you need to have notarized, but do not add your signature at this time.
Step 3 – Bring your completed documents, with the notary acknowledgment form attached, to the notary public and identify yourself to them by providing ID.
Step 4 – Next, you must sign the document in the notary's presence.
Step 5 – The notary will fill out the notary acknowledgment form, providing their signature and seal. Once this has been accomplished, your document is notarized.
Verify a Notary in Minnesota
Step 1 – Navigate to the Secretary of the State's notary search webpage.

Step 2 – Locate the search window and enter one or more of the following pieces of information into the indicated field(s):
Name, partial name, or commission number
City/town
County
If you would like to include inactive notaries in your search, check the appropriate checkbox. When you're ready, click any one (1) of the green GO buttons to continue.

Step 3 – After performing a search, a list of your search results will appear beneath the search field. You will be able to view the name, commission number, business, city, county, and status of each notary that fits your search criteria.

How to Write (For Notary)
Step 1 – Download the Notary Acknowledgment Form in one (1) of the following formats: Microsoft Word, PDF, or .ODT.
Step 2 – Enter the name of the county that you are in, the date, and the name of the person whose signature you are witnessing.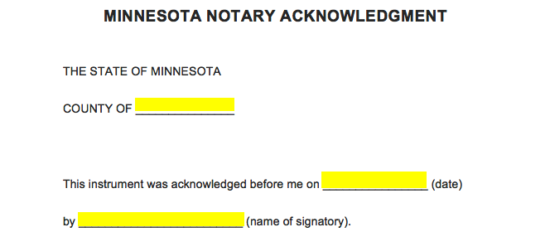 Step 3 – Next, provide your signature, printed name, title, commission expiration date, and your associated county. Below that, provide your stamp or seal where indicated.