Updated September 01, 2023
A Missouri notary acknowledgment form is a document filled out by a notary public in order to notarize the signature of a legal instrument. A notary acknowledgment is required by law for certain documents to be considered valid, such as property transfers, living trusts, and power of attorney forms. This type of notarization certifies that a person's signature is authentic and that they intended to sign and did so under their own free will. To get a document notarized, you will need to present yourself to a notary with a valid piece of ID and sign your document in their presence. The notary public will fill out the acknowledgment form and furnish it with their signature and notary seal.
Laws – § 486.330
Missouri Notary Handbook – A guide that explains the rules and regulations for notaries in Missouri.
How to Notarize in Missouri (4 steps)
1. Find Notary
In order to have a document notarized in Missouri, one must first find a notary public who can notarize your document for them. If they do not already know a notary, they can try using one of the resources provided below.
Banks or Credit Unions – U.S. Bank has the most bank locations in this state.
2. Fill Out Documents
Next, completely fill out the legal documents that you need notarized. It is optional to sign the document in front of the notary when a document only requires a notary acknowledgment. Print out a copy of the Missouri Notary Acknowledgment Form and attach it to your document before bringing this package to the notary. You must also bring at least one (1) piece of identification, preferably a state-issued photo ID.
Verify a Notary in Missouri (3 steps)
Step 2
To perform a search, enter the information listed below into the search field to be used as your search criteria (enter at least one (1) item).
First name
Middle name
Last name
County of commission
Commission number

Step 3
A list of your search results will appear beneath the search field. Click 
Next 
to look through all of the notaries who match your search criteria.

How to Write (For Notary)
Step 1 – First, download the Missouri Notary Acknowledgment Form in one (1) of the following formats:
Step 2 – On the form, you will need to enter the name of the city or county that you are acting in, the date, the name of the signatory, and the type of document that you are witnessing.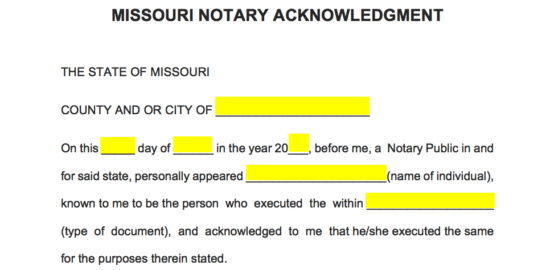 Step 3 – At the bottom of the form, supply your signature, printed name, and your notary seal or stamp.