Updated September 01, 2023
A North Carolina notary acknowledgment form is used to verify signatures on a legal document. The notary public must verify the individual's identity and confirm their intention to sign the document before filling out the acknowledgment form. Once the notary public has applied their signature and seal or stamp, the document is notarized. North Carolina is one of the few states which offers an e-notary service that enables people to obtain notarization electronically for a digital document, in which case the acknowledgment form is unnecessary. However, remote notary acknowledgment is still prohibited at the time of this writing.
North Carolina Notary Public Manual – Contains instructions on how to become a notary public, and practice like one, in North Carolina.
North Carolina Notary Information Webpage – Webpage full of resources for a notary public, provided and maintained by the North Carolina Secretary of State.
How to Notarize in North Carolina (4 steps)
1. Find Notary
In order to secure a notary acknowledgment, you will need to find a notary public near you. A North Carolina notary public can be found using the following resources:
Once you have found a notary public, schedule an appointment to have your document acknowledged.
Verify a Notary in North Carolina (3 steps)
Step 1
Click here
to navigate to the North Carolina Secretary of State's notary public search webpage.

Step 2
Enter the location that you would like to search into the blank field or leave it blank to use your current location. Next, indicate the number of miles from the current location, and/or county served, and/or languages that you wish the notary to be capable of speaking. If you prefer to have your document notarized by e-notarization, click the checkbox that says "Available for E-Notarization" before clicking 
Search
.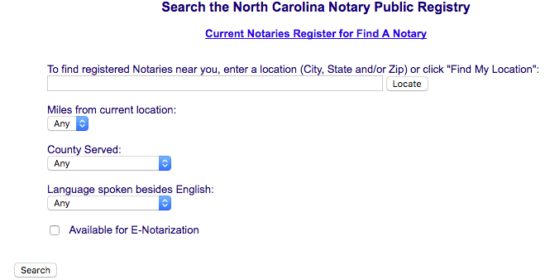 Step 3
Your search results will appear on a map below the search field with each notary public's information displayed in the window to the right. Click the different numbers at the top of the window to navigate through the different notary publics who fit the search parameters that you applied.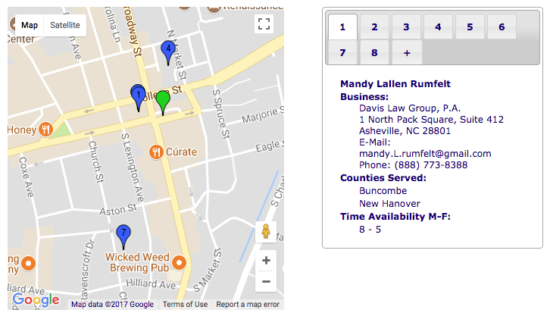 How to Write (For Notary)
Step 1 – Download the PDF, Microsoft Word, or OpenDoc version of the North Carolina Notary Acknowledgment form.
Step 2 – Enter the name of the county in which you are active and the name of the person whose signature you are acknowledging. Below that, enter the current date.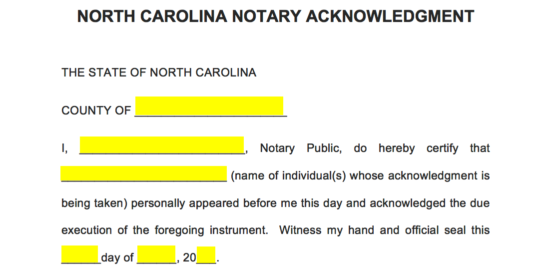 Step 3 – Sign the document in the indicated field and, below that, provide your printed name, commission expiration date, and notary seal/stamp.