Updated January 09, 2023
A Virginia notary acknowledgment form is a document used by a notary public to verify signatures on official paperwork. The individual requesting verification must appear before the notary public in person and present their documents. After the notary has confirmed the identity of the individual and ensured that their signature has been given willfully, the notary will complete the transaction by filling in the notary acknowledgment form and providing their official stamp/seal. Notarization of this variety is often required for mortgages, deeds, living trusts, and other documents that must be authenticated by an official.
Laws – § 55-118.6
Notary Handbook – A general guide that provides information on the State commission requirements as well as the powers, duties, limitations, and liabilities of notaries operating in Virginia.
How to Notarize in Virginia
Step 1 – Review the following list to locate a notary public near you:
Local Bank or Credit Union (BB&T has many locations in the State)
Step 2 – Make sure the documents being notarized have been filled in before being brought to a notary public. However, you may omit your signature until requested by the notary, though this is not required.
Step 3 – Take your prepared documents to the notary public for examination. At this point, you may be required to pay a service fee depending on where you've decided to have your signature authenticated.
Step 4 – The notary public will be required to identify you in order to confirm that you are in fact the individual mentioned within the documents. Unless you are personally known to the notary, you may provide one (1) of the following forms of identification:
US passport
Certificate of US citizenship
Certificate of naturalization
Unexpired foreign passport
Alien registration card with photograph
State-issued driver's license
State­-issued ID card
US military card
If none of the aforementioned identification documents are available to you, an oath or affirmation may be made by a credible witness to attest to your identity. This individual must be unaffected by the document's transaction and must be personally known to both you and the notary. You may alternatively have two (2) credible witnesses (personally known to you and unaffected by the transaction) make an oath or affirmation. These individuals must provide proper identification to the notary.
Step 5 – After the notary public has inspected your documents and confirmed your identity, you will be required to provide your signature to your documents. If your documents have already been signed, the notary will request that you confirm the validity of the previously written signature. The notary public will then complete the acknowledgment form to authenticate your signature.
Verify a Notary in Virginia
Step 1 – Click here to access the Virginia notary search portal. Once there, locate the "Search" heading.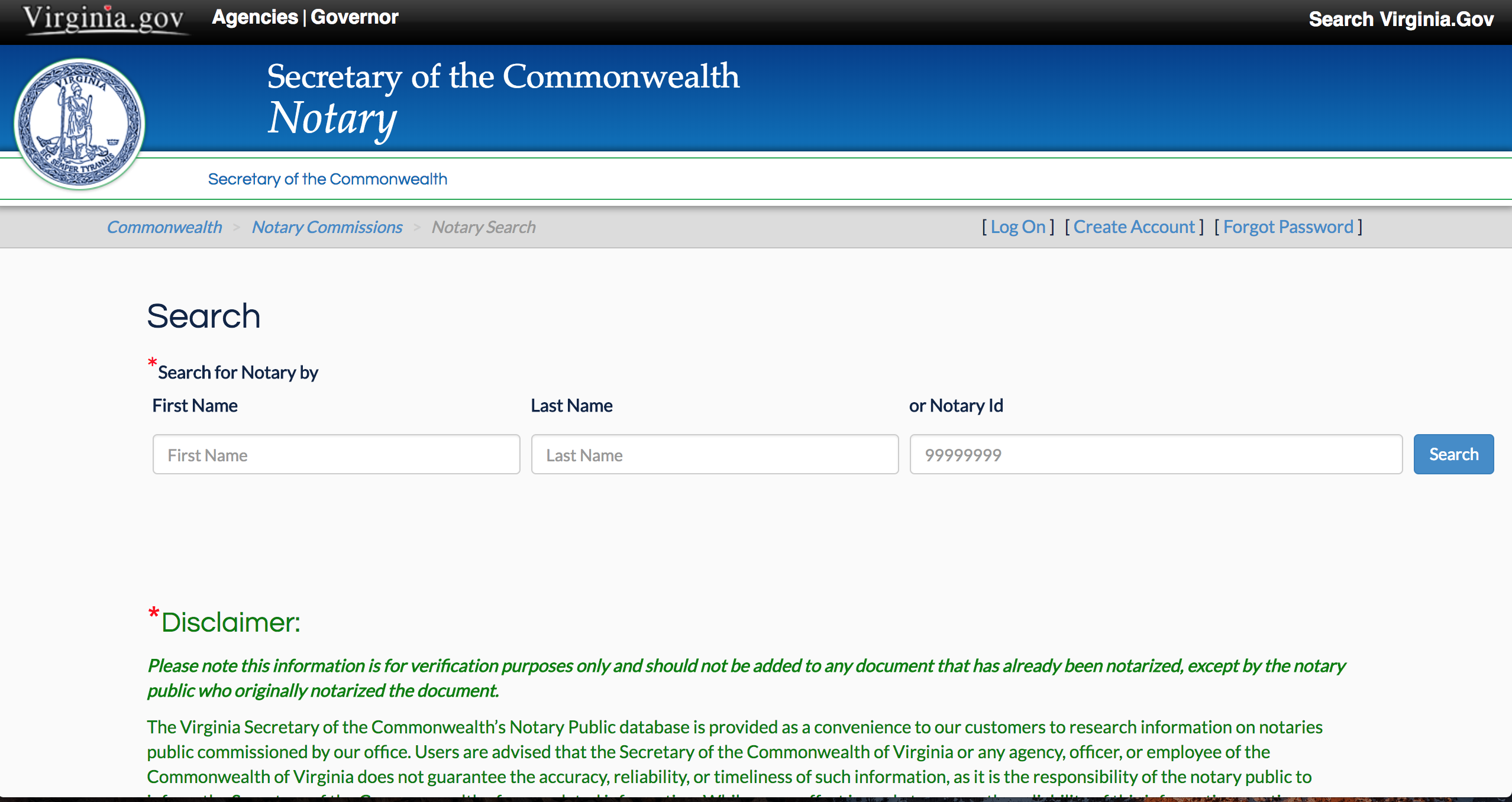 Step 2 – In the empty search fields, enter a notary's first and last name or a notary ID number. Click Search to submit your request.
Step 3 – The following page contains a list of each notary registered under the name or ID number provided in your query. This list also shows the notaries' registration numbers, commission expirations dates, and their current status.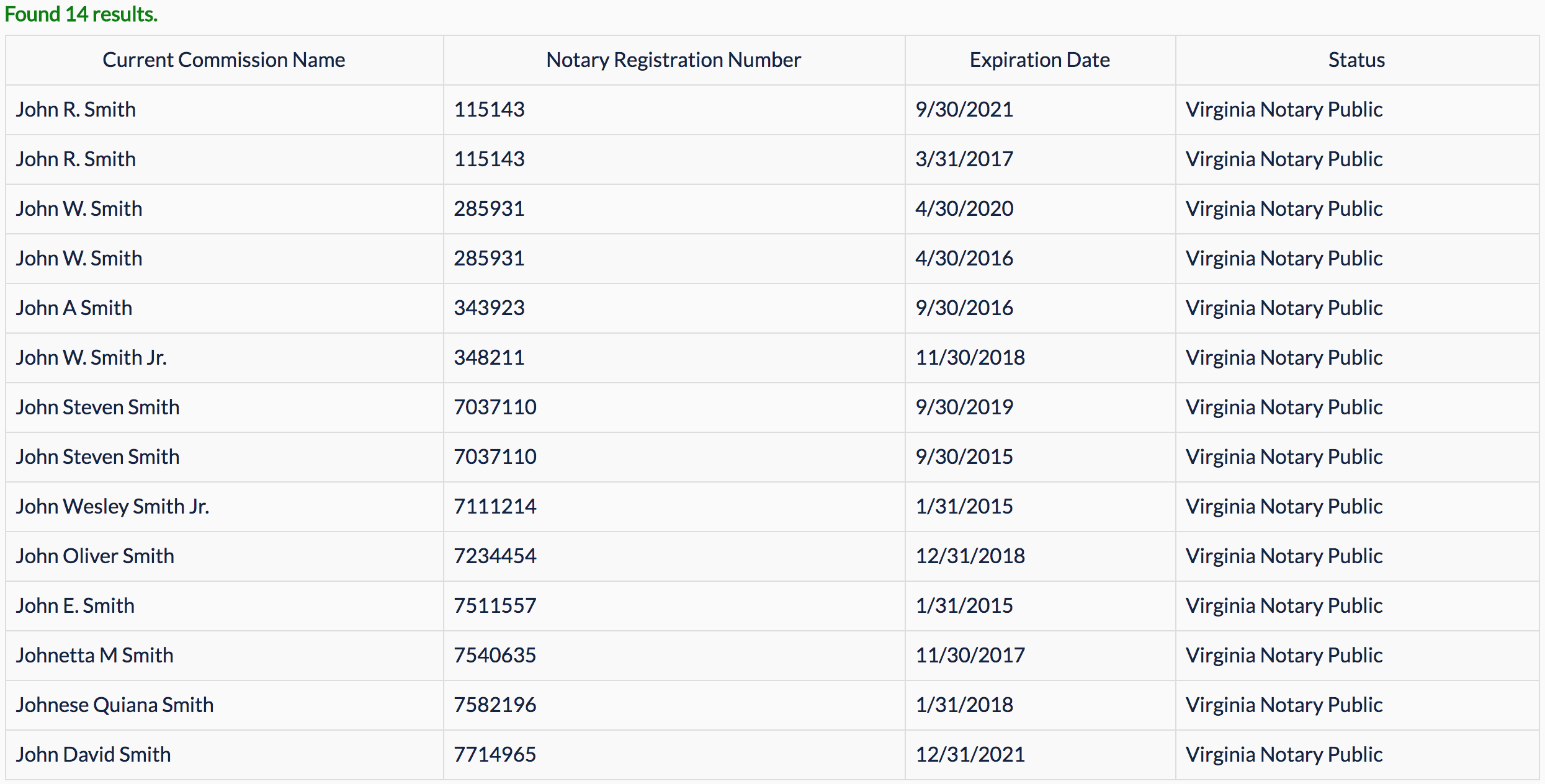 How to Write (For Notary)
Step 1 – The Virginia notary acknowledgment form is available for download in Adobe PDF, Microsoft Word, and Open Document Text.
Step 2 – Enter the county name in the first available field. Below that, provide the date of acknowledgment followed by the name of the person being acknowledged.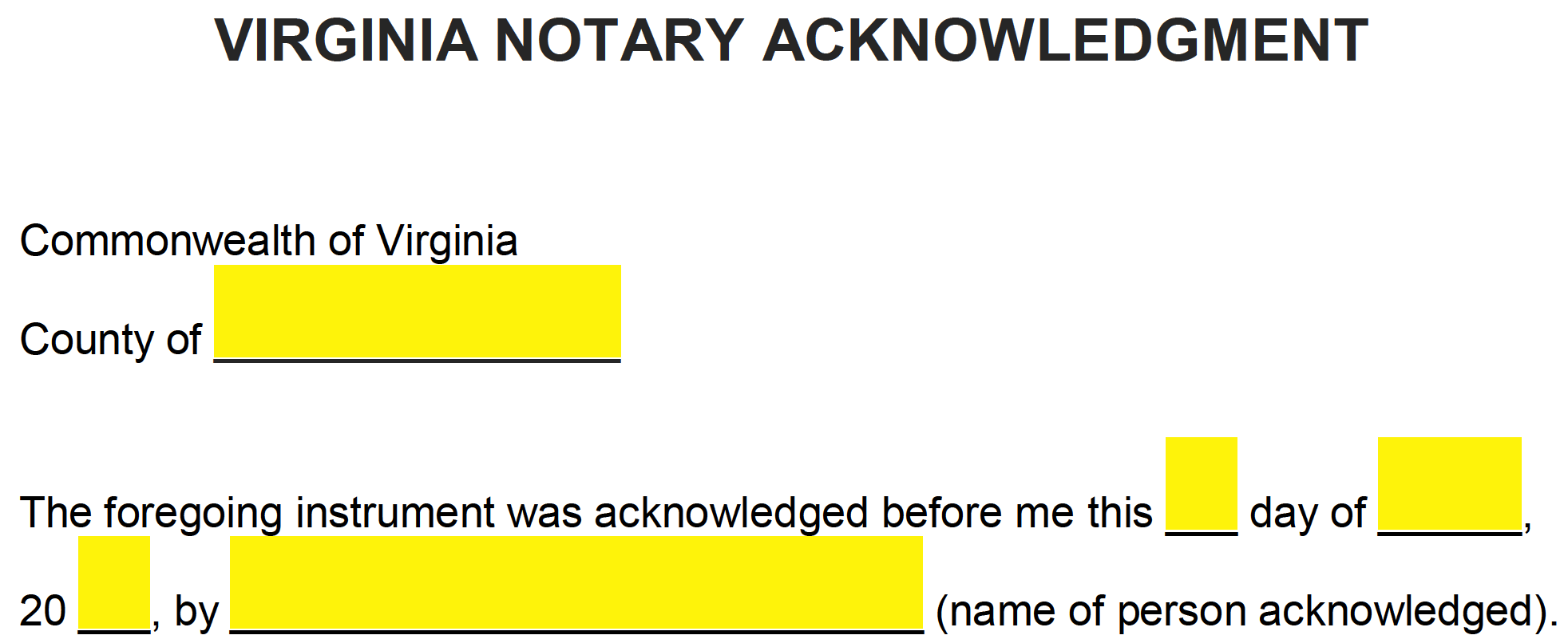 Step 3 – The notary public must supply the following information in the remaining spaces:
Signature
Registration number
Commission expiry date
Steal/Stamp