Updated August 09, 2023
A Wisconsin durable statutory power of attorney form is used to authorize a person ("agent") to handle the financial affairs of someone else during their lifetime. The person giving power ("principal") is recommended to choose a trusted person to be their agent such as a spouse, family member, or close friend. The form may only be canceled if revoked by the principal, otherwise, it will continue even if the principal should become incapacitated ("durable").
Versions (2)
---
Download: PDF, MS Word, OpenDocument
---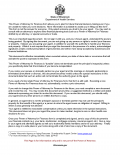 Dept. of Health Services Version (Form F-00036)
Download: PDF
---
Laws
Chapter 244 (Uniform Power of Attorney for Finances and Property)
Definition of "Durable"
"Durable power of attorney" means a power of attorney that is not terminated by the principal's incapacity (WI Stat § 244.02(3)).
Definition of Power of Attorney
"Power of attorney" means a writing or other record that grants authority to an agent to act in the place of the principal, whether or not the term power of attorney is used (WI Stat § 244.02(9)).
Signing Requirements
The principal must sign before a notary public. The agent must also sign in the presence of a notary public on the Agent Certification if the form is used and attached to the power of attorney (WI Stat § 244.05).
Statutory Form
Wisconsin's statutory durable power of attorney can be found in WI Stat § 244.61.
How to Write
Download: PDF, MS Word, OpenDocument
Designation Of Agent
(1) Name Of Principal. The Principal of this Wisconsin document is the Private Party seeking to approve of at least one person to wield the authority needed to carry out his or her directives. As the Wisconsin Principal issuing this document, you will need to make sure your full name is attached to this role.
(2) Name Of Agent. As mentioned earlier, you must approve of at least one Party to act with the same authority you carry for the purpose of this document. This Party can also be referred to as a Wisconsin Attorney-in-Fact. Document the full name of the Wisconsin Agent who will bear your principal authority when carrying your directives.
(3) Agent's Address.
(4) Agent's Telephone.
Designation Of Successor Agents
(5) Name Of Successor Agent. If desired, you may wish to take the precaution of holding an Agent in reserve who can take over the Wisconsin Attorney-in-Fact role should it become vacant. While the Agent you originally chose for this role may be exceptionally reliable, unforeseen circumstances may prevent him or her from effectively filling the Attorney-in-Fact role for the Principal. For instance, he or she may suffer a traumatic medical event, relocate for a job, or the granted powers may have been revoked. To address this issue before it occurs, you must name a Successor Agent as the Party eligible to assume the role of your new Wisconsin Attorney-in-Fact. This also requires a report on the Successor Agent's address and telephone number.
(6) Name Of Second Successor Agent. If your Wisconsin Attorney-in-Fact is disqualified or unable to fill this role at a time when the First Successor Agent cannot act as your Attorney-in-Fact as well, you may still ensure continuous representation by documenting a Second Successor Agent's name, address, and telephone number.
Grant Of General Authority
(7) Principal Approval. Your approval for the Wisconsin Attorney-in-Fact's use of your principal authority will be considered mandatory by the greater majority of Entities that your Agent will deal with on your behalf. Thus, a list of topics is presented with an appropriate area to supply your initials as proof that your Wisconsin Attorney-in-Fact carries approval to act in your name. You may initial one of these powers (i.e., Real Property) to allow your Agent to act in your name only in that matter or as many as needed (i.e., Real Property, Tangible Personal Property, Banks And Other Financial Institutions, etc.) to fully cover the subjects you are granting power of attorney over to your Agent. Any initialed power description will be considered an approved power of your Wisconsin Attorney-in-Fact while those left blank will be restricted from his or her actions or decisions. If desired, you may also initial all powers, but it is strongly recommended that you are sure that the Agent you have chosen will reliably carry out your wishes (even if you are incapacitated) at all times.
Special Instructions
(8) Provisions Of Authority. The previous list allows you to grant general principal authority to your Agent over a particular subject matter(s). If desired, you can follow-up on your approval by including conditions or restrictions. Similarly, you may wish the Agent to keep certain instructions in mind. As the Wisconsin Principal, you must set all your directives, provisions, or Agent restrictions in writing within the content of this document by the time it is signed so that they can be applied correctly to the authorization it delivers.
Nomination Of Guardian
(9) Name Of Nominee For Guardian Of My Estate. If you are incapacitated and the State of Wisconsin has determined that a Guardian to your estate is warranted, then the courts will be charged with determining the identity of the Guardian to your Estate. You may use this document to make a nomination to this position by listing the full name, complete address, and telephone number of the Party you wish to be your Wisconsin Guardian of Estate. This can be anyone that you believe is qualified and reliable enough for this role. Wisconsin Courts will not be obligated to accept your nomination however, oftentimes the Principal's nomination is taken into heavy consideration.
(10) Name Of Nominee For Guardian Of My Person. Wisconsin Courts may determine you require a Guardian of Person should you be incapacitated for a long period. If you wish a specific person to hold this role, then you may nominate them through this document (before you sign it). This requires the Nominee's full name to be attached where requested.
Signature And Acknowledgment
(11) Your Signature. You must sign this document before a Wisconsin Notary Public on the reported date. Ideally, your Attorney-in-Fact will be present to complete a section devoted to him or her, but this may happen at a later date. To grant the Attorney-in-Fact of this document, your principal authority according to the conditions of the completed template, sign your full name.
(12) Your Signature Date. Record the current date as soon as you have completed your signature.
(13) Printed Name, Address, Telephone Number. Your printed name, address, and telephone number are required to help identify you. Once this report is complete, follow the directions of the Notary Public.
Notary Public
(14) Notarization. The Wisconsin Notary Public overseeing your signature will complete the process of notarization with his or her own report on the signing coupled with the credentials and seal needed.
(15) Preparer.  If this document was attended to with information before or after the Principal's attention by a Preparer then the full name of the Preparer should be displayed.
Agent Acceptance
(16) Agent's Signature. The Agent has the option of providing an acknowledgment signature to the area devoted to the Wisconsin Attorney-in-Fact discussion.
(17) Agent's Date Of Signature.
Agent Authentication Of Power Document
(18) Location Of Verification. The Agent will serve to aid in verifying the validity of the power document with his or her own statement regarding the Principal's ability to sign. This begins with the state then the county where the Agent makes this statement.
(19) Name Of Agent.
(20) Name Of Principal.
(21) Power Of Attorney Dated. Your power of attorney signature date must be presented in the opening statement.
(22) Agent Observations. The Wisconsin Attorney-in-Fact can deliver comments, opinions, or any other relevant statement to the Principal signing of the power document.
Agent Signature And Acknowledgement
(23) Agent's Signature And Date. The Agent's certification of the Principal's signing must be signed by the Wisconsin Attorney-in-Fact and dated.
(24) Agent's Printed Name, Address, And Phone.   
(25) Notarize The Agent Testimony. After supplying his or her contact information, the Agent should relinquish this paperwork to the Notary Public in attendance to meet the notarization requirements on his or her signature.
Related Forms
---
Download: PDF
---
Download: PDF
---