Updated September 19, 2023
A Louisiana property management agreement defines the terms and conditions of the business arrangement between an owner of residential or commercial property and the company/individual they hired to manage said property. This contract includes pertinent information concerning the property or properties in question and outlines the duties, responsibilities, and obligations of both parties. The owner agrees to compensate the property manager for their work and the manager will make sure the property is well taken care of. Duties of the manager may include renting out the property, dealing with tenants, calling for repairs, maintenance, or inspections, or advertising and showing the property.
Laws
Requirements (§ 37:1436) – It is unlawful for any person not licensed by the real estate commission to perform any real estate action, a category under which the act of property management falls.
Verify a Property Manager – Louisiana Real Estate Commission
Sample Agreements
---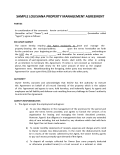 Louisiana Agreement Sample
Download: PDF
Management Forms (4)
---
Download: PDF, MS Word, OpenDocument
---
Download: PDF, MS Word, OpenDocument
---
Download: PDF, MS Word, OpenDocument
---
Download: PDF, MS Word, OpenDocument