Updated September 19, 2023
A North Dakota property management agreement is a contract entered into by two parties who wish to establish a business arrangement concerning the management of real estate. A property manager is an individual hired to perform a number of duties on behalf of the property owner. These duties include renting to tenants, repairs and maintenance, and advertising and marketing for the sale of the property. All the duties, obligations, and responsibilities of both manager and owner will be contained in the agreement as well as the length of the arrangement and termination options.
Laws
Requirements – A number of property manager duties are listed under the definition of a real estate broker in North Dakota real estate licensing laws (§ 43-23-06.1(9)); therefore, in accordance with § 43-23-05, no person may perform those duties without a license.
Verify a Property Manager – North Dakota Real Estate Commission
Sample Agreements
---

North Dakota Association of Realtors
Download: PDF
Management Forms (4)
---
Download: PDF, MS Word, OpenDocument
---
Download: PDF, MS Word, OpenDocument
---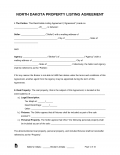 North Dakota Listing Agreements
Download: PDF, MS Word, OpenDocument
---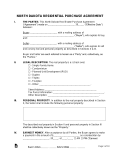 North Dakota Purchase Agreements
Download: PDF, MS Word, OpenDocument