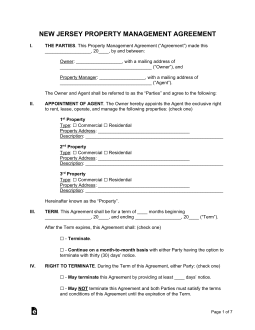 The New Jersey property management agreement is a professional contract that is used when a property owner hires a real estate broker to manage their property. Property management usually involves maintaining and improving the property, advertising and screening tenants for rentals, and providing the owner with a monthly financial accounting report. As payment, the manager will receive a portion of the rental income as well as the payment of fees for individual services.
Laws – Real Estate Property Managers Act of 2008
Requirements (§ 45:15-1, § 45:15-3) – Under State law, other than the property owner, only licensed real estate brokers can be property managers.
Verify a Property Manager – https://www.state.nj.us/
Related Forms
(Video) New Jersey Property Management Agreement – EXPLAINED