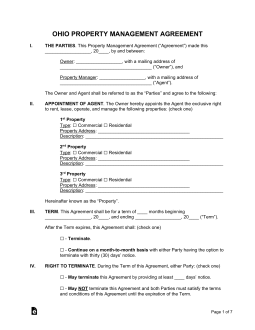 The Ohio property management agreement is a document that relays the terms of a working arrangement between an owner of property and a real estate broker who will act as their property manager. Property management is often handled by an agency, however, an individual may operate privately instead. The responsibilities of a property manager include property maintenance, advertising rooms for rent, and selecting tenants. In exchange for their work, a property manager is paid a percentage of the income generated from rent payments; alternatively, they may be paid a flat rate.
Laws – Property Management Laws and Regulations
Requirements (ORC 4735.01(A)) – Except for property owners and their regular employees, individuals must be licensed brokers to legally advertise, rent out, and manage real estate.
Verify a Property Manager – https://elicense3.com.ohio.gov/Lookup/LicenseLookup.aspx
Sample Agreement
Reserve Realty Company – Adobe PDF
Beacon Property Management and Realty, Inc. – Adobe PDF
Stark County Assoc. of Realtors – Adobe PDF
Related Forms
(Video) Ohio Property Management Agreement – EXPLAINED