Updated August 08, 2023
A North Dakota standard rental agreement is a legal document that outlines the rights and obligations of both a landlord and tenant in a rental contract. A standard lease is always for a fixed-term usually lasting for a one (1) year period. The landlord and tenant will commonly sign an agreement after the tenant has viewed the property and completed a rental application. The application will give the landlord the necessary information to run a credit check. After the tenant is approved, the landlord will produce a lease and occupancy will begin soon thereafter.
Laws – Chapter 47-16 (Leasing of Property)
Handbook – Eviction for Tenants Guide (PDF)
Disclosures
Lead-Based Paint Disclosure – Required for any residence built prior to 1978.
Property Condition Statement (§ 47-16-07.2) – Must be attached to all residential leases at the time of entering into a rental agreement. Must be signed by both landlord and tenant.
Other Versions (1)
---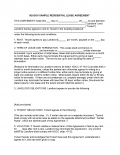 ND.GOV Sample Residential Lease
Download: PDF