Updated August 08, 2023
A Rhode Island month-to-month lease agreement lets a landlord and tenant enter into a rental agreement that can be canceled at any time with 30 days' notice. Written in accordance with § 34-18-37, there will be a beginning date stated on the document, but there is no ending date except a 30-day notice to vacate by either party.
It is recommended that a landlord verify the tenant's credit, employment, and income by requiring a rental application to be completed prior to signing a lease.
Minimum Termination Period – 30 days
Laws – § 34-18-37
Termination
---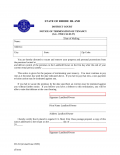 Lease Termination Letter (Form DC-63) – To be used when terminating a month-to-month lease.
Download: PDF