Updated August 08, 2023
A Rhode Island lease agreement is a document used by a landlord seeking a tenant to occupy and pay rent for residential or commercial space. The process starts with a tenant viewing the space prior to negotiating the terms of the lease. Once a verbal arrangement has been made, the tenant's credit, income, and employment should be verified. After verification and approval by the landlord, a lease is usually signed.
Rental Application
– To be filled in by the tenant with a fee to be attached so that the landlord may run a credit check and verify their character through personal and work references.
Agreement Types (6)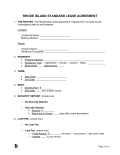 Standard Residential Lease Agreement – Fixed-term contract most commonly for one year.

Download: PDF, MS Word, OpenDocument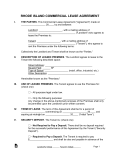 Commercial Lease Agreement – For tenants who will be utilizing the property for professional or business use. Not for living.

Download: PDF, MS Word, OpenDocument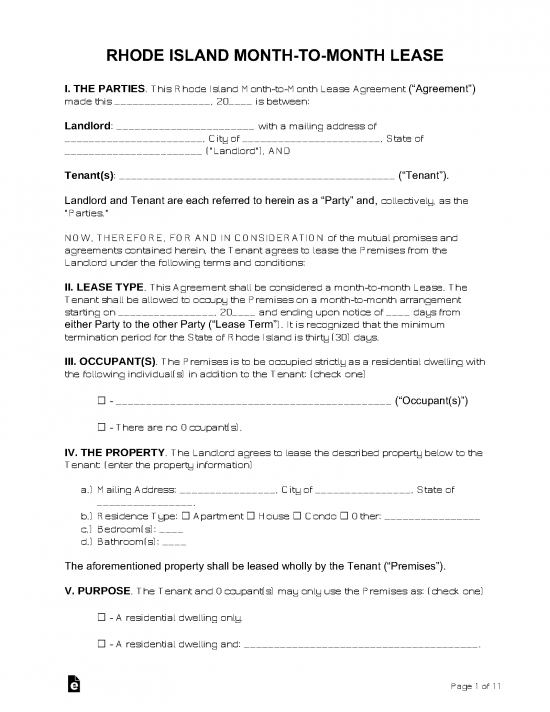 Month-to-Month Lease Agreement (§ 34-18-37) – Known as a tenancy at will, for arrangements without an end date. Either party can terminate the lease with at least 30 days' notice.

Download: PDF, MS Word, OpenDocument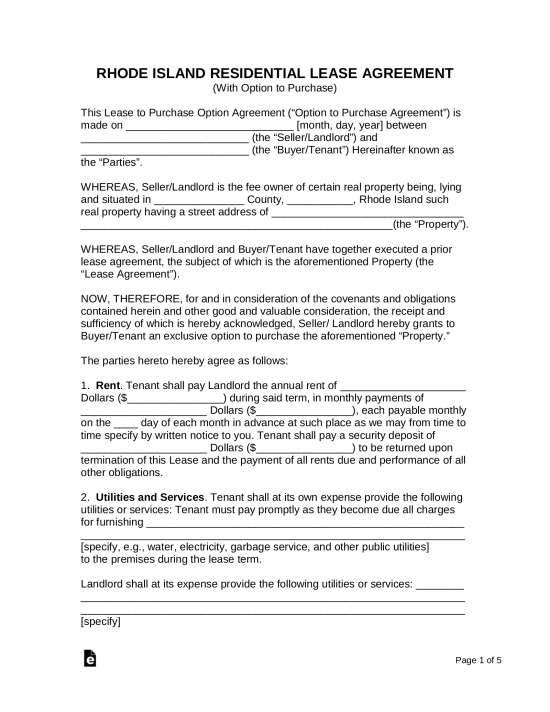 Rent-to-Own Lease Agreement – For tenants who want the option to purchase the premises included in their rental contract.

Download: PDF, MS Word, OpenDocument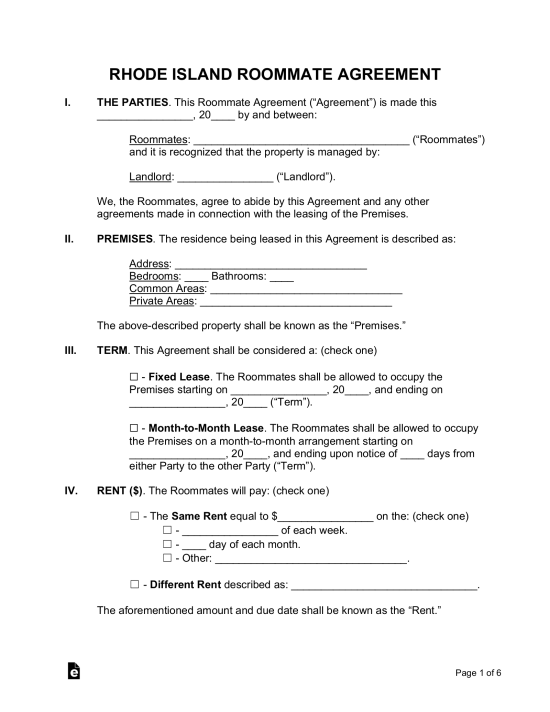 Room Rental (Roommate) Agreement – For a home with more than one occupant. Usually, every roommate gets their own bedroom.

Download: PDF, MS Word, OpenDocument
Sublease Agreement – For a tenant who desires to allow another individual to occupy the space they have under agreement with the landlord. Usually, the landlord must have to consent to the sublet.

Download: PDF, MS Word, OpenDocument
Required Disclosures (3)
Code Violations (§ 34-18-22.1) – If the landlord is violating any housing/building codes the violations must be reported to the tenant.
Landlord/Manager Disclosure (§ 34-18-20) – The owner or the person authorized to manage the property must be disclosed to the tenant in writing including their name and address.
Lead-Based Paint Disclosure – Form to be given to all tenants that will be occupying a residence that was built prior to 1978.
Security Deposits
Maximum Amount (§ 34-18-19) – Landlord may only ask the equivalent of one (1) month's rent from the tenant.
Returning (§ 34-18-19) – Within twenty (20) days from the end of the lease date the landlord must return all funds associated with the deposit, minus any unpaid accrued rent or repairs, to the tenant.
When is Rent Due? (Grace Period)
The landlord cannot start eviction proceedings or charge late rent until fifteen (15) days after rent is late. There is a fifteen (15) day rent grace period (§ 34-18-35(a)).
If rent is not paid on the sixteenth (16th) day, the landlord can send the tenant a 5-day notice to quit and begin the eviction process.
Late Rent
Maximum Penalty – There is no maximum fee amount for late rent.
NSF Fee (§ 6-42-3(b)(2)) – A landlord can charge a maximum amount of $25 for each bad check written by the tenant.
Right to Enter (Landlord)
The landlord must send a two (2) days' notice to enter prior to entering the tenant's property for common issues such as maintenance or inspection. The landlord may only enter the property during reasonable times (§ 34-18-26).
Resources