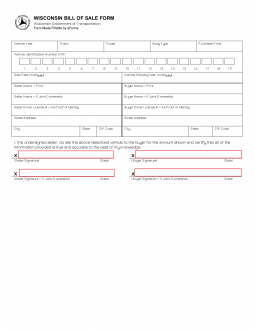 4.3 Stars | 6 Ratings
220 Downloads
Updated June 23, 2023
Wisconsin bill of sale forms are legal documents demonstrating the lawful sale and purchase of items of personal property in the State of Wisconsin. Bills of sale provide information about the buyer and seller, a description of the item or items being sold, and the terms of the sale. The forms can be useful for tax purposes.
Vehicle Registration Forms
A Certificate of Title is signed over by the vehicle's seller to the new owner. If there are any alterations or errors on the title, Form MV 2489 is also required;
If not applying online, a Title and License Plate Application (Form MV1);
A Bill of Sale is not required but is recommended;
Driver's license or other valid photo ID;
Proof of insurance that meets the minimum state requirements:

$25,000 for the injury or death of a single person;
$50,000 for the injury or death of more than one person;
$10,000 for damage to property;

A lien release, if the vehicle is subject to a lien at the time of sale;
If the buyer or seller is represented by an agent, a Motor Vehicle Power of Attorney;

Proof of payment of all fees and taxes, including;
Boat Registration Forms
A completed a Boat Registration and Titling Application (Form 9400-193). Buyers may use a photocopy of the completed form as a temporary proof of registration until the official registration card arrives in the mail;
The original certificate of title signed over by the seller;
If the boat was subject to a lien, a lien release from the seller; and
Payment of all sales taxes and registration fees in accordance with the fee schedule located on page 2 of Form 9400-193.