Updated September 19, 2023
Colorado deed forms are used to sell real estate or real property to another. The seller of real estate is called the grantor, and the purchaser of real estate is called the grantee. There are different ways of transferring property. One way is by using a general warranty deed. This form of transfer provides a guarantee by the grantor that he or she owns clear title to the property and they are transferring that clear title to the grantee. A quitclaim deed provides no guarantee and the grantor is merely transferring to the purchaser whatever claim he or she has in the property. A special warranty deed is a deed that guarantees only that the grantor did not transfer his or her interest to another, but does not guarantee that there was clear title throughout the history of the property transfers. In all cases, it is important that the purchaser perform a title search to fully understand what rights he or she is buying to the property.
Deed Types (4)
---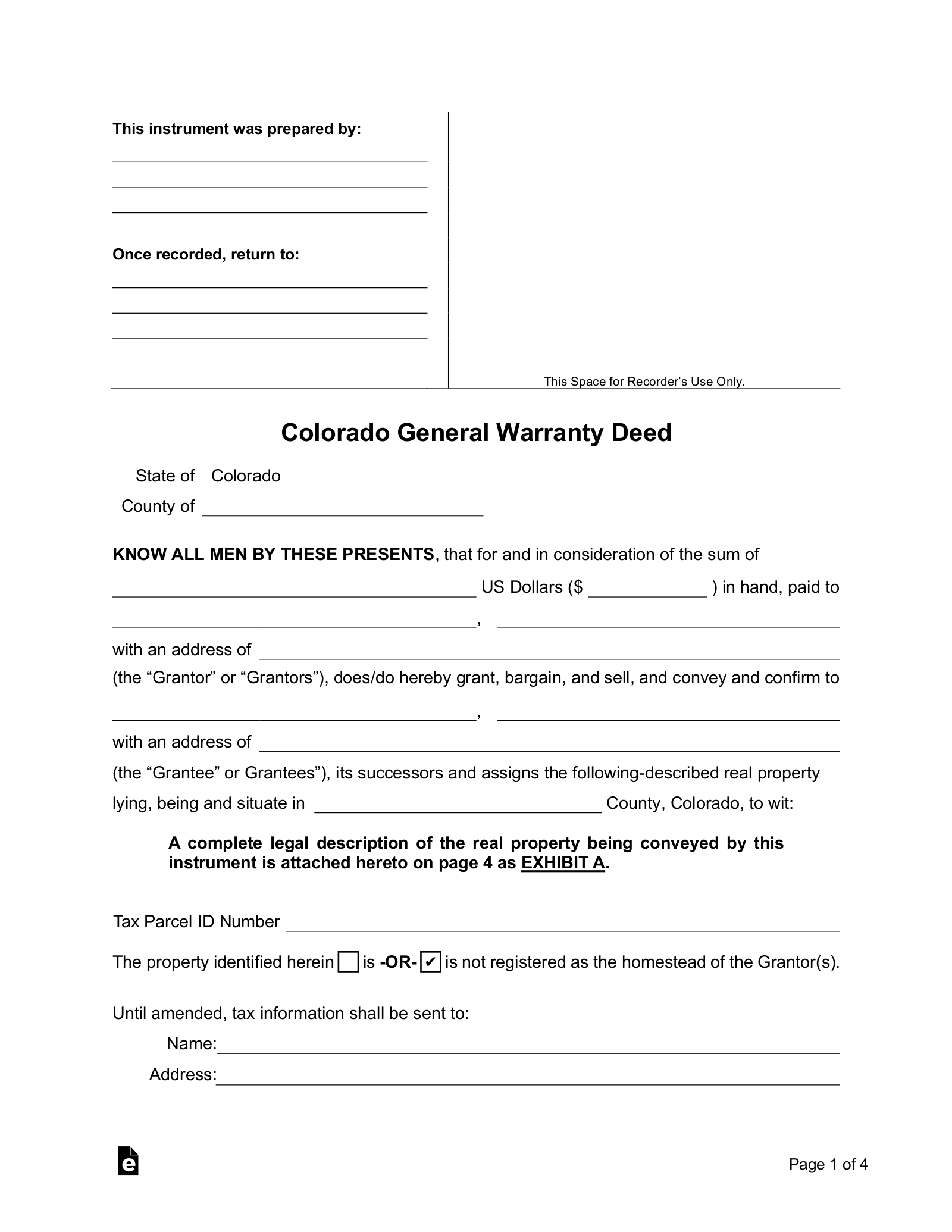 General Warranty – A general warranty deed is used when the grantor guarantees that there are no defects in the title of the property.
Download: PDF, MS Word, Open Document
---
Quit Claim – A quitclaim deed transfers only the interest that the grantor has in the property.
Download: PDF, MS Word, Open Document
---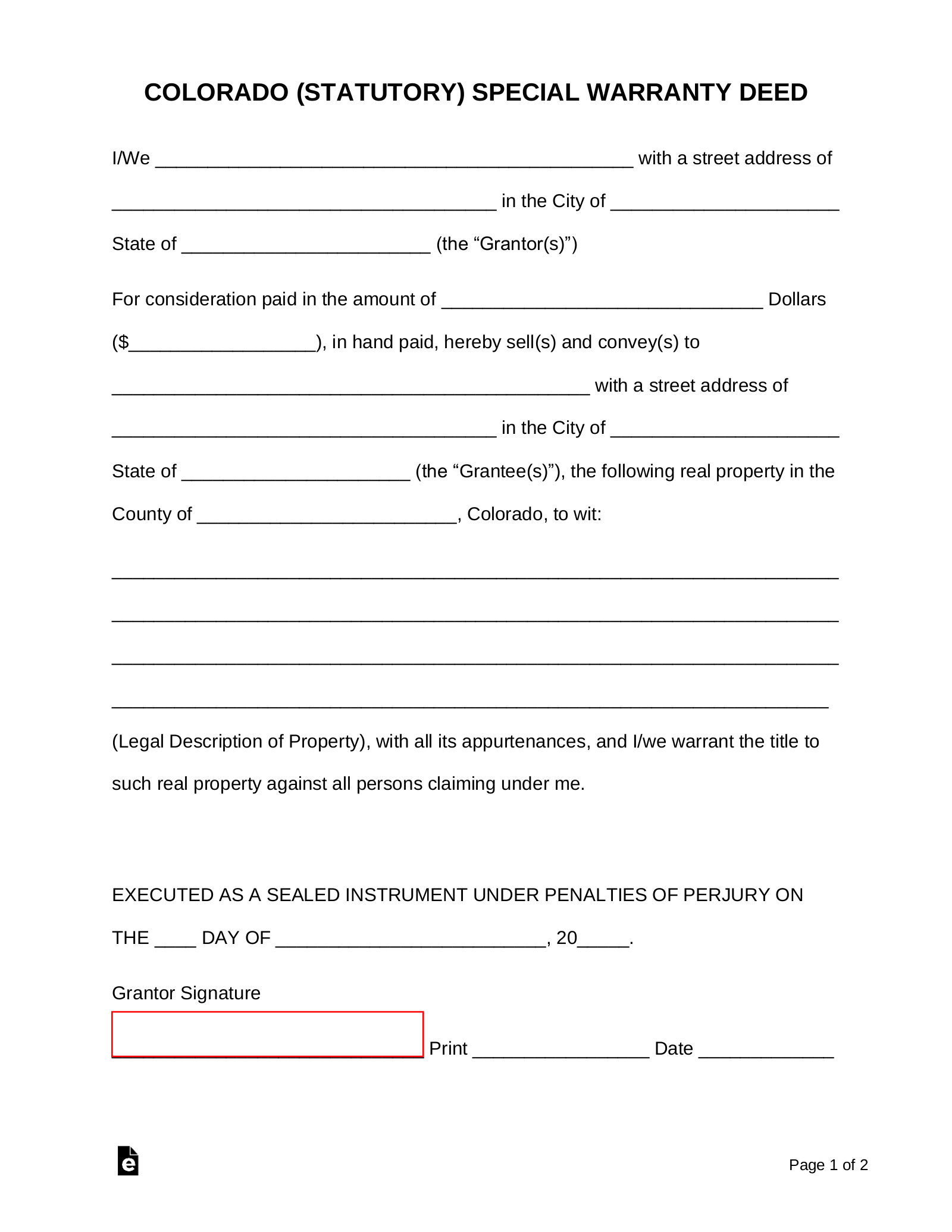 Special Warranty – A special warranty transfers the title with a limited warranty.
Download: PDF, MS Word, Open Document
---
Transfer on Death – A transfer on death deed conveys real property to a beneficiary after a death.
Download: PDF, MS Word, Open Document
---
Colorado Property Search
In order to ensure that you understand what interest you are purchasing in the property, it is important that you complete a property search or title search. Often a title company will complete the search on your behalf. In Colorado, you will have to go to the county recording office to research the transfers of the property. You can also go to the county website to see what they offer for electronic searches. The Colorado Secretary of State has a chart showing the counties where you can get website and contact information here: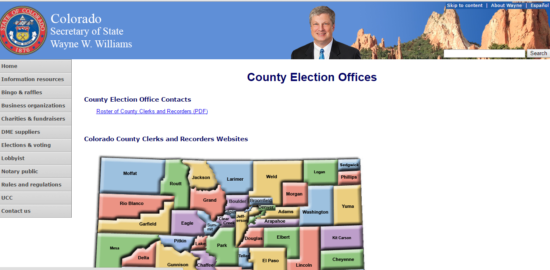 The following is an example of how to begin a property search in Denver. Other counties will have similar methods. You may have to create an account and pay a fee. But most will require that you know the name of the grantor and the location of the property to begin:
Step 1: Go to the Office of the Clerk and Recorder site: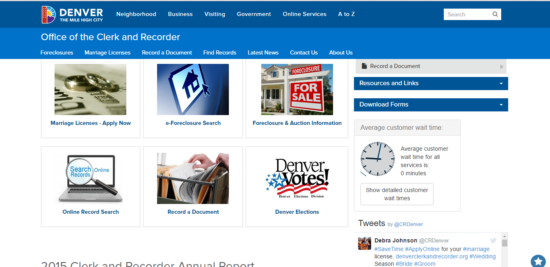 Step 2 – Click on "Online Record Search" and you will be brought to this page: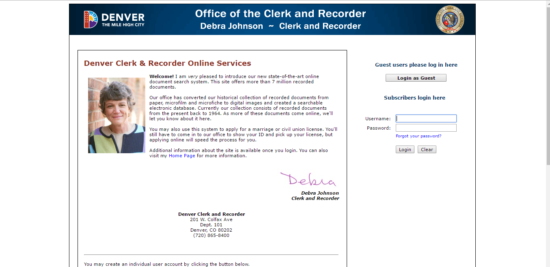 Step 3 – You may either create a user account or log on as a guest. If you log on as a guest, you will be brought to this page where you click on "Accept":
Step 4 – The next screen gives you different search options. Click on "Search Public Records".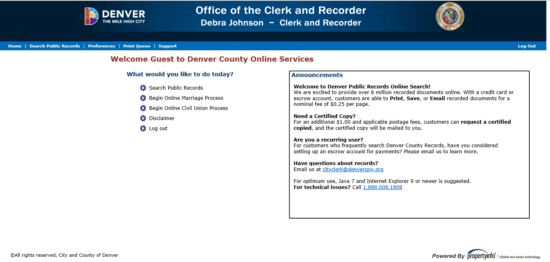 Step 5 – You will then be brought to this page where you enter the information that you have, such as the grantor name or Book and Page number to begin the search: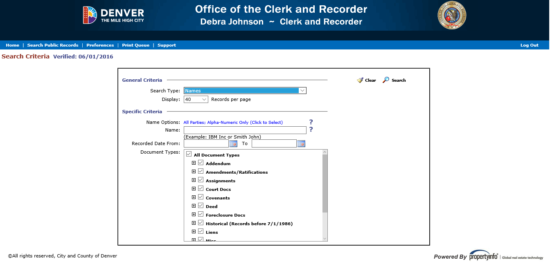 Sources