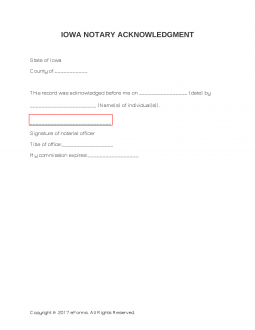 The Iowa notary acknowledgment form is used to notarize documents that require signature authenticity certification. The document is presented to a commissioned officer (notary public) at which point the notary will verify the identities of all signing parties. When getting a document acknowledged, the signature fields can be filled out ahead of time. The notary must ensure that the signatures were completed under the signer's free will; the signer will formally declare that this is so. The signing parties may choose to wait until they are in the presence of the notary public to sign the document, but this is not a requirement of this particular notarial act. The acknowledgment form is dated, signed, and sealed by the notary once they have accomplished these responsibilities.
Laws – § 9B.16
Notary Handbook – A brief outline of the responsibilities and duties of a notary public in Iowa.
How to Notarize in Iowa
Step 1 – To get a document notarized, one must first locate a notary public. Some of the most common places to find a notary public are listed below.
Banks and Credit Unions (US Bank offers the most branches in the state)
Step 2 – All signing parties must personally appear before the notary with the original document. (Depending on the notarial act, the signature fields may or may not need to be completed in the presence of the notary.)
Step 3 – The notary must verify the identities of the signers. This can be achieved by examining a piece of photo identification or through personal recognition.
Step 4 – The signers will proceed in signing the document in front of the notary public. If the document only requires an acknowledgment, signatures can be inscribed ahead of time. If this is the case, each signer must declare that they signed the document under their own free will.
Step 5 – To complete the notarization process, the notary will fill out the applicable notarial certificate. Regardless of the type of notarial act, the notary must include their official stamp/seal and signature on the appropriate form/statement/certificate.
Verify a Notary in Iowa
Step 1 – To search for a notary in Iowa, visit the Secretary of State's website.

Step 2 –  There are two (2) types of searches offered: "Person-Business" and "Commission Number." For the latter, simply select this search option and enter a commission number. For the former search option, provide as much of the following information as possible:
First name
Last name
Business name
City
Zip
Language
Notary status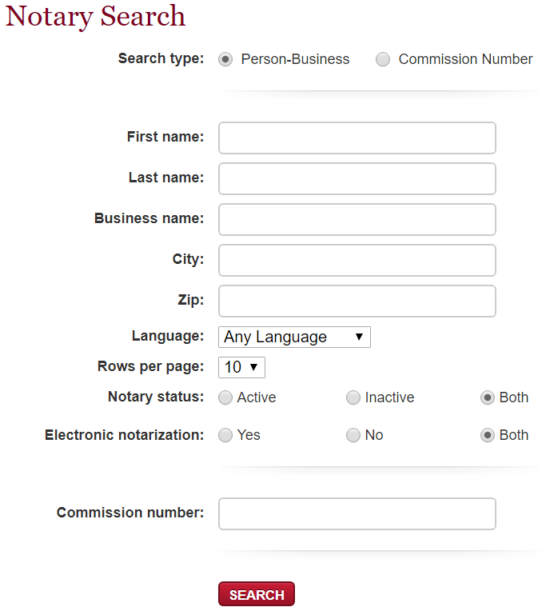 Step 3 – Results display basic information on each notary within the provided search parameters.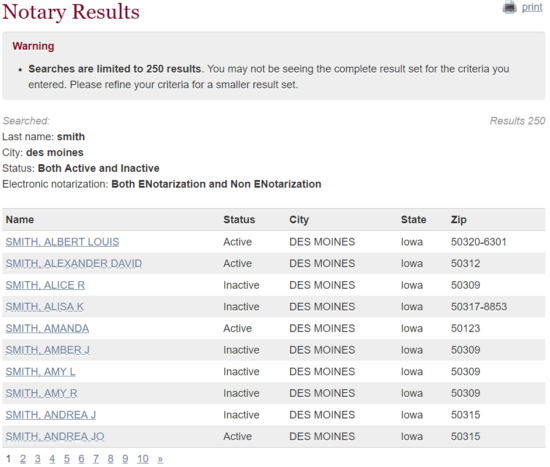 Step 4 – Click on a notary's name to view more detailed information.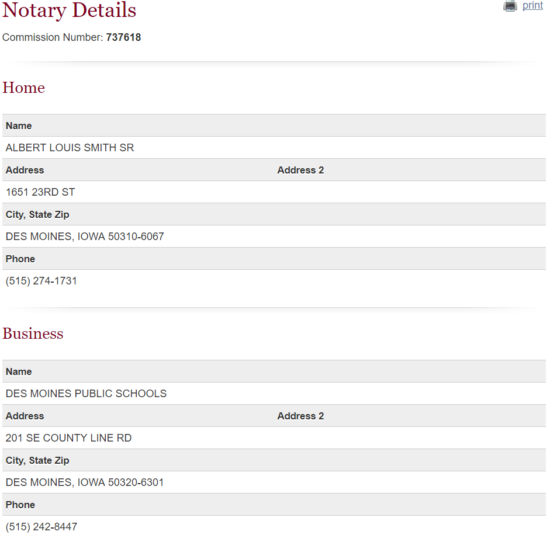 How to Write (For Notary)
Step 1 – Download using either Adobe PDF, Word, or ODT.
Step 2 – The following information must be provided on the acknowledgment form for it to be legally binding:
County
Date
Name(s) of signer(s)
Signature
Title
Commission expiration
Official seal or stamp