Updated January 05, 2023
An Idaho notary acknowledgment form is a statement certifying the authenticity of signatures inscribed on a document and confirming the identity(ies) of the signer(s). Typically, documents such as contracts, deeds, agreements, and powers of attorney will have to be notarized before they are legally binding. To get a document acknowledged, the signer(s) do not have to sign the document in front of a notary public; signature fields can be completed beforehand. The notary may choose to compare signatures on the document to those on a piece of identification. All parties involved in the signing of the document must appear before the notary and identify themselves and the signer(s) must declare that they have signed the document under their own free will. The notary can complete the acknowledgment form once they have verified the identities and signatures.
Laws – § 51-116
Notary Handbook – Provides information on the powers and duties of public officials in the State of Idaho.
How to Notarize in Idaho
Step 1 – The business or company that you are dealing with might have a notary public under their employ. If not, a notary can often be found at one of the following public places:
Banks or Credit Unions (US Bank has the most locations in Idaho)
Step 2 – Completed documents must be presented to the notary public, and all signing parties must personally appear before them. When getting a document acknowledged, the signature fields can be filled in. Forsworn statements or jurats, make sure signatures have not yet been completed.
Step 3 – The notary will identify each signing party; this can be accomplished through personal recognition or a piece of photo identification.
Step 4 – Each signer must declare that they have signed the document under their own free will. Aside from acknowledgments, most notarial acts will require that signers swear an oath or affirmation to the truthfulness of the documents' contents.
Step 5 – The document is considered notarized once the notary stamps/seals and signs the notarial certificate
Verify a Notary in Idaho
Step 1 – Go to the Notary Search page on the Idaho Secretary of State's website.

Step 2 – To find a notary, enter their name and click Search. Advanced search options are available by clicking the Advanced tab below the search field.
Step 3 – Searches will yield a list of notary public names alphabetically. Click on a notary's name for more detailed information.
How to Write (For Notary)
Step 1 – Download the Idaho Notary Acknowledgment Form (Adobe PDF, Microsoft Word, ODT).
Step 2 – Enter the county name in the field provided. Next, enter the day, month, and year in the appropriate spaces. The name of the notary and the signer must also be provided within the document.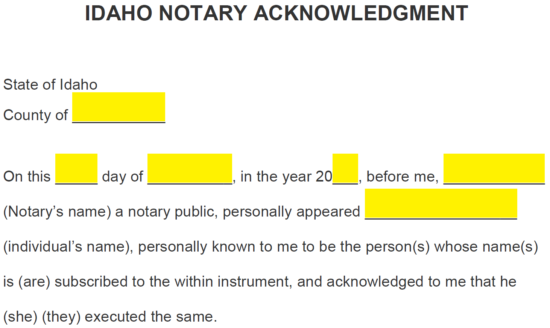 Step 3 – Lastly, the notary must include their seal, signature, and commission expiration date.