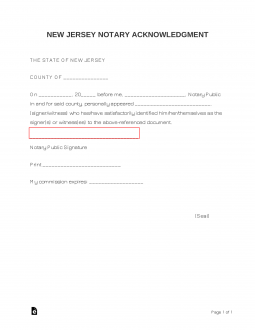 The New Jersey notary acknowledgment form is a document that a notary public uses in order to provide a certification for the identity of a legal instrument's signatory. Certain legal documents, such as deeds, property transfers, agreements, and power of attorney forms, usually require that they be notarized. In the case of a notary acknowledgment, the signer does not have to sign their document in front of the notary. However, they will be required to provide an ID that also displays their signature. If the notary public approves the signer's identity and intention to put the legal instrument into action, they will notarize the document by filling out the notary acknowledgment form. Unlike most states, New Jersey does not require that a notary provide a notary stamp/seal as long as they have clearly written their name, county, and commission expiry date in addition to signing.
Laws – § 46:14-2.1
New Jersey Notary Public Frequently Asked Questions (FAQ's) – An online guide detailing the duties, rules, and regulations for a notary public, as well as on how to become one.
How to Notarize in New Jersey
Step 1 – The person wishing to have a document notarized must find a notary if they are not familiar with one. A notary public can be found at any of the following:
Step 2 – The signer must completely fill out the legal document for which they require a notary acknowledgment.
Step 3 – The signer must appear before the notary and identify themselves, declaring the verity of their signature and that it was made willingly.
Step 4 – If the notary approves, they will provide notarization by filling out the notary acknowledgment form.
Verify a Notary in New Jersey
Step 1 – Navigate to the Department of the Treasury's notary search webpage. There are three (3) types of notary searches that can be conducted using this webpage; by last name, by city, or by zip code.

Step 2 – To search for a notary by their last name, select "Last Name" and enter their name in the indicated field before clicking Search.
Step 3 – On the subsequent page, you will view a list of notary publics whose last name matches the one that you provided. Each notary has the name, city, zip code, and commission expiry date displayed.

Step 4 – You can search for notaries by city by selecting "City" and entering the name of a city into the search field and clicking Search.

Step 5 – You will be redirected to a webpage that shows a list of all the notary publics acting in that city. Here you can see each individual's name, city, zip code, and the expiration date of their notary license.

Step 6 – To search by zip code, select "Zip Code" and enter a zip code number into the blank field before clicking the Search button to continue.

Step 7 – After clicking Search, you will be able to view a list of notary publics who are active in that zip code. Their name, city, and commission expiry date are provided for your convenience.
How to Write (For Notary)
Step 1 – Download the New Jersey Notary Acknowledgment form as a PDF, Microsoft Word, or Open Document Text file.
Step 2 – Next, enter the following information into the blank spaces of the document:
Name of your associated county
The date
Your name
The name of the signer and/or witnesses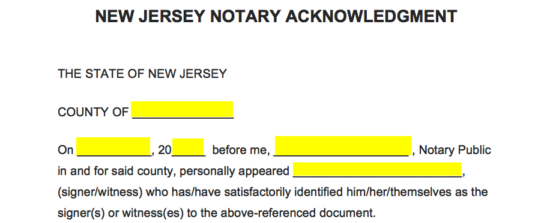 Step 3 – At the bottom of the form, you must provide the following credentials in order to complete the notarization process:
Your handwritten signature
Your printed name
Your commission expiration date
Your notary seal or stamp (not required)