Updated September 01, 2023
A Rhode Island notary acknowledgment is an instrument used to formally authenticate the signatures on a legal document. This type of authentication is typically used for bills of sale, living trusts, wills, and other documents which must be authenticated in order to comply with State law. The acknowledgment form must accompany the document being notarized when brought to the notary. Once the identities of all parties have been affirmed, each individual should provide their signature on the initial document. The process is considered complete once the acknowledgment form has been filled in and signed by the notary. While not required by state law, the notary may also place a seal on the form to further authenticate the document.
Laws – § 3(f)
Notary Handbook – Explains the duties of notarial officers. Also found within the handbook are operating procedures that have been recommended by the State of Rhode Island.
How to Notarize in Rhode Island (4 steps)
1. Find Notary
Locate a notary public within Rhode Island. The following places commonly offer notary public services:
A Local Bank or Credit Union (Citizens Bank has several branches in the State)
3. Show ID
Valid photo identification should be presented to the notary unless the individual is personally known to the notary or a credible witness attests to the individual's identity by oath or other affirmation. The document should then be signed by the individual in the presence of the notary. If the document has been signed prior to acknowledgment, the individual attests to the signature as being their own and provided willfully.
Verify a Notary in Rhode Island (4 steps)
Step 1
Navigate to the
Notary Public Status Search
 page of the Rhode Island Department of State website.

Step 2
You can choose to search by name or commission number by clicking either "Search Using Part of Name" or "Search Using Commission Number".

Step 4
ny matching results will be displayed as a list and will include details about a notary's commission status.
How to Write (For Notary)
Step 1 – Begin by downloading the form in one of the following formats: PDF, Microsoft Word, Open Document Text.
Step 2 – Enter into the empty spaces the following information:
State
County
Date (day, month, year)
Name of the document signer
Type of identification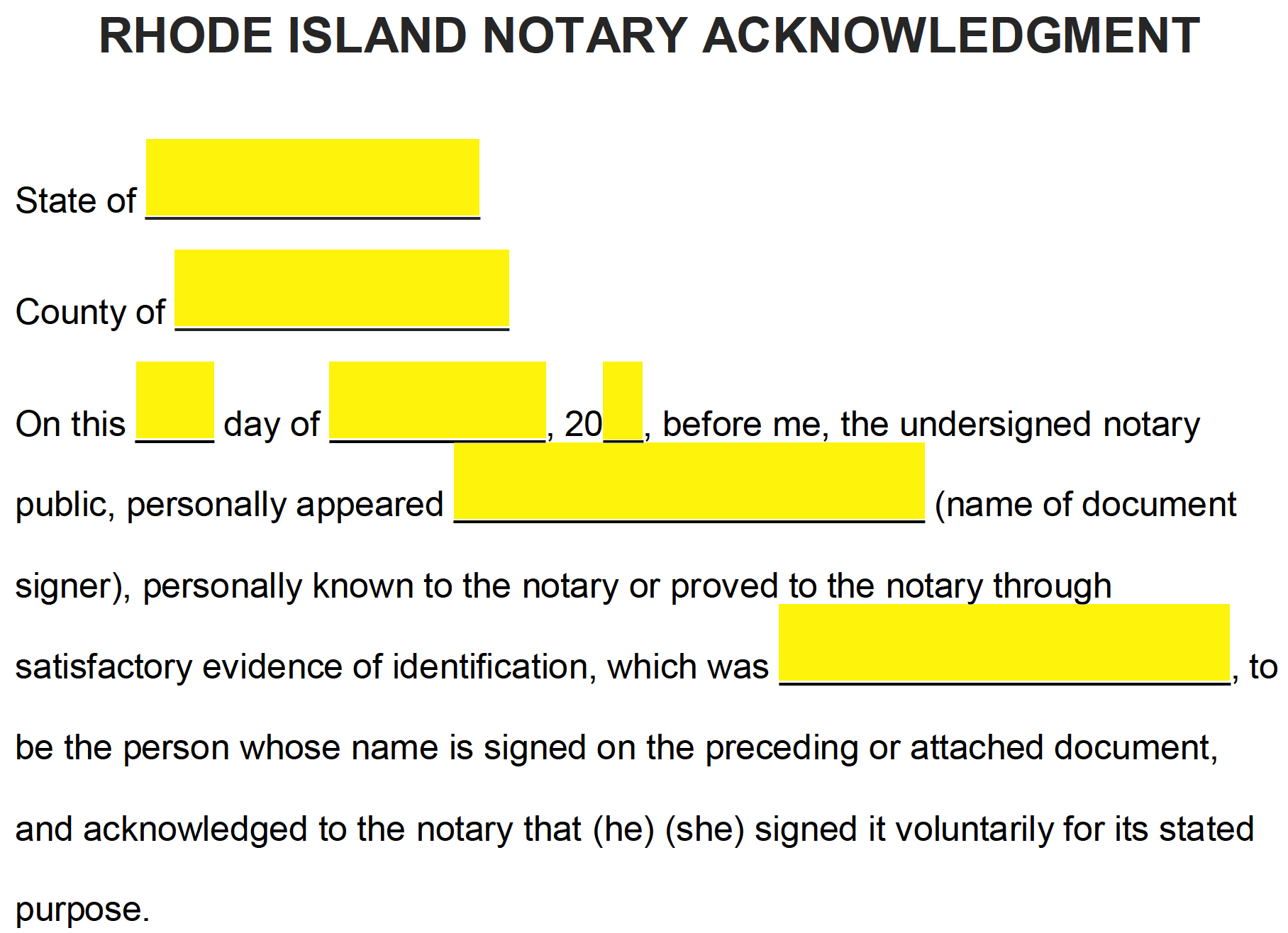 Step 3 – Indicate the purpose of the acknowledgment form by filling in the appropriate parenthetical field. Below that, the notary must provide their seal/stamp and give their signature to complete the form.