Updated September 19, 2023
A Connecticut property management agreement is between an owner of real estate and a company or individual they've hired to manage their property. Certain property managers may be "on-site" employees of the owner who are responsible for maintaining multiple units in a single apartment building or complex. In these cases, the manager is usually compensated with an hourly wage or yearly salary. Off-site managers, on the other hand, are more likely to receive a percentage of the rent collected throughout each unit. These payment conditions, along with the manager's rights and duties, will be addressed in the agreement.
Laws
Requirements (§ 20-311(1)) – A property manager is required to obtain a broker's license when they, in exchange for compensation, perform real estate activities categorized under the legal definition of a "real estate broker." These duties include leasing property and collecting rent (see § 20-311(1) for a list of authorized activities). A salesperson working for a broker does not need a license. Additionally, an on-site manager hired by the owner does not need a license, although they may only partake in specific real estate activities (see § 20-329).
Verify a Property Manager– Connecticut eLicense
Sample Agreement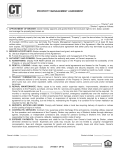 Connecticut REALTORS®
Download: PDF
---
Management Forms (4)
Download: PDF, MS Word, OpenDocument
---
Download: PDF, MS Word, OpenDocument
---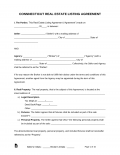 Connecticut Listing Agreements
Download: PDF, MS Word, OpenDocument
---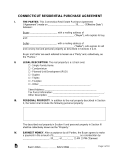 Connecticut Purchase Agreements
Download: PDF, MS Word, OpenDocument
---