Updated September 19, 2023
A Massachusetts property management agreement is a real estate document used to convey terms of a business arrangement between an owner of real estate and a property manager or management company. Each party must act in accordance with the terms and conditions of the contract, performing all necessary duties and fulfilling obligations to the other party. The owner of real property will decide what tasks and duties they wish the manager to carry out. These range from dealing with tenants, collecting rent, and coordinating repairs and maintenance, to marketing and advertising tasks to prepare for potential buyers. Property management agreements usually have a one (1) year term but may be extended if the parties are content with the arrangement.
Laws
Requirements – It is not legally mandatory that property managers carry a real estate license.
Verify a Property Manager – ePLACE Portal
Sample Agreements (2)
---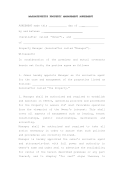 Leading Edge Property Management
Download: PDF
---

Massachusetts Association of Realtors
Download: PDF
Management Forms (4)
---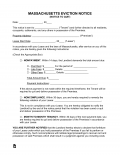 Massachusetts Eviction Notices
Download: PDF, MS Word, OpenDocument
---
Massachusetts Lease Agreements
Download: PDF, MS Word, OpenDocument
---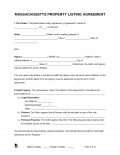 Massachusetts Listing Agreements
Download: PDF, MS Word, OpenDocument
---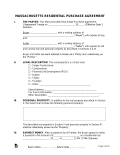 Massachusetts Purchase Agreements
Download: PDF, MS Word, OpenDocument