Updated September 19, 2023
A Mississippi property management agreement is a type of legal document that property owners use to engage the services of a property manager. The manager will have several duties to perform regarding the owner's property, including advertising, renting, overseeing property maintenance, paying expenses, and serving tenant termination notices when necessary. The owner, or their representative, will pay the property management fees for their services and, in most cases, a percentage of the rental income.
Laws
Requirements (§ 73-35-3(1)) – Anyone who lists, rents, or manages real estate for a fee must be a licensed broker (unless they are the owner or a direct employee of the owner).
Verify a Property Manager – http://www.mrec.ms.gov/
Sample Agreement (2)
---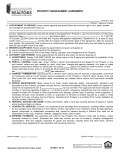 Mississippi Realtors
Download: PDF
---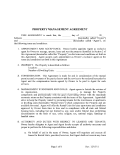 Summit Management Services, LLC
Download: PDF
Management Forms (4)
---
Download: PDF, MS Word, OpenDocument
---
Download: PDF, MS Word, OpenDocument
---
Mississippi Listing Agreements
Download:PDF, MS Word, OpenDocument
---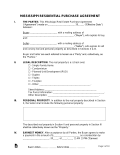 Mississippi Purchase Agreements
Download: PDF, MS Word, OpenDocument