Updated August 07, 2023
A Mississippi lease agreement is a rental contract that allows a landlord and tenant to negotiate an agreement for the use of a residential or commercial property. The negotiations will usually begin with the tenant viewing the property and, if interested, applying for tenancy. If approved, a lease will be signed. The tenant can take occupancy on the first day of the lease term unless otherwise agreed upon.
Rental Application
– The form is used by the landlord to inspect the background and references of the potential tenant.
Agreement Types (7)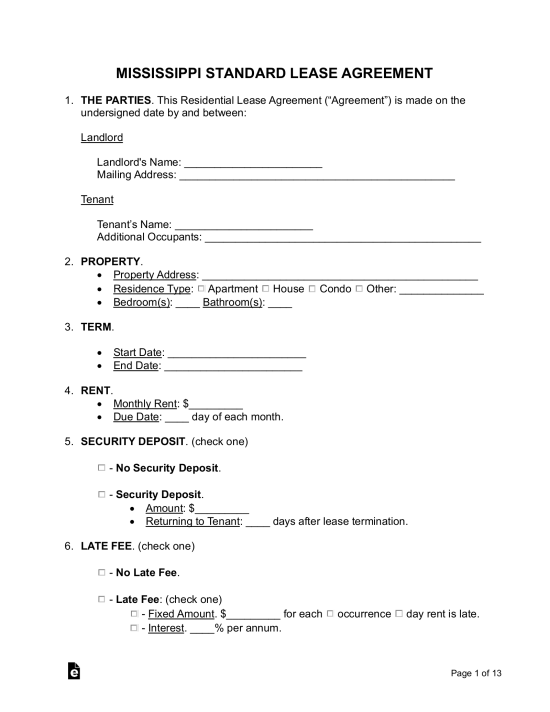 Standard Residential Lease Agreement – Fixed-term agreement usually for a period of one year.

Download: PDF, MS Word, OpenDocument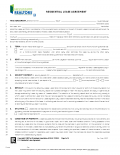 Association of Realtors Lease Agreement – Provided by the Mississippi Association of Realtors to allow a realtor to write a rental contract between a landlord and tenant.

Download: PDF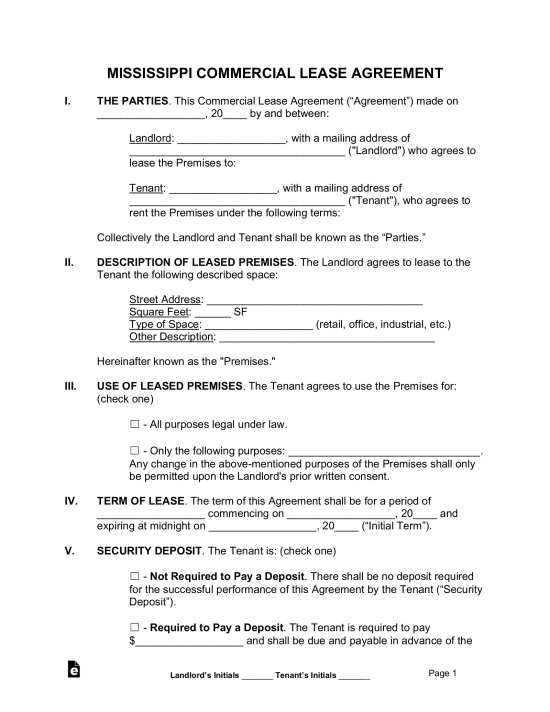 Commercial Lease Agreement – Contract for the leasing of space to be utilized by a business.

Download: PDF, MS Word, OpenDocument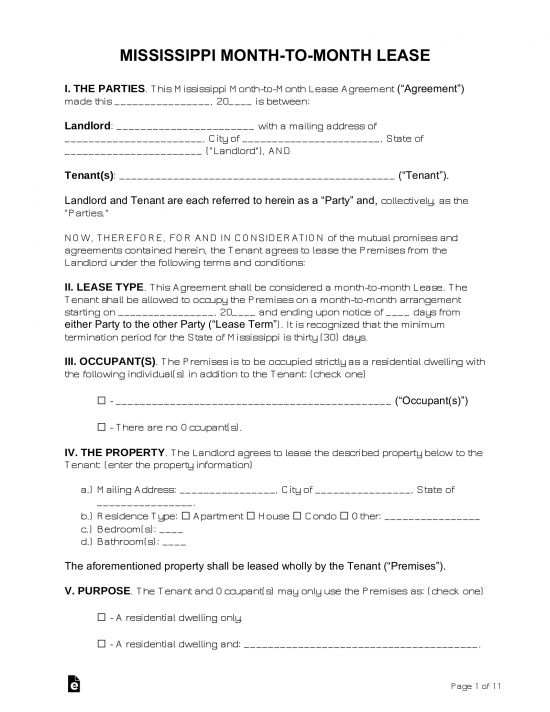 Month-to-Month Lease Agreement – Known as a tenancy at will and should be written in accordance with § 89-8-19 and can be terminated at any time, by the landlord or tenant, within 30 days.

Download: PDF, MS Word, OpenDocument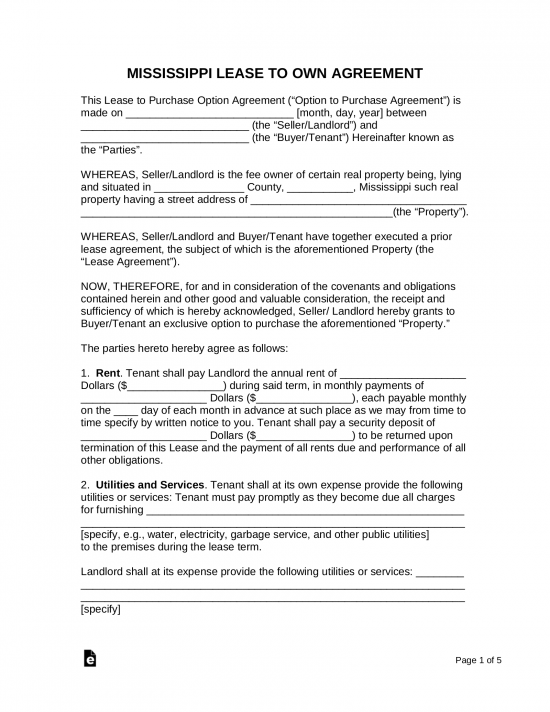 Rent-to-Own Lease Agreement – Standard residential version with an option to buy.

Download: PDF, MS Word, OpenDocument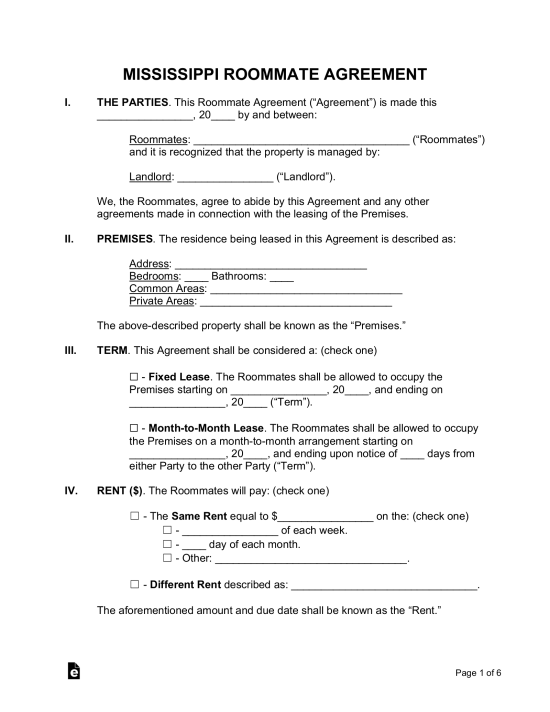 Room Rental (Roommate) Agreement – For shared housing arrangements to have a common agreement amongst the roommates.

Download: PDF, MS Word, OpenDocument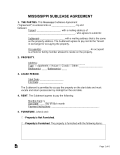 Sublease Agreement – For a tenant looking to find someone else ("subtenant") to be able to occupy the same space and continue payment.

Download: PDF, MS Word, OpenDocument
Required Disclosures (1)
Lead-Based Paint Disclosure – Federal law that requires any residential unit built prior to 1978 to have this form attached to any agreement to inform the lessees of the possibility of this hazard in the walls.
Security Deposits
Maximum – There is no limit on how much the landlord may request.
Returning (§ 89-8-21) – The landlord must give the funds back to the tenant within forty-five (45) days after the date marking the end of the tenancy.
When is Rent Due?
Mississippi law has no rent due date, which means rent is due on the day the landlord and tenant agree. There is no mandated grace period.
Maximum Fees
Late Rent – State law does not limit fees imposed for late rent, but any fees must be reasonable and must be mentioned in the lease agreement.
Not-Sufficient Funds (NSF Checks) – If the landlord provides the tenant that a rent check has bounced, and the tenant fails to turn over the amount owed, the landlord may demand the amount owed along with a service charge of up to $40 (§ 97-19-57).
Right to Enter (Landlord)
The State of Mississippi does not require the landlord to give the tenant notice before going into their property for maintenance or other reasons.
Resources