Updated September 19, 2023
A North Carolina property management agreement is a contract made between an owner of real property and a property manager or management company. This agreement will outline the duties, obligations, and responsibilities of both parties. Typically, a property management agreement will have a term of one (1) year, but the parties may choose to extend the contract if the arrangement is working. Having a property management agreement in place can help avoid any confusion with regard to the tasks and duties that the property manager must carry out for the owner.
Laws
Requirements (§ 93A-2 and § 93A-1) – Property managers that wish to lease or offer to lease, sell or offer to sell, or rent or offer to rent property must be a licensed real estate broker.
Verify a Property Manager – North Carolina Real Estate Commission
Sample Agreements (2)
---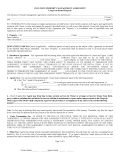 North Carolina Association of Realtors (Long-Term Rental)
Download: PDF
---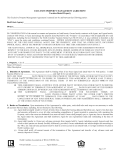 North Carolina Association of Realtors (Vacation Rental)
Download: PDF
Management Forms (4)
---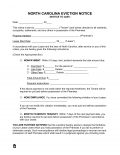 North Carolina Eviction Notices
Download: PDF, MS Word, OpenDocument
---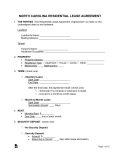 North Carolina Lease Agreements
Download: PDF, MS Word, OpenDocument
---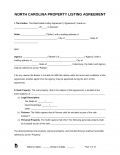 North Carolina Listing Agreements
Download: PDF, MS Word, OpenDocument
---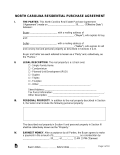 North Carolina Purchase Agreements
Download: PDF, MS Word, OpenDocument