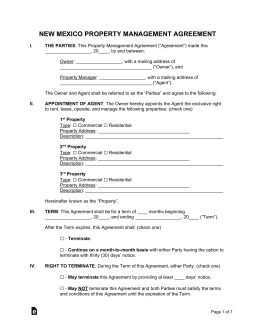 The New Mexico property management agreement is used to bind two (2) parties, a property owner and real estate broker, to a professional contract for the management of a rental property. The broker agrees to manage the owner's property in exchange for a commission or flat rate, as well as service fees that will be charged to the owner on an individual basis. Property managers must ensure that the property is properly maintained and that rental units are filled by paying tenants. If tenants are delinquent in their rent payments or break their lease, it is the manager's responsibility to serve the appropriate notices on them.
Laws – New Mexico Real Estate License Law and Real Estate Commission Rules (Part 24)
Requirements (§ 61-29-2(3)) – Only a regular employee of the property owner or a licensed broker is legally permitted to operate as a property manager on behalf of the owner.
Verify a Property Manager – http://verification.rld.state.nm.us/
Sample Agreement
New Mexico Assoc. of Realtors – Adobe PDF
Related Forms
(Video) New Mexico Property Management Agreement – EXPLAINED