Updated March 10, 2023
A New Mexico rental agreement is a legal contract negotiated between a landlord and tenant for the renting of residential and commercial property. The terms, such as the rent amount, timeframe of the lease, and each party's responsibilities, should be discussed prior to writing an agreement.
At the time of lease signing, the tenant should bring with them a check for the security deposit, along with any pro-rated rent, and first month's rent. Access to the premises should be provided by the landlord after authorization.
Rental Application
– A landlord is advised to use this form in order to verify that the tenant is able to afford the monthly payment.
Agreement Types (6)
Standard Residential Lease Agreement – The most common type and is a fixed term usually lasting one year.

Download: Adobe PDF, MS Word, OpenDocument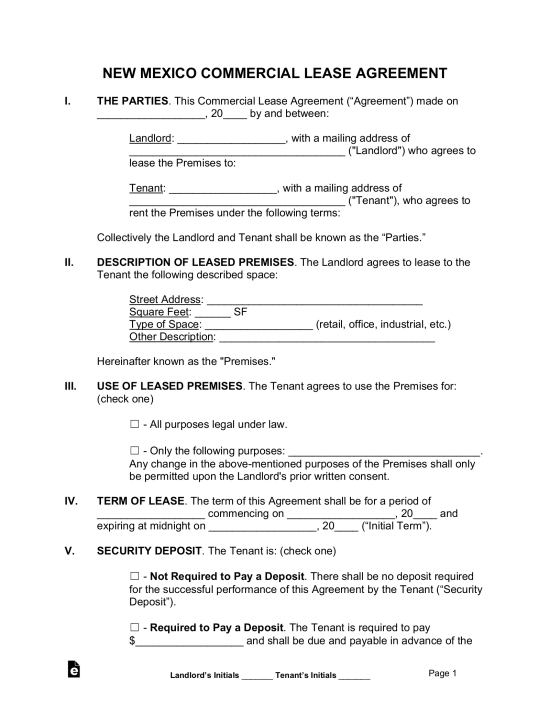 Commercial Lease Agreement – For the use of an office, industrial, or retail use.

Download: Adobe PDF, MS Word, OpenDocument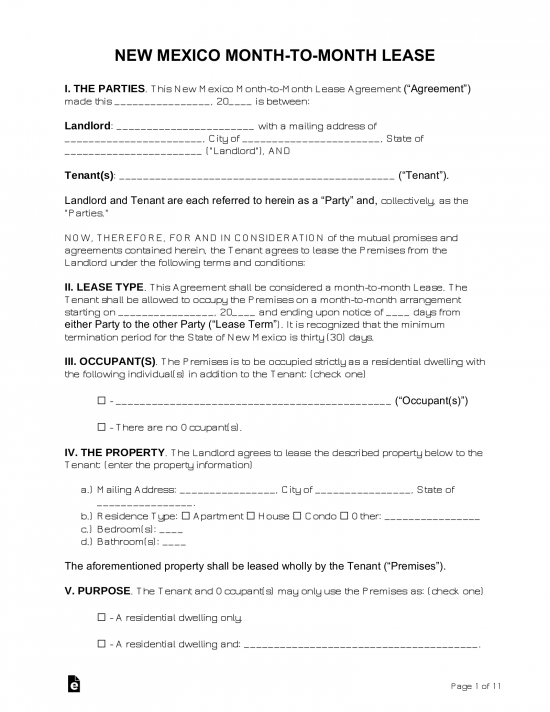 Month-to-Month Lease Agreement (§ 47-8-37) – Referred to as a "tenancy at will," which does not have an ending period and goes on until one of the parties gives at least 30 days' notice.

Download: Adobe PDF, MS Word, OpenDocument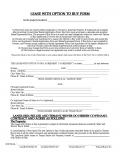 Rent-to-Own Lease Agreement – Standard rental form that allows the tenant to buy the property for an agreed-upon price.

Download: Adobe PDF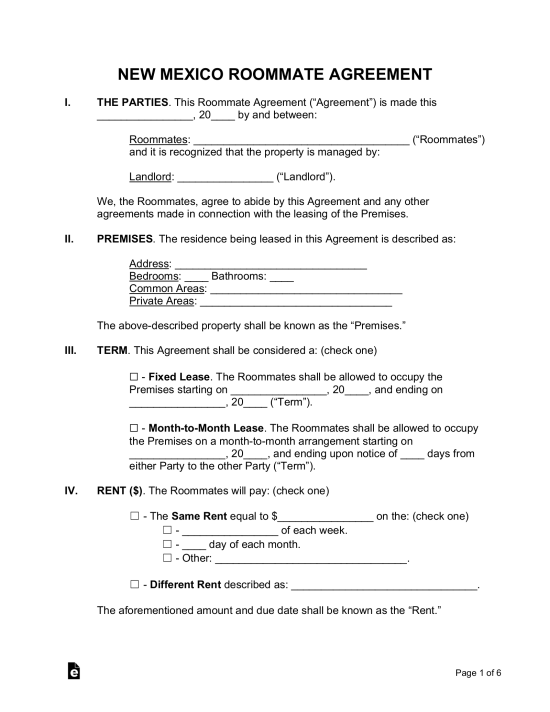 Room Rental (Roommate) Agreement – Between the members of a single residential dwelling in order to establish rules between each other.

Download: Adobe PDF, MS Word, OpenDocument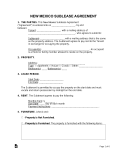 Sublease Agreement – A tenant who decides to rent their space for the remaining term of their residential contract.

Download: Adobe PDF, MS Word, OpenDocument
Required Disclosures (2)
Identity (§ 47-8-19) – A Landlord must inform a tenant of all individuals allowed to access the property and an address for any official notices.
Lead-Based Paint Disclosure – Only required if the residence was built before 1978 per federal law.
Security Deposits
Maximum Amount (§ 47-8-18) – The landlord may charge up to one (1) month's rent for tenancies lasting a year or less. If more than a year, the landlord can request as much as desired, but if it is more than one (1) month's rent, interest must be paid according to Section 47-8-18.
Returning (§ 47-8-18) – The landlord must pay back the tenant within thirty (30) days of the termination date.
When is Rent Due? (Grace Period)
Rent is payable and due at the time and place agreed to by the landlord and tenant. There is no rent grace period (§ 47-8-15(B)).
If rent is not paid on the due date, the landlord can send the tenant a 3-day notice to quit. At the end of the three (3) day period, the tenant is required to pay all rent due or vacate the premises.
Late Rent
Maximum Penalty (§ 47-8-15(D)) – 10% of the monthly rent is the maximum late fee allowed.
NSF Fee (§ 14.5.5.15(A)) – A bad check fee of $20 is the maximum allowable amount a landlord may charge a tenant.
Right to Enter (Landlord)
The landlord has the right to enter the property for any maintenance or inspection reason within twenty-four (24) hours of giving notice to the tenant (§ 47-8-24).
Video
Resources