Updated September 19, 2023
A Nevada property management agreement is a legally binding contract that is executed by a real estate owner and a property management agency or individual. The document describes the duties of the property manager along with the terms by which they will rent the property to tenants and the compensation that they will be provided. In most cases, the manager is paid individual fees for their services and a commission of the rental income.
Laws
Requirements (NRS 645.0445 and 645.6052 – 645.6056) – With the exception of property owners and their regular employees, property managers must be associated with a licensed real estate broker, regardless of whether they are provided compensation or not. Furthermore, a real estate broker cannot act as a property manager unless they have a property management agreement signed by the client.
Verify a Property Manager – https://red.prod.secure.nv.gov/Lookup/LicenseLookup.aspx
Sample Agreement (2)
---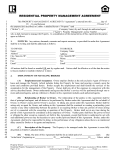 Greater Las Vegas Association of Realtors (Version 1)
Download: PDF
---

Greater Las Vegas Association of Realtors
Download: Adobe PDF
Management Forms (4)
---
Download: PDF, MS Word, OpenDocument
---
Download: PDF, MS Word, OpenDocument
---
Download: PDF, MS Word, OpenDocument
---
Download: PDF, MS Word, OpenDocument