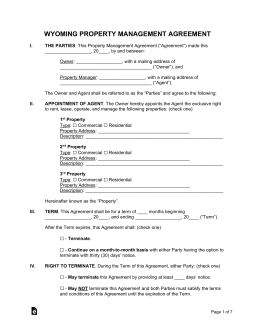 A Wyoming property management agreement is a written contract used to define the terms and conditions of a property management relationship. The parties (a property manager/management company and an owner of real estate) will negotiate the terms of the agreement so they are fair for both sides. The manager's duties, such as renting/leasing, maintaining and repairing, advertising/marketing, will be outlined in the document and they will be bound to those obligations for the duration of the agreement. The owner will have certain responsibilities and obligations to uphold as well such as compensating the manager and ensuring they have everything they need to perform their services to the best of their ability.
Laws – § 33-28-102(b)(xlii)
Requirements – Property management, defined in § 33-28-102(b)(xlii), is considered a real estate activity (§ 33-28-102(b)(xlv)); therefore, in accordance with § 33-28-101, a property manager must be a licensed individual to perform the full scope of property management duties.
Verify a Property Manager – Wyoming Real Estate Commission & Certified Appraiser Board
Sample Agreements
Wyoming Association of Realtors – Adobe PDF
Cheyenne Property Management Group, LLC – Adobe PDF
Jackson Hole Real Estate Company, LLC – Adobe PDF
Related Forms
(Video) Wyoming Property Management Agreement – EXPLAINED