Updated May 25, 2023
A Wyoming lease agreement is a legal document between a landlord and tenant for the purpose of renting a property in exchange for monthly payments. The tenant will be responsible for paying rent and maintaining the premises, while the landlord will be obligated to fix any needed repairs during the lease term.
Once the lease is signed, both parties are obligated to fulfill the terms until the end date.
Rental Application
– Allows a landlord to obtain a prospective tenant's personal information and consent to run a credit report.
Agreement Types (6)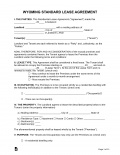 Standard Residential Lease Agreement – General contract for usually one year. This is the most popular type of agreement.

Download: Adobe PDF, MS Word, OpenDocument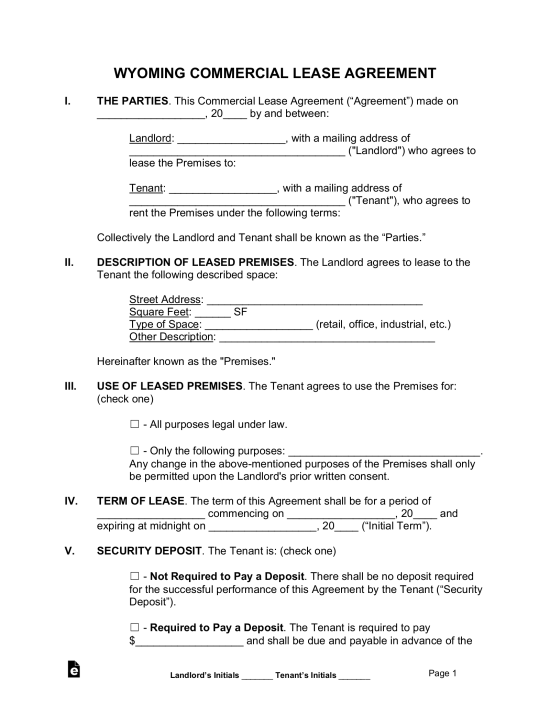 Commercial Lease Agreement – For an arrangement between a landlord and tenant for the use of the business property.

Download: Adobe PDF, MS Word, OpenDocument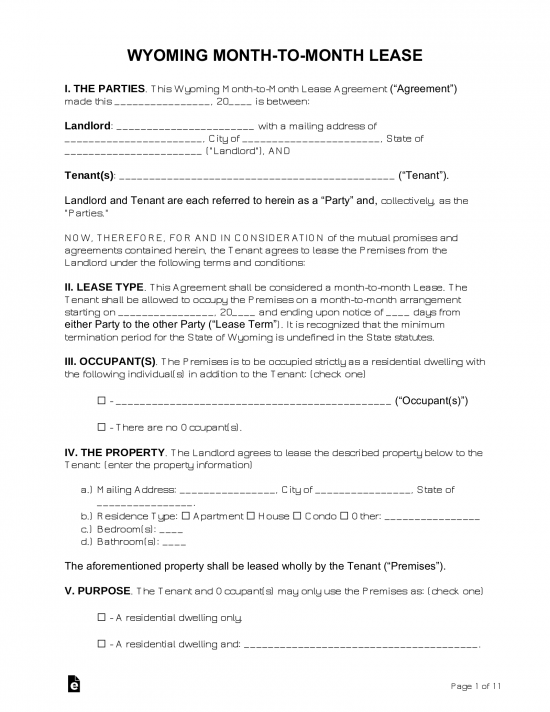 Month-to-Month Lease Agreement – Contract for a residential tenancy that has no end date. The landlord and tenant should negotiate the term for how much time is needed to cancel the agreement as there is no State requirement.

Download: Adobe PDF, MS Word, OpenDocument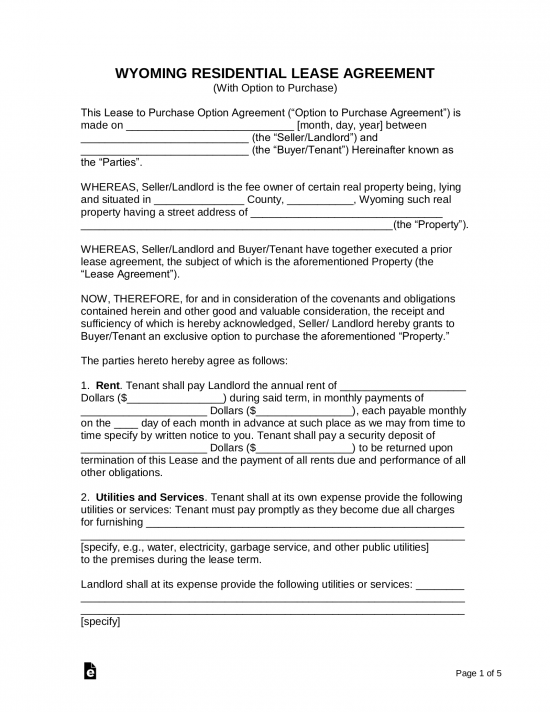 Rent-to-Own Lease Agreement – Common residential contract with a right for the tenant to buy space/property at an agreed price.

Download: Adobe PDF, MS Word, OpenDocument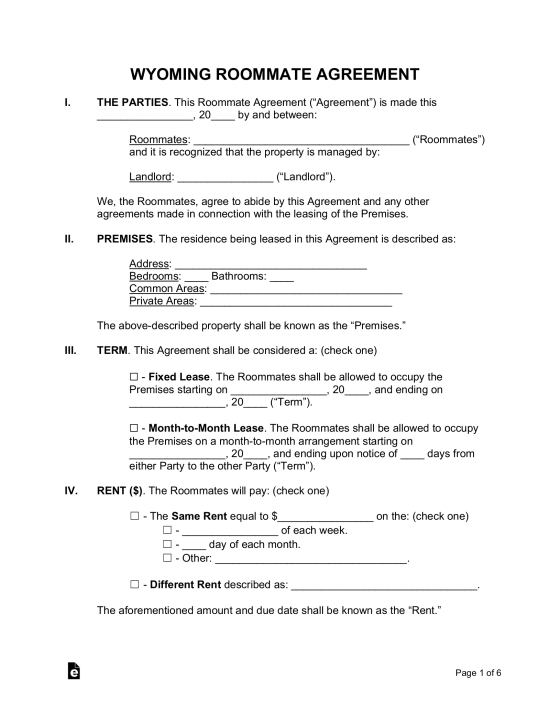 Room Rental Agreement – For individuals living in a home with shared space such as kitchen, living room, porch/patio, outside areas, etc. The contract creates a common agreement amongst the persons in relation to cleaning, expenses, utilities, and other fees/charges.

Download: Adobe PDF, MS Word, OpenDocument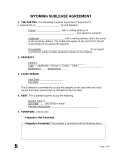 Sublease Agreement – For a tenant that is seeking to rent the same space they are bound to in a lease with the landlord. Usually, the landlord must approve this type o tenancy.

Download: Adobe PDF, MS Word, OpenDocument
Required Disclosures (2)
Lead-Based Paint Disclosure – Federal law requires landlords of properties constructed before 1978 to hand out a guide on how to watch or lead paint inside the property.
Nonrefundable Fees (§  1-21-1207) – If any part of the security deposit or other such fee is non-refundable, it must be specifically stated in the lease.
Security Deposits
Maximum Amount – There is no maximum in Wyoming. The landlord may request as much as desired.
Returning (§ 1-21-1208(a)) – The landlord is to return the deposit within thirty (30) days of lease termination or fifteen (15) days of receiving receipt of the tenant's forwarding address, whichever is later.
When is Rent Due? (Grace Period)
Rent is due on the date mentioned in the lease. The tenant is obligated to be current on all rent payments as required by the agreement (§ 1-21-1204(vi)).
If the rent is not paid on the due date, the landlord can issue a 3-day notice to pay or quit to the tenant.
Late Rent
Maximum Penalty – There are no laws regarding how much a landlord can charge for late rent. If there is a late fee, it must be written in the lease.
NSF Fee (§ 1-1-115(a)) – A landlord cannot charge more than $30 for a bad check written by the tenant.
Right to Enter (Landlord)
There are no laws that outline how a landlord should enter a rental property. It is recommended the landlord give 24 to 48-hour written notice and enter during reasonable hours (9 AM to 5 PM).
Video
Resources