Updated August 04, 2023
A Hawaii lease agreement is a document that allows a landlord to rent residential or commercial space to a qualified tenant. Before a lease is signed, the landlord will commonly request the tenant complete a rental application and pay a small fee to run a credit report.
If approved, the tenant will be given a property condition report revealing any current damages in the premises, and a lease will be signed afterward.
Rental Application
– To verify that a potential tenant is able to afford and maintain the property during the term of the contract.
Agreement Types (6)
Standard Residential Lease Agreement – Fixed-term arrangement typically for one year.

Download: PDF, MS Word, OpenDocument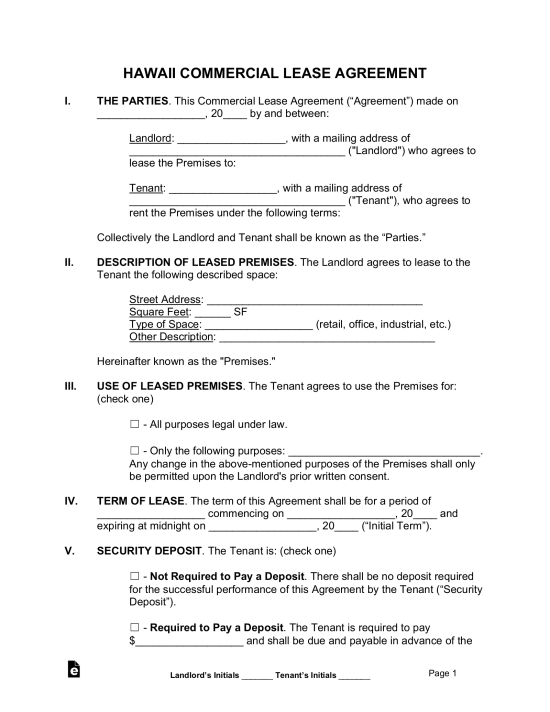 Commercial Lease Agreement – For any type of non-livable use such as space for a business to operate.

Download: PDF, MS Word, OpenDocument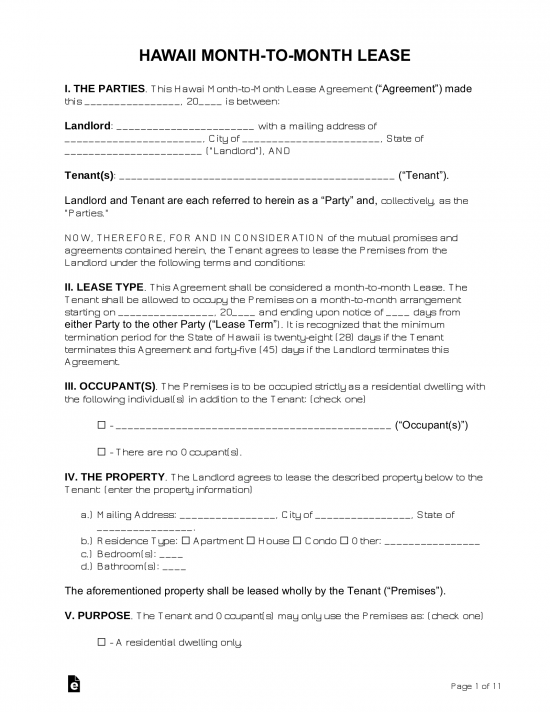 Month-to-Month Agreement – A lease with no end date and after commencement, the landlord must provide 45 days' notice to terminate while the tenant must provide at least 28 days, according to § 521-71.

Download: PDF, MS Word, OpenDocument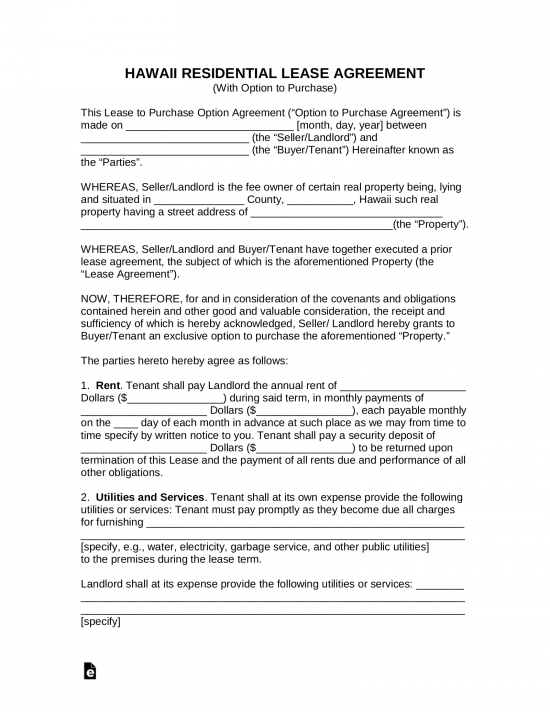 Rent-to-Own Lease Agreement – Typical residential contract that offers a tenant to buy the property from the landlord.

Download: PDF, MS Word, OpenDocument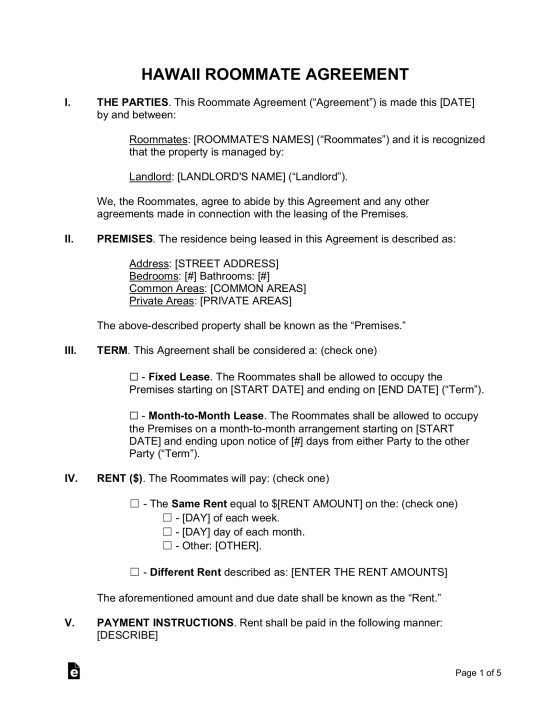 Roommate (Room Rental) Agreement – Between the individuals living in a shared residential arrangement to create: times for cleaning, who pays for what bills, and anything else that should be distinguished between the parties.

Download: PDF, MS Word, OpenDocument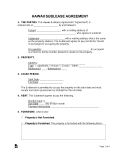 Sublease Agreement – A tenant that is under a legally binding lease with the landlord may re-rent the property to someone else, known as the sub-tenant, with the landlord's consent.

Download: PDF, MS Word, OpenDocument
Required Disclosures (3)
Property Condition Form (§ 521-42(6)) – Prior to any written agreement, the landlord must provide a copy of the condition of the premises in addition to any furnishings or appliances.
Lead-Based Paint Disclosure – Federal law requires all landlords/managers to disclose this to all new tenants if the property was constructed before 1978.
Identification (§ 521-43) – The landlord must disclose any persons allowed onto the premises. In addition, the landlord must provide their tax excise number to the tenant, so they may be able to file for a low-income tax credit if they qualify.
Security Deposits
Maximum Amount (§ 521-44(b)) – One (1) month's rent. An extra fee may be added if the tenant has a pet.
Returning (§ 521-44(b)(2)) – The landlord must return the security deposit within 14 days from the lease end date or when the tenant vacates the property, whichever is later.
When is Rent Due? (Grace Period)
Rent is due at the time and place agreed to by the parties. There is no grace period in Hawaii. If payment is not made on the due date, the landlord can send a 5-day notice to quit.
Late Fees
Maximum Penalty – No maximum. The landlord can charge any amount if it's mentioned in the lease.
NSF Fee (§ 40-35.5) – $25 is the maximum fee for a bad check.
Right to Enter (Landlord)
Landlords are required to give at least two (2) days' notice to the tenant prior to going inside for any scheduled appointment (§ 521-53).
Resources