A prenuptial agreement, or 'premarital' or 'antenuptial' agreement, is between a couple about to marry to outline the separation of assets and spousal support in case of divorce. The agreement only covers monetary purposes and does not detail child support or custody and visitation rights. Although, there may be conditions written in the agreement, such as, if one of the spouses is to commit adultery that the other spouse will obtain all the assets of the marriage.
By State
Table of Contents
What is a Prenuptial Agreement?
A prenuptial agreement, or simply a 'prenup', allows a couple to outline the distribution of property in the event of a divorce. It is commonly signed before marriage and can include any language, terms, or conditions allowed under State law. Full disclosure of financial assets is required to be made in the prenuptial agreement.
Uniform Premarital Agreement Act (UPAA)
The Uniform Premarital Agreement Act (UPAA) are uniform laws that have been adopted by 27 States (and the District of Columbia) and to create common rules to be followed.
The following 27 States have adopted the UPAA are: Arizona, Arkansas, California, Colorado, Connecticut, Delaware, Florida, Hawaii, Idaho, Illinois, Indiana, Iowa, Kanas, Maine, Montana, Nebraska, Nevada, New Jersey, New Mexico, North Carolina, North Dakota, Oregon, Rhode Island, South Dakota, Texas, Utah, Virginia, and Wisconsin.
Even though the other 23 States have not enacted the UPAA, prenuptial agreements are legal and enforceable.
Is a Prenuptial Agreement considered ironclad?
Any prenuptial agreement may be considered invalid. Although, unless there is explicit evidence, it is difficult to void a signed prenuptial agreement.
There are three (3) main ways to overturn a prenup:
Not Disclosing All Financials – This does not mean a hidden bank account with $500. There have to be assets of a significant amount not declared by one of the parties.
Coercion – If one of the parties was "pressured" into signing the agreement. Also known as 'duress', this would require proof such as written communication.
Signing Requirements – Each State has its signing requirements, and if the agreement was not authorized under the State statutes it would not be considered valid. Additionally, each party is recommended to have separate legal counsel before entering into an agreement.
In addition, it's highly recommended for each spouse to have their own attorney. After the prenuptial agreement has been agreed-upon, give at least one (1) week before signing for each party to think about their decision. The spouses and their attorneys should also sign the prenuptial agreement in accordance with State Signing Requirements.
Prenuptial Agreements: Pros and Cons
| | | |
| --- | --- | --- |
| | Pros | Cons |
| Assets | Each party has full ownership rights (as stated in the prenup) after the marriage has ended. | Any help provided to the other spouse's benefit is not accounted for. |
| Debts | Each party is responsible for the debts they incurred prior to marriage. | One spouse's lifestyle may differ not allowing the other to pay off the other's debts. |
| Emotions | All parties fully understand the arrangement they are entering into. | It can create a lack of trust between the parties. |
| Inheritance | It can protect the inheritance of family assets. | If death by the spouse, it can allow other family members to obtain the spouse's property. |
| Spousal Support | If both parties want children, it allows one of the spouses to be compensated for their time, especially if a stay-at-home parent. | If no spousal support, a stay-at-home parent can be giving up a promising career path without compensation. |
How to Make a Prenuptial Agreement
Due to marriage being an emotional and financial partnership, both can be exploited through the agreement with both parties thinking "at the moment" and not what is best for each. Therefore, the following steps should be followed as a checklist when creating a prenuptial agreement.
Step 1 – Discuss Each Other's Intentions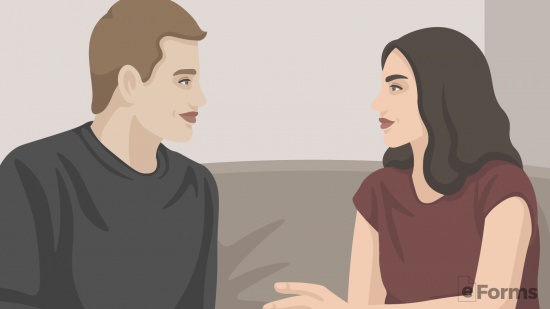 The hardest step is broaching the subject. Often times, this can cause emotional fallout and lead to a lack of trust. This subject is best handled at the earliest stage possible. Attempting to have a spouse sign a prenuptial agreement days or weeks before the wedding could be considered coercion and deem the contract to be invalid.
Step 2 – Seek Legal Counsel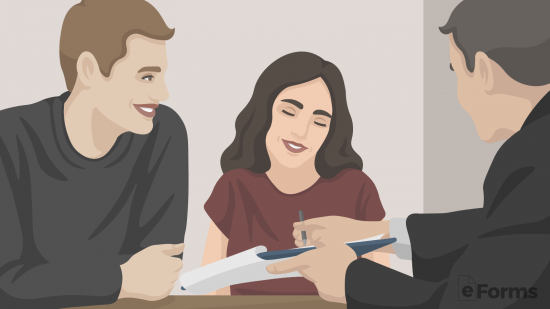 After discussion by both parties, it's time to get legal counsel. It's required in most States to have each spouse retain their own legal counsel. Furthermore, it's best to have attorneys that are not in the same office to avoid any conflict of interest. Each spouse is advised to get a divorce attorney with experience in the State where the agreement is being signed.
Step 3 – Make a List of Financial Assets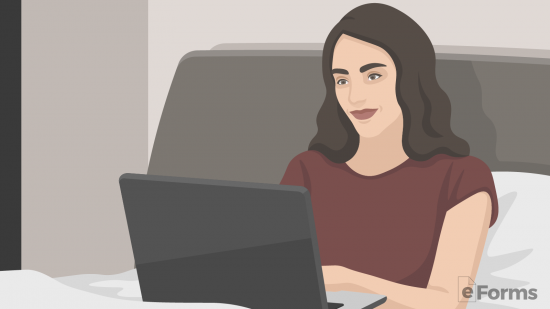 After finding legal counsel, it's time to make a list of the full list of all the financials by each spouse. It is a requirement for each spouse to disclose all cash, assets, debt, real estate, retirement accounts, potential funds from litigation, and any other financial information.
Step 4 – Negotiate and Agree to Terms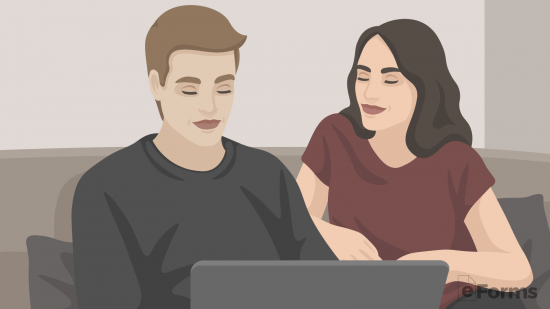 Every relationship is different and going about how to negotiate is up to the spouses. It's recommended the following topics are discussed and agreed to in-full: (use below as a checklist)
Money and assets prior to the marriage;
Debts and liabilities prior to the marriage;
Estate planning;
Inheritance Proceeds;
Adultery/Cheating "Penalties";
Alimony; and
Any other financial terms.
Helpful Tip: The main purpose of an attorney is to give advice that is separate from the emotional part of the marriage.
Step 5 – Sign the Agreement (Requirements)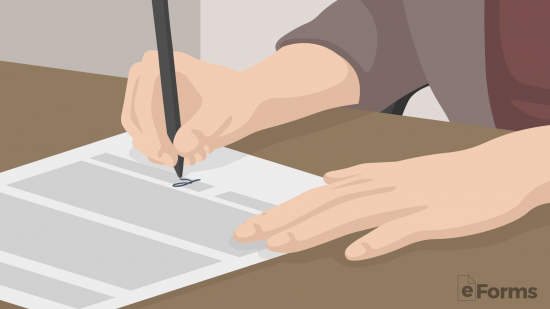 The spouses must sign the agreement in accordance with State laws (see below). It is highly recommended that the execution of the document is completed at least thirty (30) days before the wedding or civil union date. Both parties should receive signed original copies. If there are no laws in a specific State, it's recommended to be signed with both spouses in the presence of a notary public.
State
Signing Requirements
Statutes
Alabama
Both spouses only.
Barnhill

 v. 

Barnhill, 386 So. 2d 749 (Ala. Civ. App. 1980)
Alaska
Both spouses only.
Brooks v. Brooks, 733 P.2d 1044, 1048-51 (Alaska 1987)
Arizona
Both spouses only.
§ 25-202
 Arkansas
Prenuptial Agreement Acknowledgment must be attached (Adobe PDF, MS Word, OpenDocument)
§ 9-11-402
 California
Both spouses only.
CA Fam Code § 1611
 Colorado
Both spouses only.
§ 14-2-306
 Connecticut
Both spouses only.
Sec. 46b-36c
 Delaware
Both spouses only.
§ 322 Formalities
District of Columbia (D.C.)
Both spouses only.
 Florida
Both spouses only.
§ 61.079 (3)
 Georgia
A notary public and one (1) witness.
§ 19-3-62
 Hawaii
Both spouses only.
§ 572D-2 Formalities
 Idaho
Both Spouses only.
§ 32-922 – Formalities
 Illinois
Both spouses only.
750 ILCS 10/3
 Indiana
Both spouses only.
IC 31-11-3-4
 Iowa
Both spouses only.
§ 596.4 Formalities
 Kansas
Both spouses only.
§ 23-2403
 Kentucky
Both spouses only.
KRS 371.010
 Louisiana
Both signatures must be notarized.
CC 2331
 Maine
Both spouses only.
§ 603
 Maryland
Both spouses only.
Stewart v. Stewart. No. 0249, 2011)
 Massachusetts
It must be recorded in the Registry of Deeds where the husband resides.
Part II, Title III, Chapter 209, Section 26
 Michigan
Both spouses only.
§ 566.132, Sec. 2(1)(c)
 Minnesota
Two (2) witnesses and a notary public.
§ 519.11, Subdivision 2
 Mississippi
Both spouses only.
Mabus v. Mabus, 890 So.2d 806 (Miss. 2003)
 Missouri
Both signatures must be notarized.
§ 

451.220

 Montana
Both spouses only.
§ 40-2-604
 Nebraska
Both spouses only.
§ 42-1003
 Nevada
Both spouses only.

NRS 

123A.040

 New Hampshire
Both spouses only.
§ 460:2-a
 New Jersey
Both spouses only.
§ 37:2-33
 New Mexico
Both signatures must be notarized.
§ 40-3A-3
 New York
Both signatures must be notarized.
DRL 236B(3)
 North Carolina
Both spouses only.
§ 52B-3
 North Dakota
Both spouses only.
§ 14-03.2-05
 Ohio
Both spouses only.
§ 1335.05
 Oklahoma
Both spouses only.
§ 43-121(B)
 Oregon
Both spouses only.
§ 108.705
 Pennsylvania
Both spouses only.
§ 3106
 Rhode Island
Both spouses only.
§ 15-17-2
 South Carolina
Both spouses only.
Holler v. Holler, 364 S.C. 256 (2005)
 South Dakota
Both spouses only.
§ 25-2-17
 Tennessee
Both spouses only.
§ 36-3-501
 Texas
Both spouses only.
§ 4.002
 Utah
Both spouses only.
§ 30-8-3
 Vermont
Both spouses only.
Bassler v. Bassler, 156 Vt. 353 (1991)
 Virginia
Both spouses only.
§ 20-149
 Washington
Both spouses only.
Marriage of Matson, 107 Wn. 2d 479 (1986)
West Virginia
Both spouses only.
§ 48-1-203
 Wisconsin
Both spouses only.
In re Marriage of Button v. Button, 131 Wis. 2d 84 (1986)
 Wyoming
Both spouses only.
LUND v. LUND, 849 P.2d 731 (1993)
How to Nullify
Nullifying a prenuptial agreement requires the consent of both parties. It can be revoked on a 1-page agreement, notarization recommended, with the following language:
Revocation of Prenuptial Agreement

I, [Spouse's Name] and [Spouse's Name], hereby revoke, void, and nullify the prenuptial agreement signed on the ____ day of _________________, 20____. We, the spouses, both have agreed to execute this revocation through our own free will and not under any unlawful duress or coercion by any outside parties.

Spouse Signature ____________________ Date ___________

Print Name ____________________

Spouse Signature ____________________ Date ___________

Print Name ____________________
Prenuptial Agreement: Sample
How to Write a Prenuptial Agreement
Download: Adobe PDF, MS Word (.docx), OpenDocument
Step 1 –