Updated August 07, 2023
A Minnesota rental agreement is created between a landlord of residential or commercial space and a prospective tenant that seeks to occupy it while paying rent. Both parties will also negotiate other terms of the agreement, such as utilities, fees, deposits, and other responsibilities. The agreement becomes legally binding after being signed by all parties.
Agreement Types (7)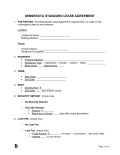 Standard Residential Lease Agreement – Most popular type of residential lease. Fixed-term arrangement lasting for a one-year period.

Download: PDF, MS Word, OpenDocument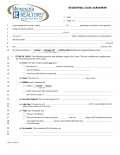 Association of Realtors Lease – For use by a licensed realtor in the State of Minnesota.

Download: PDF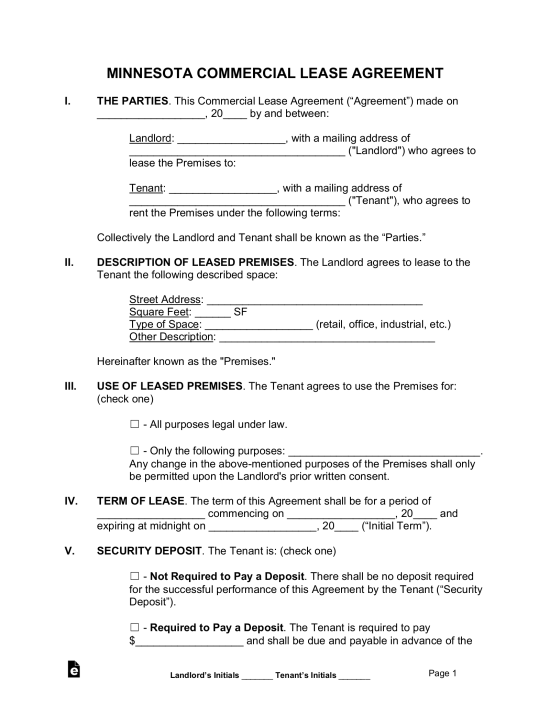 Commercial Lease Agreement – Intended for a property with commercial use such as retail, restaurant, office, or industrial types.

Download: PDF, MS Word, OpenDocument
Month-to-Month Lease Agreement – Must be written pursuant to § 504B.135 with the cancellation of the contract within the payment interval or three months, whichever is less.

Download: PDF, MS Word, OpenDocument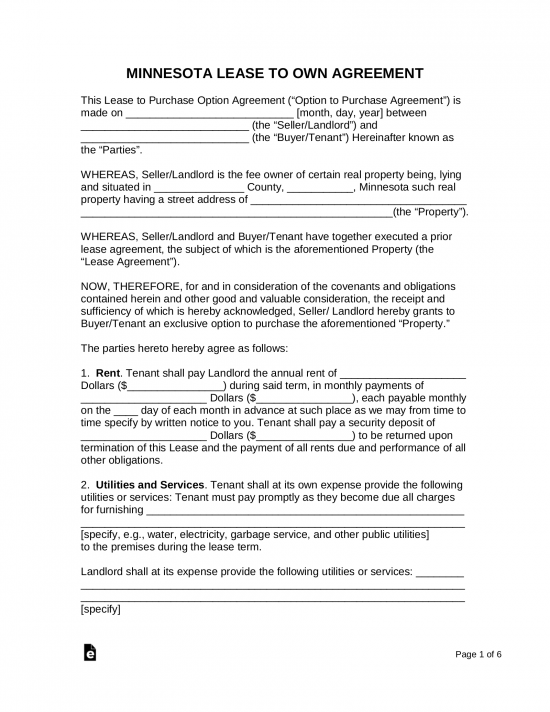 Rent-to-Own Lease Agreement – Typical contract with the added benefit of having the choice of buying the property.

Download: PDF, MS Word, OpenDocument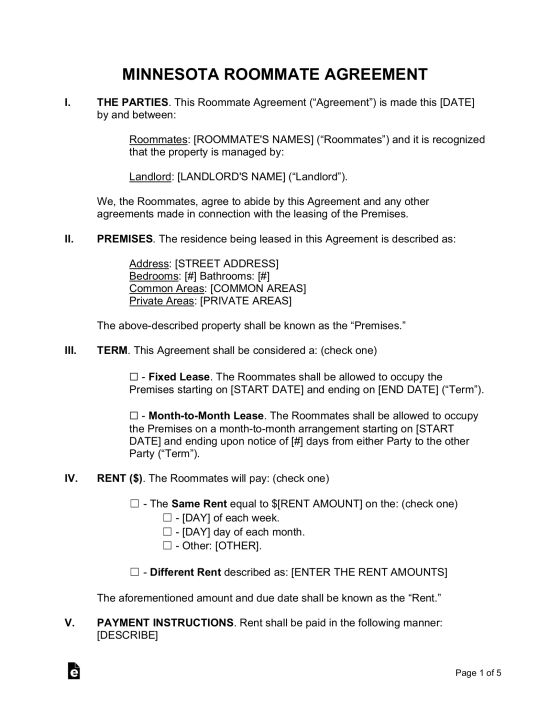 Room Rental (Roommate) Agreement – For persons designated in a shared living arrangement.

Download: PDF, MS Word, OpenDocument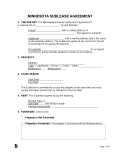 Sublease Agreement – For the renting of space that is already under an agreement by a tenant.

Download: PDF, MS Word, OpenDocument
Required Disclosures (5)
Covenant of Landlord and Tenant Not to Allow Unlawful Activities (§ 504B.171) – All residential lease agreements written in Minnesota must include the following words;
Landlord and tenant promise that neither will unlawfully allow within the premises, common areas, or curtilage of the premises (property boundaries): controlled substances, prostitution or prostitution-related activity; stolen property or property obtained by robbery; or an act of domestic violence, as defined by MN Statute Section 504B.206 (1)(e), against a tenant, licensee, or any authorized occupant. They further promise that the aforementioned areas will not be used by themselves or anyone acting under their control to manufacture, sell, give away, barter, deliver, exchange, distribute, purchase, or possess a controlled substance in violation of any criminal provision of Chapter 152.
Financial Distress (§ 504B.151) – If the landlord's property is being foreclosed upon or a deed of cancellation has been issued, a tenant may not legally sign for more than a two (2) month period.
Landlord/Manager Information (§ 504B.181) – In the lease agreement, the landlord must disclose the manager authorized to act on the premises along with an address for notices.
Lead-Based Paint Disclosure – This disclosure form is required by federal law for all tenants moving-in to properties constructed before 1978.
Outstanding Inspection Orders (§ 504B.195) – If the premises has any outstanding inspection orders due to a property's code infraction, it must be relayed to the tenant.
Security Deposits
Returning (§ 504B.178) – Within three (3) weeks of the termination of tenancy.
When is Rent Due?
There is no statutory law related to when rent is due. Therefore, rent is due on the date mentioned in the lease. There is no grace period.
Maximum Fees
Late Rent – Late fees must be identified in the lease agreement and may not exceed eight percent (8%) of the monthly rent (§ 504B.177).
NSF Fee – There is no Minnesota law regarding fees for NSF rent checks, but the fee should be named in the lease agreement and must be reasonable.
Right to Enter (Landlord)
According to § 504B.211, the landlord must grant at least "reasonable notice" before entering the property being leased by the tenant.
Resources