Updated May 25, 2023
A Missouri lease agreement is written and agreed upon by a landlord and a tenant for a period of time and covers the exchange of a place to live or conduct business in exchange for the payment of rent. The tenant's credit and income will most likely be verified by the landlord before a lease is signed. At lease signing, the tenant will be obligated to pay the first month's rent and a security deposit (if any).
Rental Application
– Form given to a potential tenant, along with a small fee, to run credit & personal background checks in addition to verifying references.
Agreement Types (8)
Standard Residential Lease Agreement – Fixed-term lease typically for a one-year agreement.

Download: Adobe PDF, MS Word, OpenDocument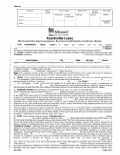 Association of Realtors Lease Agreement – To be used and written by a licensed Realtor when handling a transaction between a landlord and tenant.

Download: Adobe PDF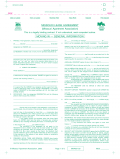 Apartment Association of Missouri Lease – For any standard fixed-term housing arrangement.

Download: Adobe PDF
Commercial Lease Agreement – For any business-related use such as occupying retail, office, or industrial space.

Download: Adobe PDF, MS Word, OpenDocument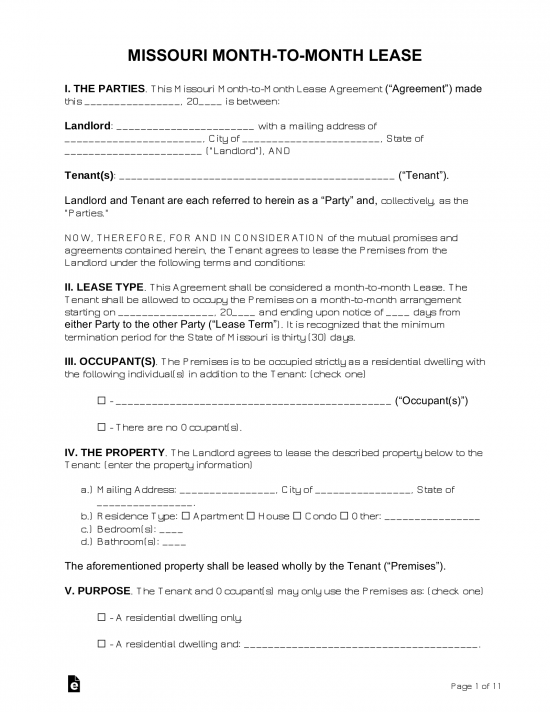 Month-to-Month Lease Agreement – Known as a tenancy at will and should be written according to Section 441.060 providing at least one month's notice to cancel at any time.

Download: Adobe PDF, MS Word, OpenDocument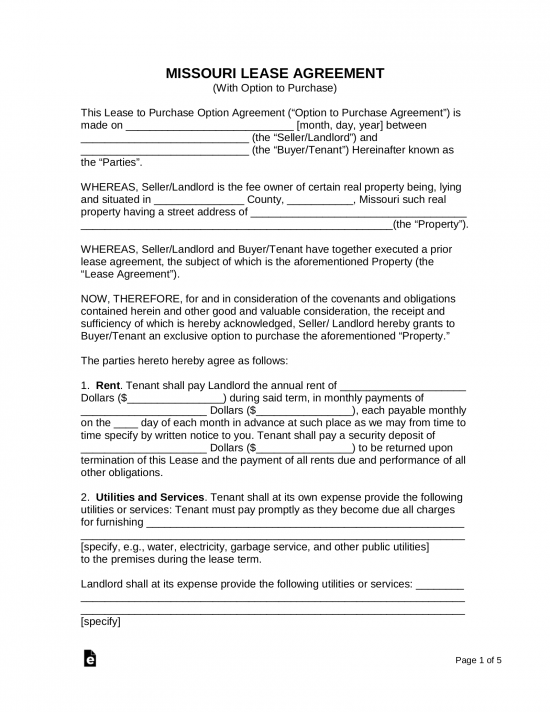 Rent-to-Own Lease Agreement – Standard residential contract with language providing for the purchase of the property if the tenant chooses to buy.

Download: Adobe PDF, MS Word, OpenDocument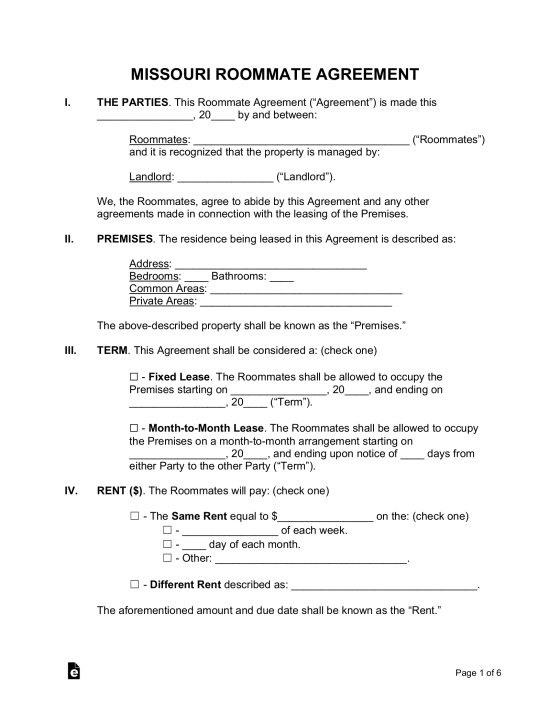 Room Rental (Roommate) Agreement – For individuals sharing common areas within one dwelling.

Download: Adobe PDF, MS Word, OpenDocument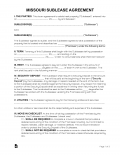 Sublease Agreement – For the purpose of a tenant that is legally bound to an existing arrangement with the landlord and would like another individual to fill in and pay rent until the end of their term.

Download: Adobe PDF, MS Word, OpenDocument
Required Disclosures (1)
Lead-Based Paint Disclosure – Required by any landlord, per federal law, whose housing unit was built prior to 1978.
Security Deposits
Maximum (Section 535.300) – Two (2) months' rent.
Returning (Section 535.300) – Within thirty (30) days of the termination of tenancy by the landlord, the deposit must be returned to the tenant.
When is Rent Due?
There is no grace period and no date set in state law, so rent is due on the day outlined in the lease agreement.
Maximum Fees
Late Rent – No law limits a landlord's fee for late rent, but the fee must be reasonable and be mentioned in the lease.
NSF Fee (§ 570.120(5)) – $25 for amounts less than $100, $50 for checks of$100-$250, and for $250 or more is 10% of the total check amount or $75, whichever is less.
Right to Enter (Landlord)
There is no statute that requires the landlord to give the tenant notice before entering the property for any non-emergency reason.
Video
Resources