Updated August 07, 2023
A Nebraska lease agreement is a document between a landlord and tenant that outlines the terms and conditions for renting property. After a prospective tenant views the property, the landlord will generally request their personal information for the purpose of credit verification. A small fee may be associated with the screening process, and once approved by the landlord, a lease should be written and signed.
Rental Application
– Used by a landlord when finding out about a potential tenant's past and current employment, references, and background.
Agreement Types (6)
Standard Residential Lease Agreement – For a fixed term, usually one year, between a landlord and tenant for any type of livable dwelling.

Download: PDF, MS Word, OpenDocument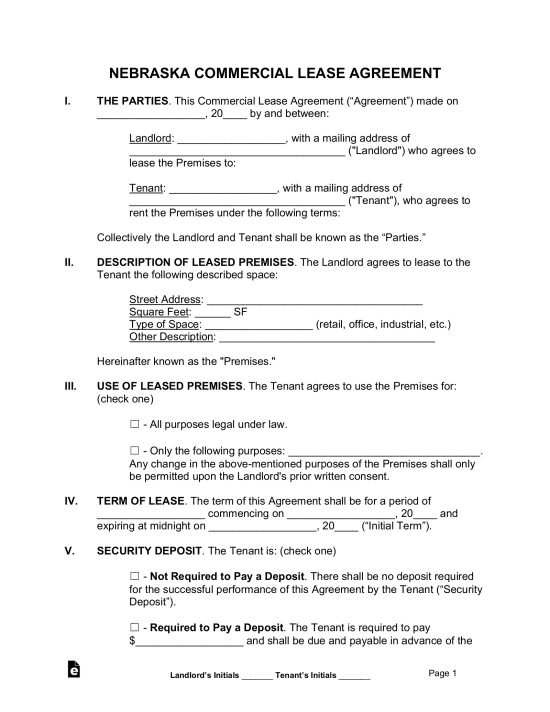 Commercial Lease Agreement – For renting a property that will be used as a business.

Download: PDF, MS Word, OpenDocument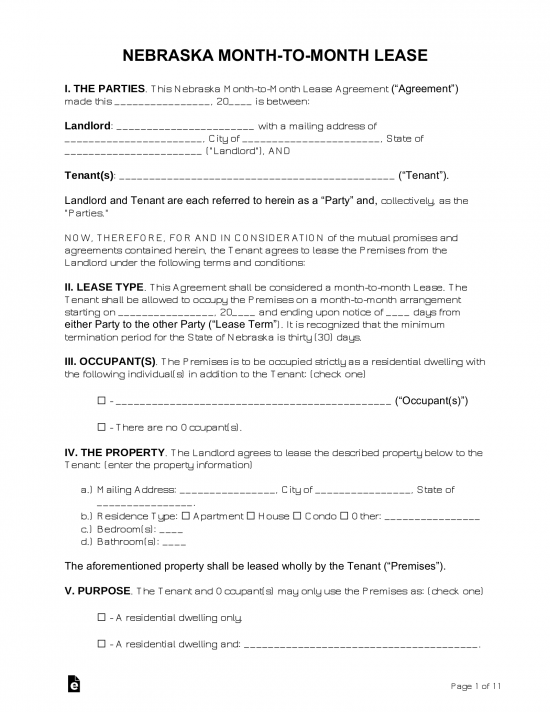 Month-to-Month Lease Agreement (§ 76-1416) – Also referred to as a tenancy at will and can be terminated with at least 30 days' notice.

Download: PDF, MS Word, OpenDocument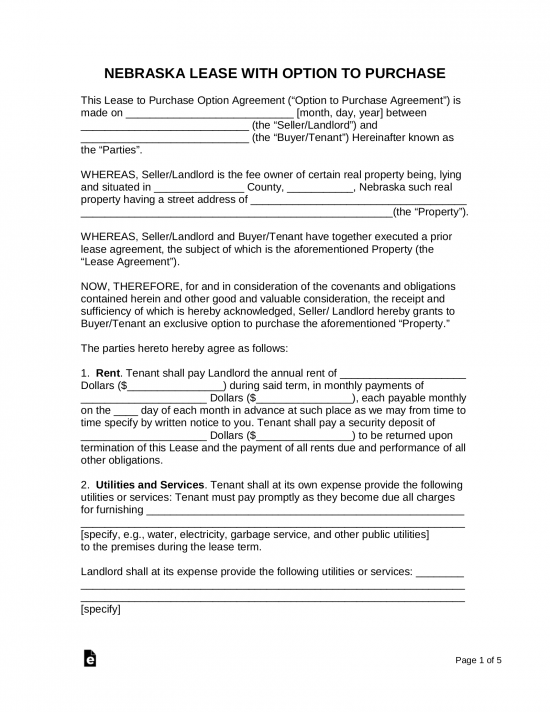 Rent-to-Own Lease Agreement – A standard contract with an added provision that lets the tenant purchase the home at their request.

Download: PDF, MS Word, OpenDocument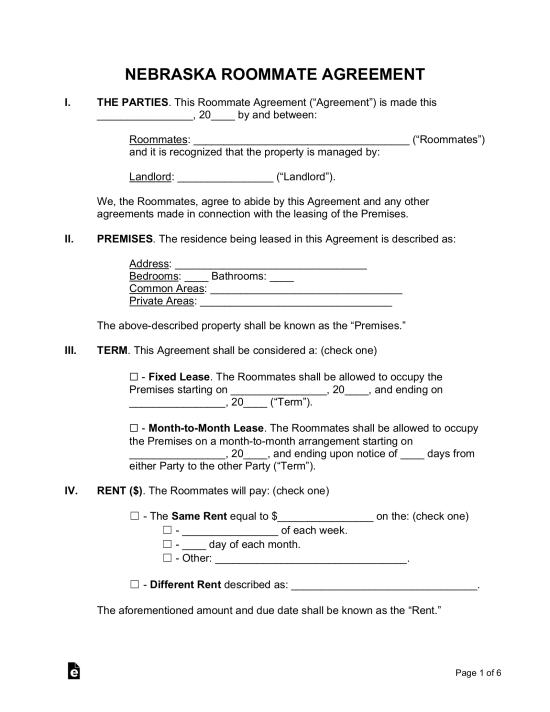 Room Rental (Roommate) Agreement – A shared living situation that creates rules for how the common areas shall be maintained along with who is responsible for which expenses.

Download: PDF, MS Word, OpenDocument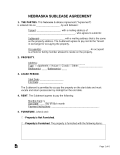 Sublease Agreement – The act of renting space that is already under agreement by a tenant.

Download: PDF, MS Word, OpenDocument
Required Disclosures (2)
Identity (§ 76-1417) – The landlord must disclose in their contract all persons allowed to enter the premises in addition to an official address for notices.
Lead-Based Paint Disclosure – Per federal law, all landlords/managers of residential units constructed before 1978 must inform their tenants with this document of the hazardous material located within the layers of paint. Any chipping or falling paint must be reported by the tenant to the landlord/manager.
Security Deposits
Maximum Amount (§ 76-1416(1)) – The lessor may request up to one (1) month's rent.
Pet Deposit (§ 76-1416(1))- A pet deposit cannot be more than 25% of the monthly rent.
Returning (§ 76-1416) – All funds must be returned to the tenant within fourteen (14) days of move-out.
When is Rent Due? (Grace Period)
Rent is due on the date mentioned in the lease. No rent grace period exists (§ 76-1414(3)).
If rent is not paid on the due date, the landlord can issue the tenant a seven (7) day notice to quit to allow repayment or to vacate the property. If the tenant does neither, eviction proceedings can begin.
Late Fees
Maximum Penalty – There is no law or statute regarding late fees in Nebraska. If a late fee is charged to the tenant, it must be mentioned in the lease.
NSF Fee (§ 28-611(5)) – $10 is the maximum fee that can be charged for a bounced check by a tenant.
Right to Enter (Landlord)
A landlord must serve the tenant 24-hours' notice prior to entering the tenant's residence for non-emergency reasons (§ 76-1423).
Resources