Updated January 05, 2023
A referral fee agreement is between an affiliate that "refers" sales or services to a company in exchange for compensation. The fee paid to the affiliate is commonly a percentage (%) of the total sale or a flat fee per transaction. Leads may also be included in the agreement, for example, if the affiliate refers e-mail addresses to the company, they may be able to receive compensation.
Independent Contractor Status
– Most companies will require the affiliate complete
IRS Form W-4
before administering payment.
By Type (8)
What is a Referral Agreement?
A referral agreement outlines how an affiliate is to be paid for forwarding business to a company. Some referral agreements have tiered structures that pay a higher percentage (%) based on how much business is referred to the business. In addition, the company will usually define the rules for what constitutes a sale or lead.
Business Referral Agreement
Client Referral Agreement
Commission Referral Agreement
Finder's Fee Agreement
Marketing Referral Agreement
Partnership Referral Agreement
Online Referrals (Affiliate Programs)
Online referrals are when a company provides a link to a service or product they are selling online. This is common when a website has related content and recommends a product.
For Example, if a travel website recommends a hotel to its users by linking to booking.com. The affiliate program at booking.com provides a 40% commission on whatever visitors purchase on the site.
Top Affiliate Programs
The following are the top affiliate programs for an Advertiser or Publisher on the web:
Referral vs. Reseller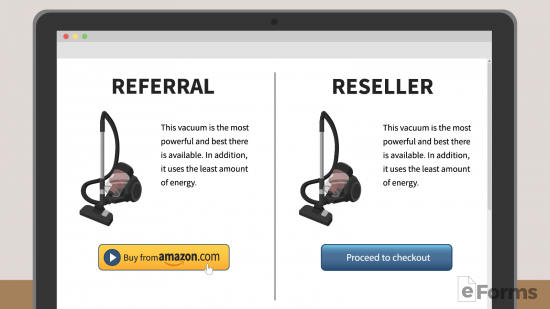 The main difference between the two is that a referral simply recommends a product or service and a reseller sells it themselves.
| | | |
| --- | --- | --- |
| Difference | Referral | Reseller |
| Where does the sale occur? | On the main company's website. | On the reseller's website. |
| When is the commission paid? | In accordance with the referral agreement. | At the time of sale. |
| Who decides pricing? | The main company. | The Reseller. |