Updated August 04, 2023
A Delaware lease agreement is a contract used by landlords when allowing a tenant to occupy and use property in exchange for monthly rent. In addition to rent, the tenant will be required to maintain the property and inform the landlord of any needed repairs. Responsibilities related to utilities and services to the property will be outlined and negotiated in the lease agreement.
Rental Application
– Not required but recommended for a landlord to use to ensure that the person that will be renting their property is qualified.
Agreement Types (6)
Standard Residential Agreement – Standard fixed version for a term usually amounting to 12 months.

Download: PDF, MS Word, OpenDocument
Commercial Lease Agreement – For the sole use of renting property to be used by a business. May be for any type of commercial property including office, industrial, and retail.

Download: PDF, MS Word, OpenDocument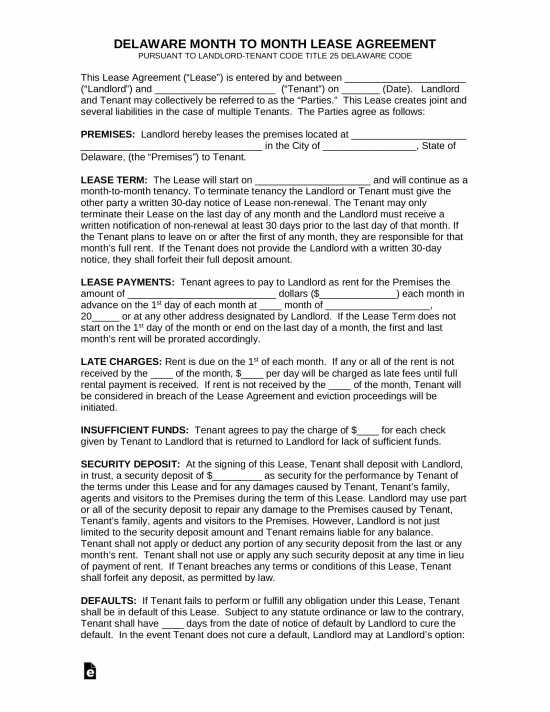 Month-to-Month Rental Agreement – Known as a tenancy at will with no end date. The landlord or tenant has the option to cancel at any time.

Download: PDF, MS Word, OpenDocument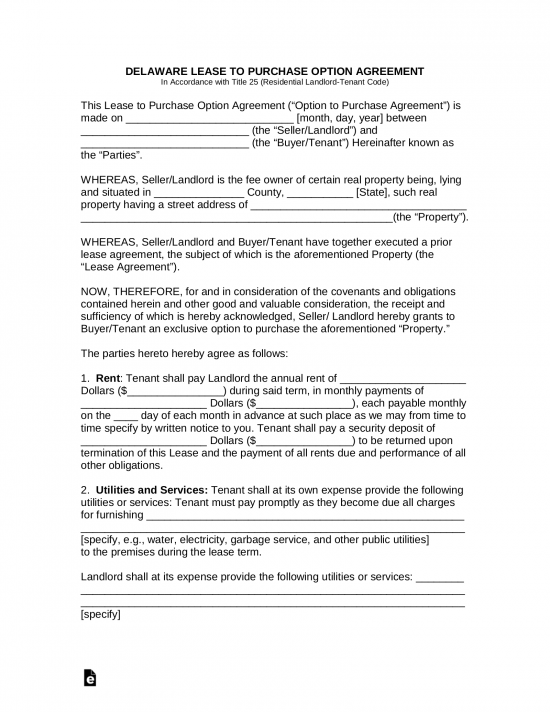 Rent-to-Own Lease Agreement – Simple lease with the added benefit of having the option to buy the property during the term.

Download: PDF, MS Word, OpenDocument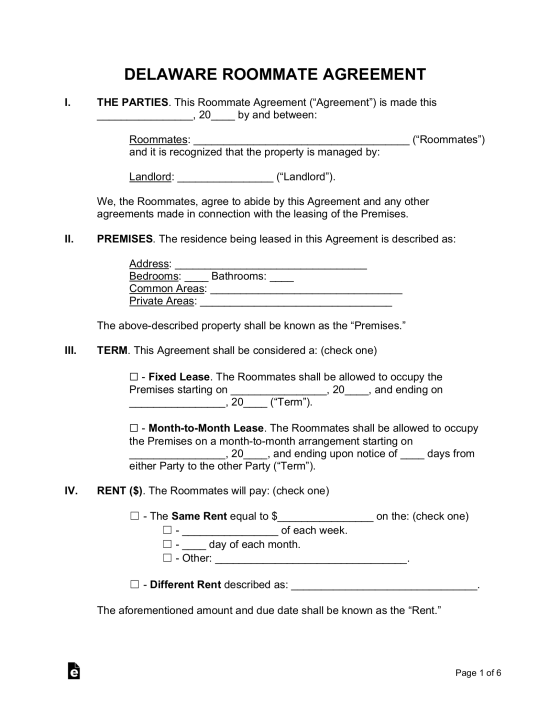 Roommate Rental Agreement – For the use of more than one individual seeking a shared living arrangement.

Download: PDF, MS Word, OpenDocument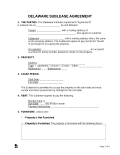 Sublease Agreement – A lessee enters an agreement with a sub-tenant to take over the premises until a specific date or when the master lease expires.

Download: PDF, MS Word, OpenDocument
Required Disclosures (3)
Landlord-Tenant Code (Title 25 § 5118) – Landlords must give new tenants a copy of the "Summary of the Delaware Residential Landlord-Tenant Code" as prepared and disseminated by the Consumer Protection Unit of the Delaware Attorney General.
Lead-Based Paint Disclosure – For any residential dwelling constructed prior to 1978.
Owner/Agent Disclosure (Title 25  § 5105) – The landlord must include the details of the property owners in the lease.
Security Deposits
Maximum Amount (Title 25 § 5514) – Equal to one (1) month for yearly agreements and may be any amount (no cap) as determined by the landlord for a month-to-month lease (Tenancy at Will).
Returning (Title 25 § 5514) – The landlord must return the funds, along with any deductions which much be listed in an itemized statement, within twenty (20) days.
When is Rent Due? (Grace Period)
Rent is due after the five (5) day grace period (Title 25 § 5501(d)).
Late Fees
Maximum Penalty (Title 25 § 5501(d)) – The amount cannot exceed 5% of the monthly rent amount.
NSF Fee (Title 6 § 1301A(a)(2)) – $40 is the maximum fee.
Right to Enter (Landlord)
The landlord must allow for forty-eight (48) hours' notice to the tenant before entering the premises (Title 25 § 5509).
Resources