Updated May 25, 2023
A Michigan lease agreement allows a landlord to lease their property to a tenant seeking to pay rent to occupy the space. The terms may vary, but commonly a standard lease is for one year, with rent due on the first of each month. It is recommended that landlords always screen their tenants to ensure they have the financial capability to pay rent on a monthly basis.
Rental Application
– Form provided for the landlord to verify that a potential tenant is currently employed to view any other requested credentials.
Agreement Types (7)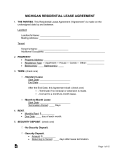 Standard Residential Lease Agreement – Residential arrangement with a start and end date for most common types of tenancies.

Download: Adobe PDF, Microsoft Word, OpenDocument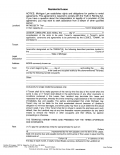 Association of Realtors Lease Agreement – To be used by realtors when representing a landlord or tenant in a rental arrangement.

Download: Adobe PDF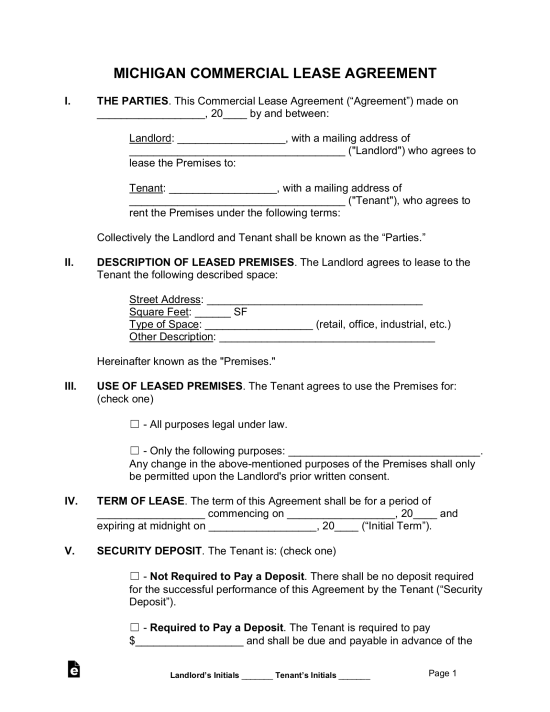 Commercial Lease Agreement – For a business use such as a store, restaurant, office, industrial, or any other type.

Download: Adobe PDF, MS Word, OpenDocument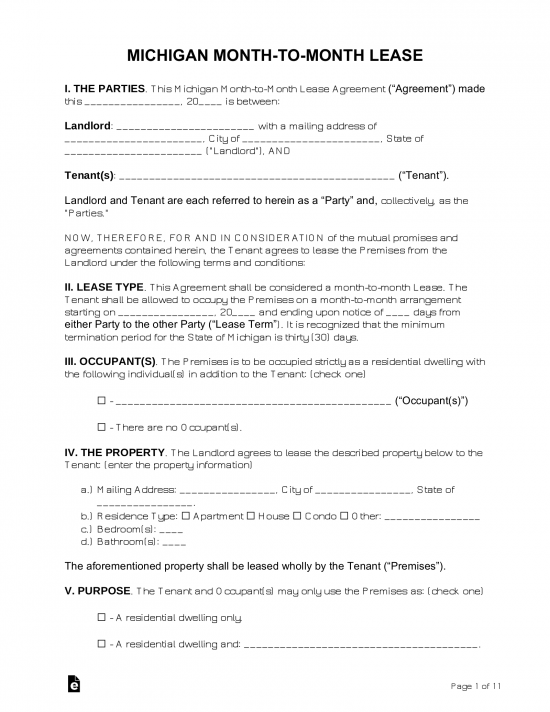 Month-to-Month Lease Agreement – A tenancy at will in accordance with § 554.134. The contract may be terminated within one month's notice.

Download: Adobe PDF, MS Word, OpenDocument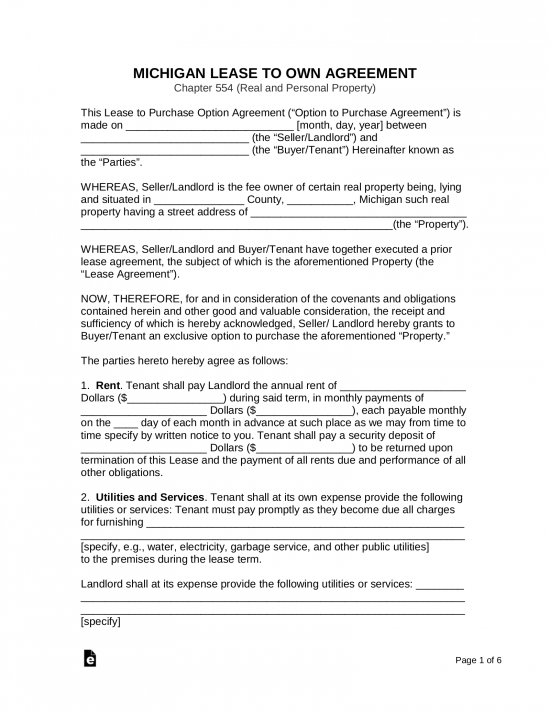 Rent-to-Own Lease Agreement – Standard contract with a provision that allows for the sale of the premises within a particular timeline.

Download: Adobe PDF, MS Word, OpenDocument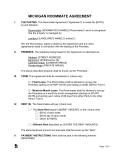 Room Rental (Roommate) Agreement – Shared housing between members of a dwelling to negotiate the services in the unit and times for cleaning and other duties.

Download: Adobe PDF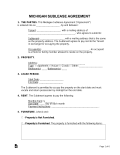 Sublease Agreement – For a tenant in a standard lease who wants to rent the property to someone else for the remainder of their term. Typically, the landlord must agree to this type of tenancy.

Download: Adobe PDF
Required Disclosures (6)
Domestic Violence Victims – The landlord must write the following either in the rental contract, hung on the property, or delivered to the Tenant:
NOTICE: A tenant who has a reasonable apprehension of present danger to him or her or his or her child from domestic violence, sexual assault, or stalking may have special statutory rights to seek a release of rental obligation under MCL 554.601b.
Inventory Checklist (§ 554.608) – A list including the condition of the property must be returned to the landlord within seven (7) days of taking occupancy for which a security deposit is required.
Lead-Based Paint Disclosure – A federal law that requires all landlords to disclose to their tenants, only if the residential unit was built before 1978, that the existence of this paint may pose a danger if exposed.
Notice Information (§ 554.634) – The landlord must provide in the lease an address where the tenant may be able to send legal notices.
Truth in Lending Act (§ 554.634) – All contracts must contain the following in 12-point font and no less than 1/8 inch in height.
NOTICE: Michigan law establishes rights and obligations for parties to rental agreements. This agreement is required to comply with the Truth in Renting Act. If you have a question about the interpretation or legality of a provision of this agreement, you may want to seek assistance from a lawyer or other qualified person.
Security Deposit Receipt (§ 554.603) – Must be given by the landlord to the tenant, including the financial institution where the funds are located. In addition, the following must be stated in the receipt, in at least 12-point font, which must be at least 4 points larger than the rest of the document, and in bold lettering:
NOTICE: You must notify your landlord in writing within 4 days after you move of a forwarding address where you can be reached and where you will receive mail; otherwise your landlord shall be relieved of sending you an itemized list of damages and the penalties adherent to that failure.
Security Deposits
Maximum (§ 554.602) – One and a half (1.5) months' rent is the most a landlord may receive from a tenant.
Returning (§ 554.609) – Within thirty (30) days of the end of occupancy the landlord must send the tenant their deposit, along with any itemized deductions, their forwarding address.
When is Rent Due?
There is no statute or law regarding when rent is due in Michigan. There is no rent grace period. If rent is late, the landlord can send the tenant a 7-day notice to quit to begin formal eviction proceedings.
Late Fees
Maximum Penalty – No statutes. The landlord may charge as much as desired.
NSF Fee (§ 600.2952) – $25 is the maximum allowable charge for a bad check.
Right to Enter
There is no statute regarding a landlord's right to access the property. In the case of emergencies, the landlord may enter the property without notice (per the Guide on page 36).
For non-emergency entry, there is no law. However, the landlord is recommended to give the tenant 24 to 48-hour written notice.
Video
Resources