Updated May 25, 2023
A Florida lease agreement is a document written between a landlord and tenant for the renting of commercial or residential property. The agreement is written after the landlord has accepted a rental application by the tenant that details their personal information and gives their consent to run a credit report.
If the tenant is accepted, a lease will be negotiated and written. At lease signing, the tenant must pay the first (1st) month's rent and a security deposit (if any).
Rental Application
– Used by a landlord, or their agent, to verify the credentials of a tenant, including their employment, credit, and any other personal details.
Agreement Types (9)
Standard Residential Agreement – The most common type of rental contract that allows the landlord and tenant to come to a binding arrangement for the property.

Download: Adobe PDF, MS Word, OpenDocument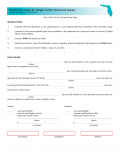 Association of Realtors Agreement – Standard residential agreement approved by the Florida Association of Realtors.

Download: Adobe PDF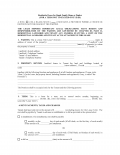 BAR Association Lease Agreement – Produced by the Florida BAR for use by landlords.
Download: Adobe PDF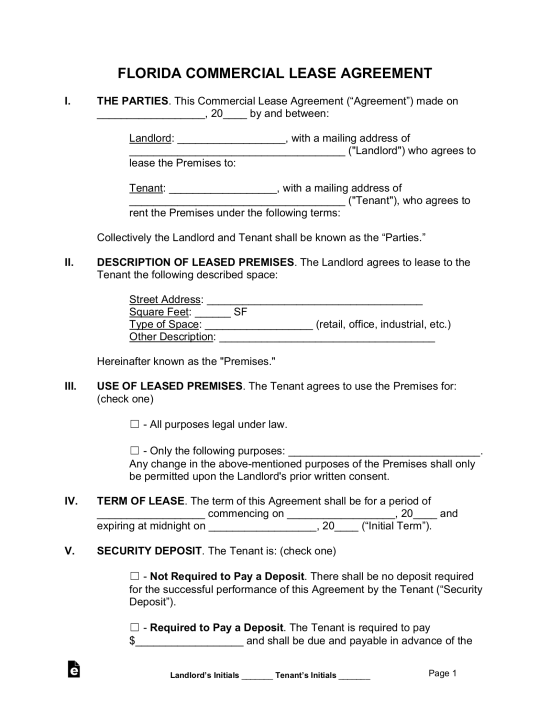 Commercial Lease Agreement – For any business-oriented use that may be for any type of retail, office, or industrial space.

Download: Adobe PDF, MS Word, OpenDocument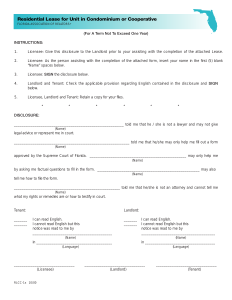 Condominium Lease Agreement – For any type of condo or cooperative unit for a period of a maximum of one year.

Download: Adobe PDF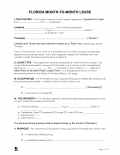 Month-to-Month Rental Agreement –  Short-term lease that can be terminated with 15 days' notice.

Download: Adobe PDF, MS Word, OpenDocument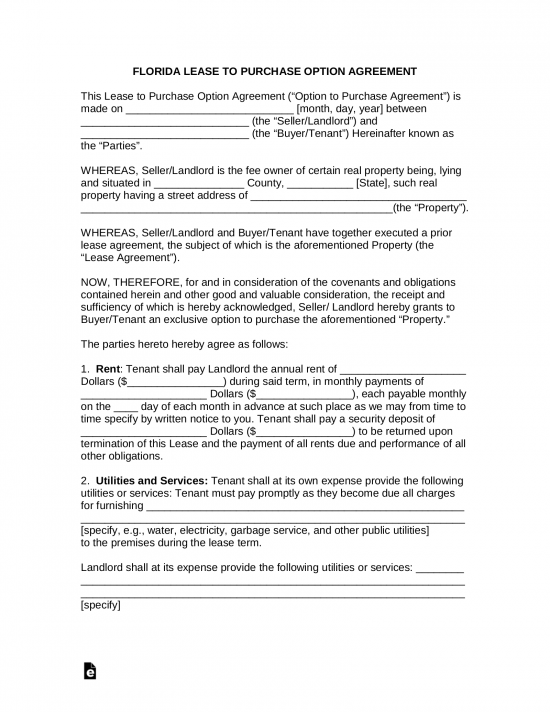 Rent-to-Own Lease Agreement – Standard form with the benefit of having an option to purchase the property.

Download: Adobe PDF, MS Word, OpenDocument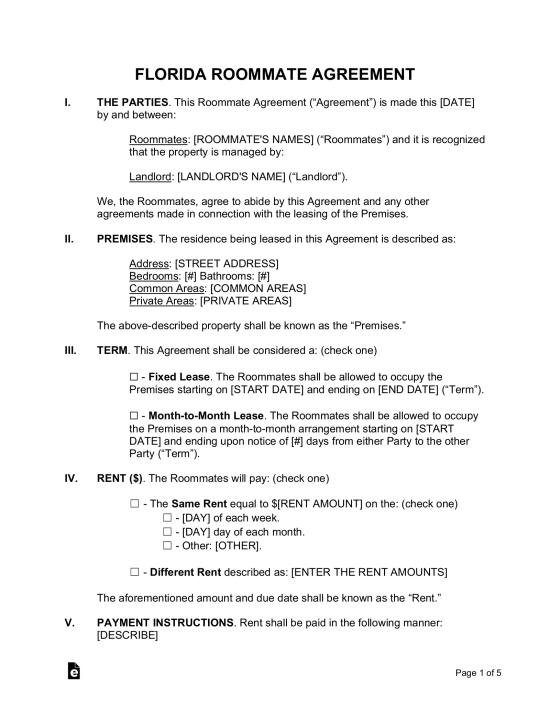 Roommate (Room Rental) Agreement – Between the tenants of a shared living situation.

Download: Adobe PDF, MS Word, OpenDocument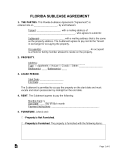 Sublease Agreement – The act of renting space that is under lease from another tenant. The new tenant is known as the subtenant or sublessee. Typically, the landlord must consent to this type of tenancy.

Download: Adobe PDF, MS Word, OpenDocument
Required Disclosures (5)
Identification ( § 83.50(1)) – The lease must include the name and address of a contact person for the tenant. It is also recommended to mention a phone number or e-mail for better communication.
Lead-Based Paint Disclosure – Federal law requires landlords to complete and provide to a tenant prior to occupancy.
Radon Disclosure (§ 404.056) – The following must be stated in every Florida lease agreement:
RADON GAS: Radon is a naturally occurring radioactive gas that, when it has accumulated in a building in sufficient quantities, may present health risks to persons who are exposed to it over time. Levels of radon that exceed federal and state guidelines have been found in buildings in Florida. Additional information regarding radon and radon testing may be obtained from your county health department.
Security Deposit Disclosure – If there is a security deposit, the following must be included or attached to the lease (written in CAPITAL LETTERS):
YOUR LEASE REQUIRES PAYMENT OF CERTAIN DEPOSITS. THE LANDLORD MAY TRANSFER ADVANCE RENTS TO THE LANDLORD'S ACCOUNT AS THEY ARE DUE AND WITHOUT NOTICE. WHEN YOU MOVE OUT, YOU MUST GIVE THE LANDLORD YOUR NEW ADDRESS SO THAT THE LANDLORD CAN SEND YOU NOTICES REGARDING YOUR DEPOSIT. THE LANDLORD MUST MAIL YOU NOTICE, WITHIN 30 DAYS AFTER YOU MOVE OUT, OF THE LANDLORD'S INTENT TO IMPOSE A CLAIM AGAINST THE DEPOSIT. IF YOU DO NOT REPLY TO THE LANDLORD STATING YOUR OBJECTION TO THE CLAIM WITHIN 15 DAYS AFTER RECEIPT OF THE LANDLORD'S NOTICE, THE LANDLORD WILL COLLECT THE CLAIM AND MUST MAIL YOU THE REMAINING DEPOSIT, IF ANY. IF THE LANDLORD FAILS TO TIMELY MAIL YOU NOTICE, THE LANDLORD MUST RETURN THE DEPOSIT BUT MAY LATER FILE A LAWSUIT AGAINST YOU FOR DAMAGES. IF YOU FAIL TO TIMELY OBJECT TO A CLAIM, THE LANDLORD MAY COLLECT FROM THE DEPOSIT, BUT YOU MAY LATER FILE A LAWSUIT CLAIMING A REFUND. YOU SHOULD ATTEMPT TO INFORMALLY RESOLVE ANY DISPUTE BEFORE FILING A LAWSUIT. GENERALLY, THE PARTY IN WHOSE FAVOR A JUDGMENT IS RENDERED WILL BE AWARDED COSTS AND ATTORNEY FEES PAYABLE BY THE LOSING PARTY. THIS DISCLOSURE IS BASIC. PLEASE REFER TO PART II OF CHAPTER 83, FLORIDA STATUTES, TO DETERMINE YOUR LEGAL RIGHTS AND OBLIGATIONS.
---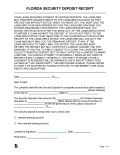 Security Deposit Receipt (§ 83.49) – After the tenant has paid a security deposit, the landlord must notify them within thirty (30) days of where the money is being held and if it is an interest or non-interest-bearing account.
Download: Adobe PDF, MS Word, OpenDocument
---
Security Deposits
Maximum Amount – There is no limit on how much a landlord may request.
Returning (83.49(3)(a)) – 15 days if there are no deductions due to damage or other liabilities and 30 days if there are deductions.
When is Rent Due? (Grace Period)
Rent is due in Florida on the day mentioned in the lease agreement. This is commonly the first (1st) day of the month. There is no rent grace period (§ 83.46(1)).
If rent is late, the tenant can be issued a 3-day notice to quit to begin the eviction process.
Late Fees
Maximum Penalty (§ 83.45) – A late fee is permitted that is not "unconscionable." Any late fees charged by the landlord should be mentioned in the lease.
NSF Fee – The maximum allowable NSF fees are as follows:
$25 if the check is $50 or less;
$30 if the check is $300 or less;
$40 if the check is $800 or less;
5% if the check is greater than $800.
Source: § 832.062
Right to Enter (Landlord)
The landlord may access the property of the tenant by providing "reasonable notice," which is deemed to be at least 12 hours before entering. The landlord may only enter during "reasonable times," 7:30 a.m. to 8:00 p.m.
The landlord may enter for any of the following circumstances:
Consent by the tenant;
In the event of an emergency;
When the tenant unreasonably withholds consent; or
The tenant is absent from the property for half of the timeframe for periodic payments.
It is against Florida law for the tenant to abuse this right of access as a way to harass the tenant.
Source: § 83.53(2)
---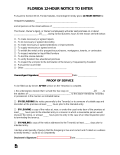 Florida 12-Hour Notice to Enter
Download: Adobe PDF, MS Word, OpenDocument
---
Video
Resources