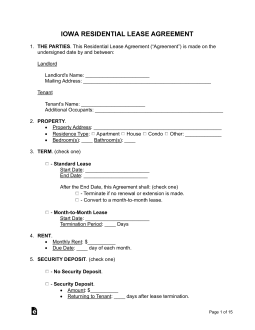 An Iowa lease agreement is a real estate contract used by a landlord when renting residential or commercial property to a tenant. In the lease, the tenant will agree to pay monthly rent and maintain the property until termination. Before a lease is signed, the landlord will perform a credit check and verify the tenant's income either through their employer, copies of pay stubs, or past tax returns. The tenant will be obligated to pay the first (1st) month's rent and any security deposit prior to moving into the premises.
Rental Application – Verification tool used by landlords and managers to identify the tenant and check with their information provided to ensure it is true and correct.
Table of Contents
Agreement Types (8)
---

Association of Realtors Agreement – Has the option to be written as a fixed or month-to-month arrangement for residential tenancies.
Download: Adobe PDF
---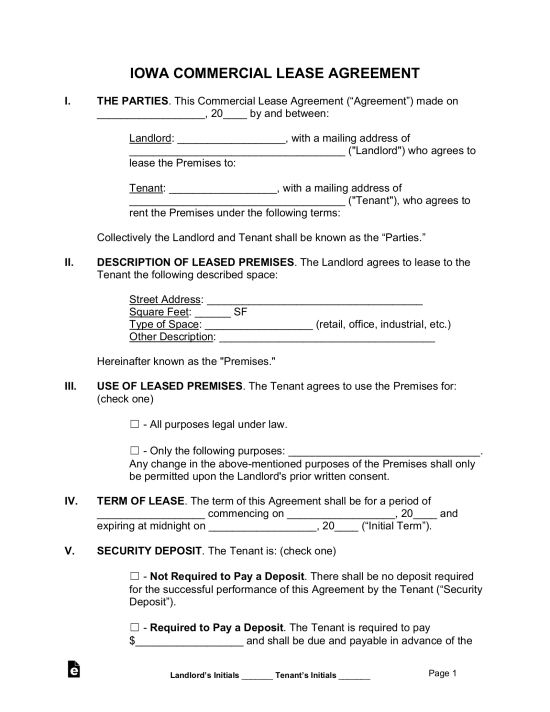 Commercial Lease Agreement – To be used for the renting of property for business purposes such as office, industrial, or retail space.
Download: Adobe PDF, MS Word (.docx), OpenDocument
---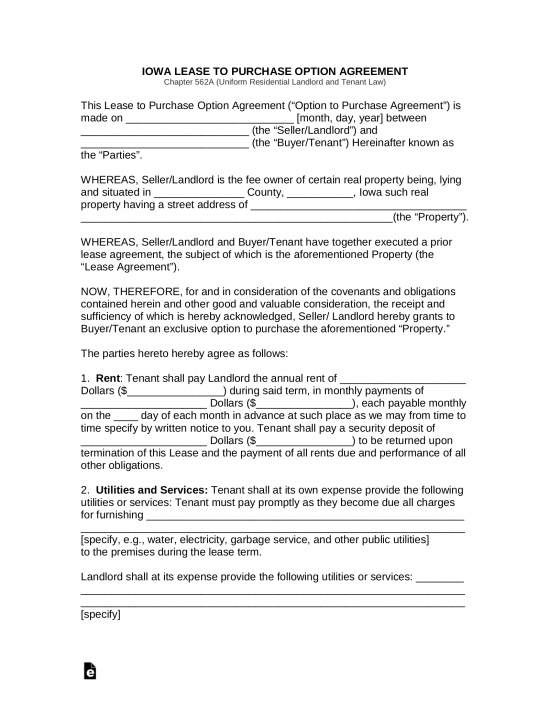 Lease with Option to Purchase (Lease to Own) Agreement – Standard residential contract with a time period for the lessee to elect to buy the property if they choose.
Download: Adobe PDF, MS Word (.docx), OpenDocument
---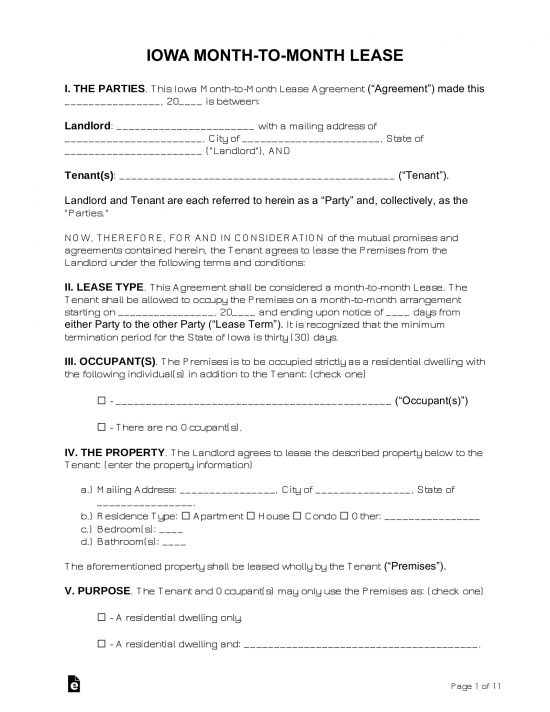 Month-to-Month Lease Agreement – Known as a tenancy at will and under § 562A.34 the landlord or tenant has the right to cancel with at least thirty (30) days' notice.
Download: Adobe PDF, MS Word (.docx), OpenDocument
---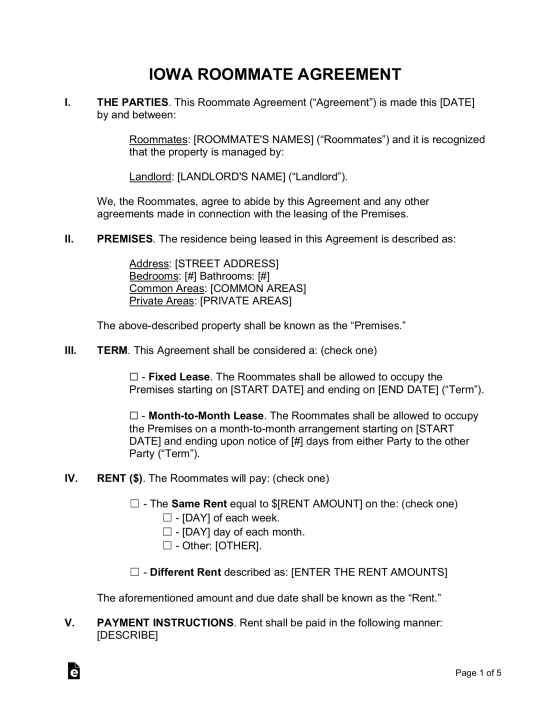 Room Rental (Roommate) Agreement – For the individuals renting the same space with separate bedrooms in order to manage the common areas and split the payments for utilities/services.
Download: Adobe PDF, MS Word (.docx), OpenDocument
---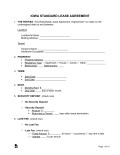 Standard Residential Lease Agreement – For a fixed-term residential agreement.
Download: Adobe PDF, MS Word (.docx), OpenDocument
---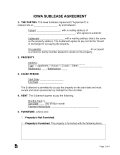 Sublease Agreement – When a tenant decides to rent the same property to someone else in order to cover them for the lease they are obligated under.
Download: Adobe PDF, MS Word (.docx)
---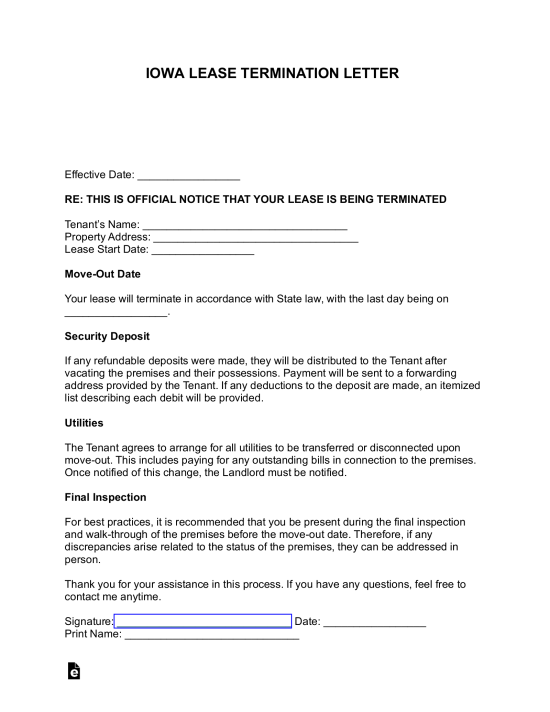 Termination Lease Letter – Form used to cancel a month to month rental arrangement in accordance with § 562A.34.
Download: Adobe PDF, MS Word (.docx), OpenDocument
---
Disclosures
Agent/Landlord Identification (§ 562A.13) – Person authorized to act in the place of the landlord must be listed in the contract in addition to the address where notices are received.
Lead-Based Paint Disclosure – Federal law that mandates landlords and managers to inform any new tenant of the possibility of lead-based paint if the property was built before 1978.
Shared Utilities (§ 562A.13) – Landlord must disclose if there are shared utility charges and the rate at which the charges and services are calculated and billed to the tenant.
Comprehensive Environmental Response Compensation and Liability Information System (§ 562A.13) – If the property is listed in this database, provided by the Federal Environmental Protection Agency, it must be known to the tenant in their contract. Refer to this Wikipedia page for more details and lookup specific site locations at NETRonline.
Security Deposits
Maximum (§ 562A.12) – The landlord may not charge more than two (2) months' rent from what is written in the rental contract.
Returning (§ 562A.12(3)(a)) – Landlord is required to give back the deposit within thirty (30) days from the date the tenant vacated the property.
Access
The landlord must give notice to the tenant within a twenty-four (24) hour period before entering the premises for maintenance, inspection, or any other type of issue except for emergencies (§ 562A.19).
Laws
Residential – Chapter 562A (Uniform Residential Landlord and Tenant Law)
(Video) What are the Iowa Rental Laws?