Updated October 18, 2023
A Montana rental agreement creates a binding arrangement between a landlord and a tenant for the use of commercial and residential property. Once all pages in the agreement have been initialed and signed, including the required disclosures, it becomes legally binding to both parties.
Rental Application
– To be used by the landlord to certify the tenant can afford the property by verifying income and employment.
Agreement Types (7)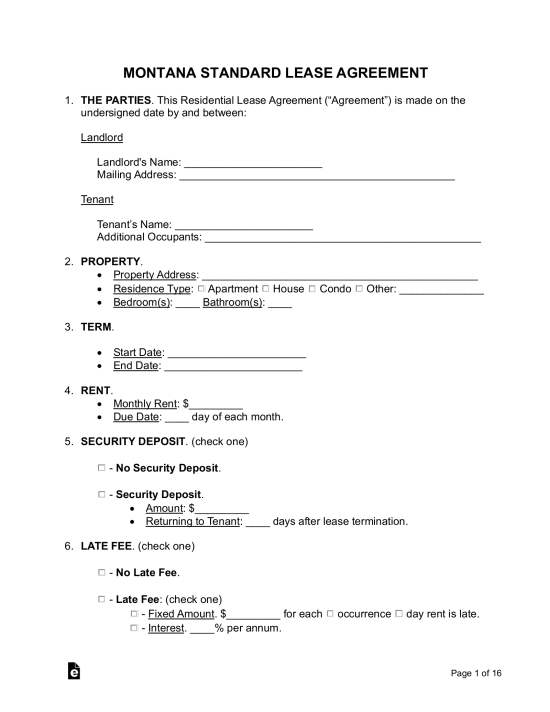 Standard Residential Lease Agreement – Typical fixed arrangement, usually 12 months, for any type of residence.

Download: PDF, MS Word, OpenDocument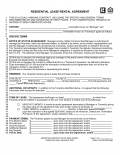 Association of Realtors Lease Agreement – To be used and written by a realtor when creating a rental contract between a landlord and tenant.

Download: PDF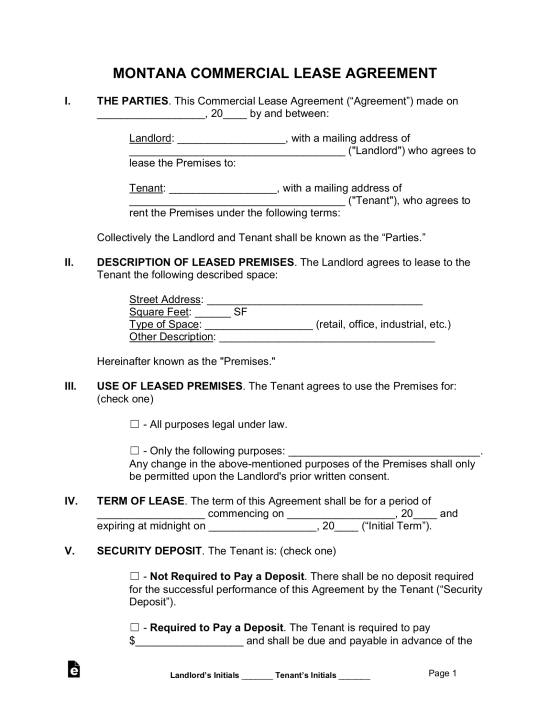 Commercial Lease Agreement – For space that is not livable, rather for a business or any type of non-residential use.

Download: PDF, MS Word, OpenDocument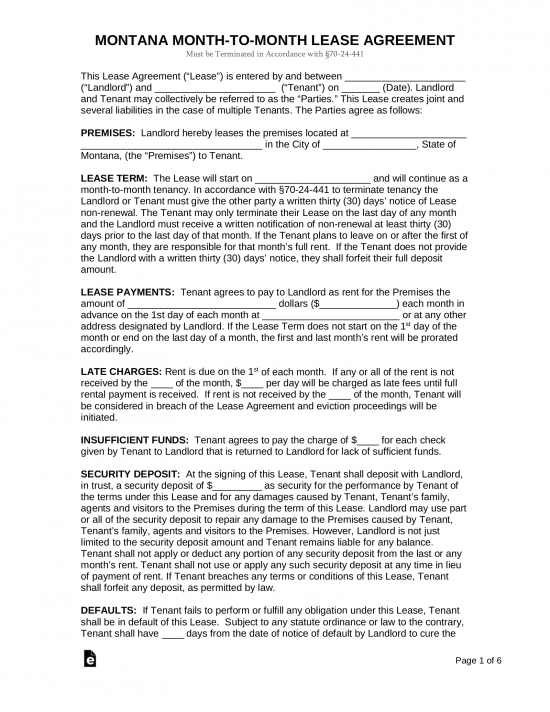 Month-to-Month Lease Agreement – Known as a tenancy at will with no end date, but according to § 70-24-441, it can be terminated with at least 30 days' notice.

Download: PDF, MS Word, OpenDocument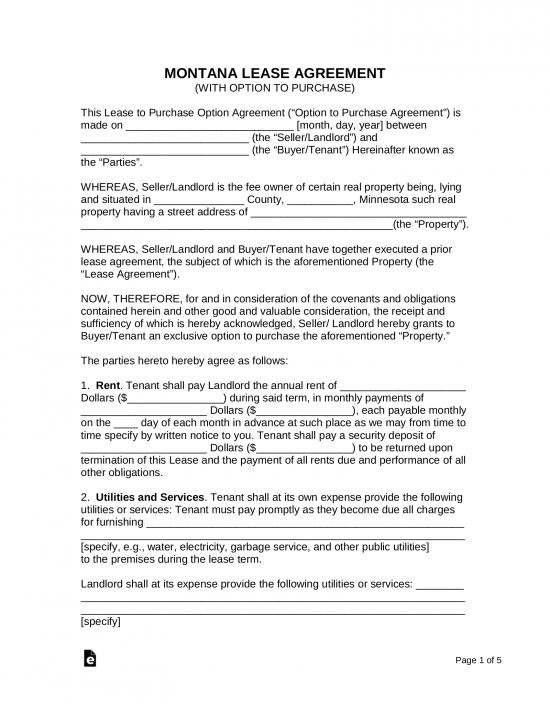 Rent-to-Own Lease Agreement – Form with the added benefit to the tenant of being able to purchase the property according to the option's conditions.

Download: PDF, MS Word, OpenDocument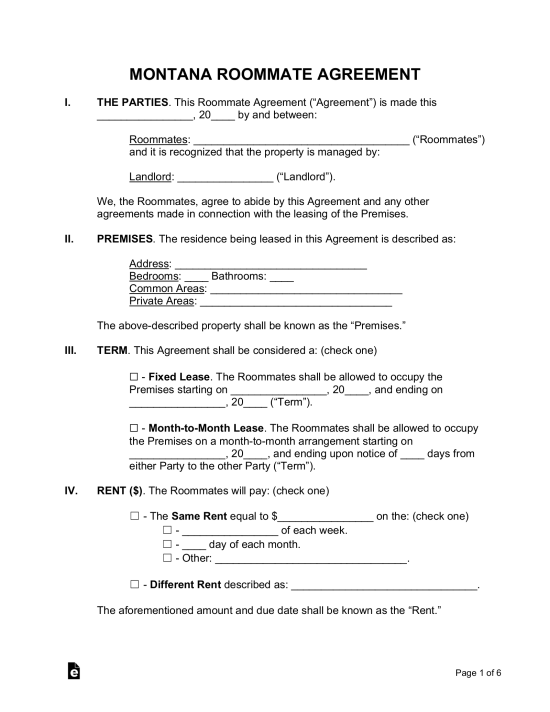 Room Rental (Roommate) Agreement – For the shared living arrangement of individuals in a common residential dwelling.

Download: PDF, MS Word, OpenDocument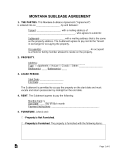 Sublease Agreement – Used when a tenant is seeking to elect someone else to take over the remaining responsibility on a lease they are bound to until its termination.

Download: PDF, MS Word, OpenDocument
Required Disclosures (5)
Lead-Based Paint Disclosure – It is required for all residences built before 1978 to notify tenants that the paint on the interior may contain this hazardous substance.
Mold Disclosure (§ 70-16-703) – Language is required in all rental contracts or this form to be attached to acknowledge that the landlord has no prior information about any mold existing on the premises.
Methamphetamine Drug Lab Disclosure (§ 75-10-1305(3)) – If the property has been used as a meth lab or has been contaminated by smoke from the use of methamphetamine, the landlord must disclose if the property has been remediated. This can be done by using the disclosure form and showing documents to the tenant submitted to the Montana Dept. of Environmental Quality that a licensed contractor remediated the property per the decontamination standards of § 75-10-1303.
Move-in Checklist (§ 70-25-206) – If the landlord accepts a security deposit, this document must be attached to the lease, and the tenant should inspect the property for pre-existing damage.
Landlord/Manager/Agent Identification (§ 70-24-301) – The person authorized to enter the premises must be stated in the lease in addition to an address for notices by the tenant.
Security Deposits
Maximum – No limit. The landlord may ask for as much as desired.
Returning (§ 70-25-202) – All funds must be returned to the tenant within ten (10) days if there are no deductions to the deposit. If there are deductions, an itemized statement must be given along with the funds being returned within 30 days.
When is Rent Due?
There is no law about when rent is due, meaning landlords and tenants may set a due date in the lease agreement. There is no grace period.
Maximum Fees
Late Rent – There is no law on the maximum fee a landlord can charge for late rent, but the fee should be in the lease agreement.
NSF Fee (§ 31-1-722) – $30 is the maximum amount a tenant can be charged for a bounced check.
Right to Enter (Landlord)
The landlord must grant at least twenty-four (24) hours' notice to the tenant before entering the premises, except in case of emergency. (§ 70-24-312)
Resources