Updated August 08, 2023
A New York lease agreement is a binding contract that allows a landlord to rent residential or commercial space to a tenant. It outlines the terms and conditions for the rental period such as responsibilities, monthly rent, and the end date.
Prior to signing, the landlord will require a fee to cover the cost of running a credit report on the applicant. Once approved, a lease will be signed between the parties with the first month's rent and a security deposit due prior to occupancy.
Rental Application
– Used by landlords to check the status of a tenant's credit, background, references, and any other requested information.
Agreement Types (10)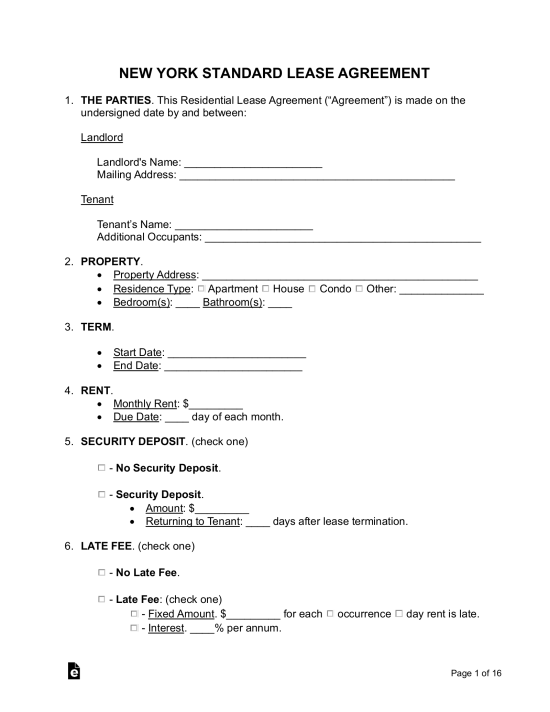 Standard Residential Lease Agreement – A fixed arrangement that is commonly for a one-year term.

Download: PDF, MS Word, OpenDocument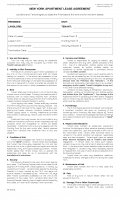 Apartment Lease Agreement – For a residential unit located in a multi-family.

Download: PDF, MS Word, OpenDocument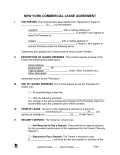 Commercial Lease Agreement – To be used by landlords seeking to rent space related to office, retail, or industrial use.

Download: PDF, MS Word, OpenDocument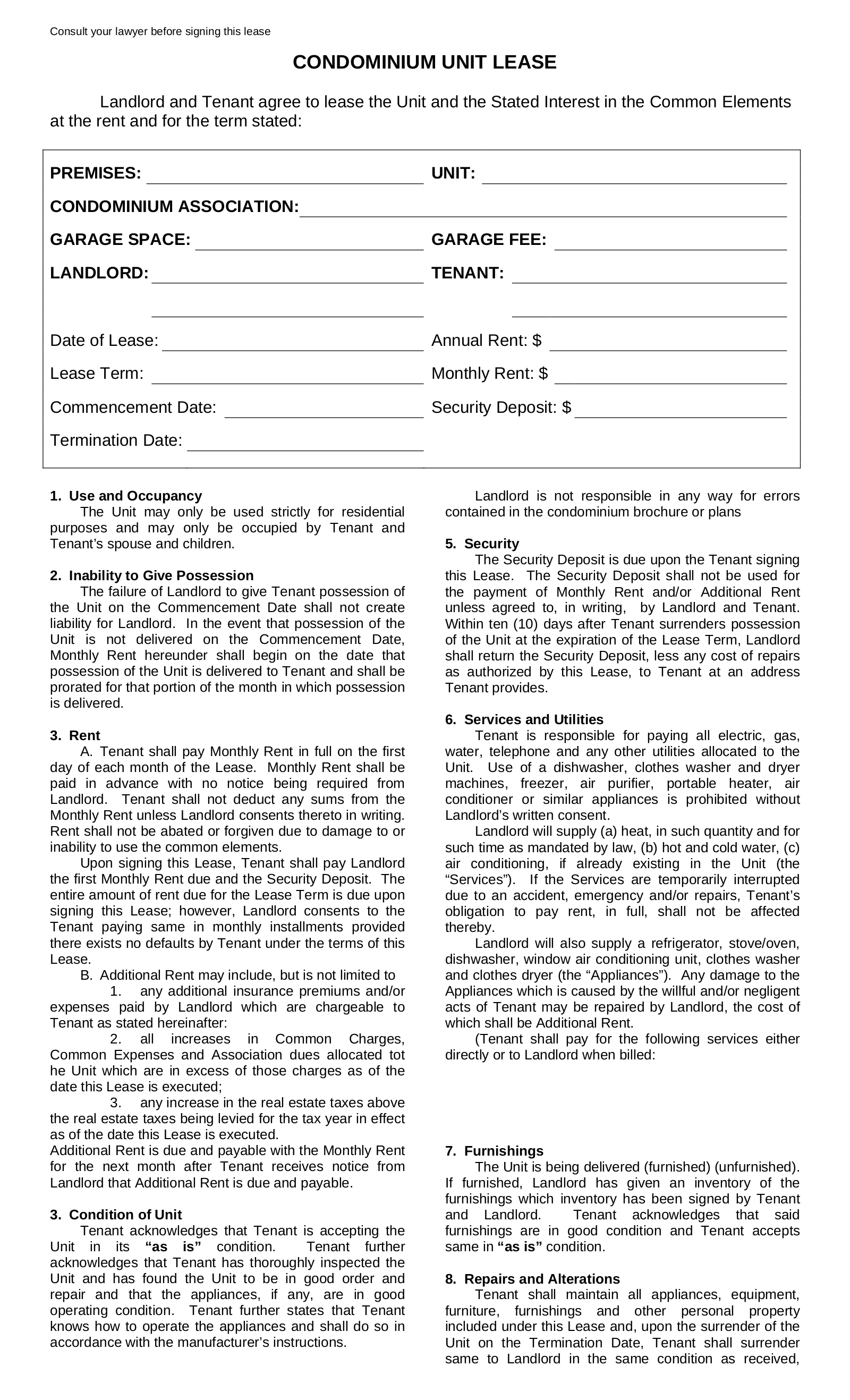 Condominium Lease Agreement – Residence that is usually owned in a property with other individuals sharing common space.

Download: PDF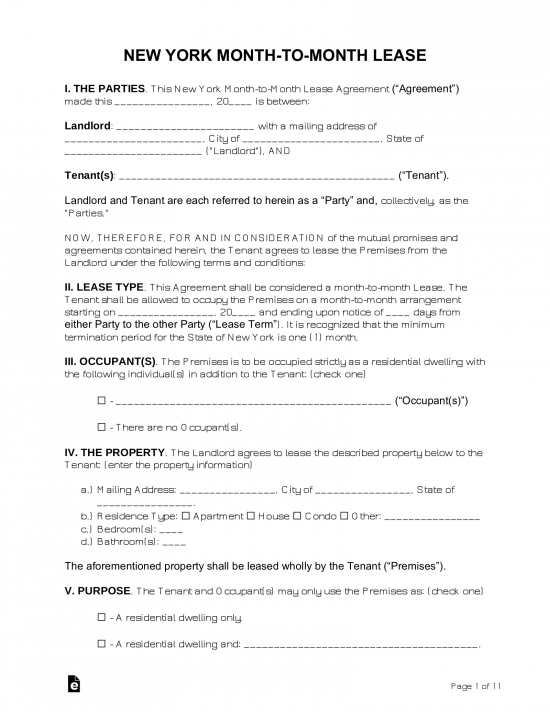 Month-to-Month Lease Agreement – Contract pursuant to § 232-b that can be canceled at any time with a notice of at least one month by either party.

Download: PDF, MS Word, OpenDocument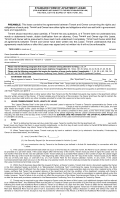 Real Estate Board of New York Lease Agreement – Fixed-term contract provided by the Real Estate Board of New York.

Download: PDF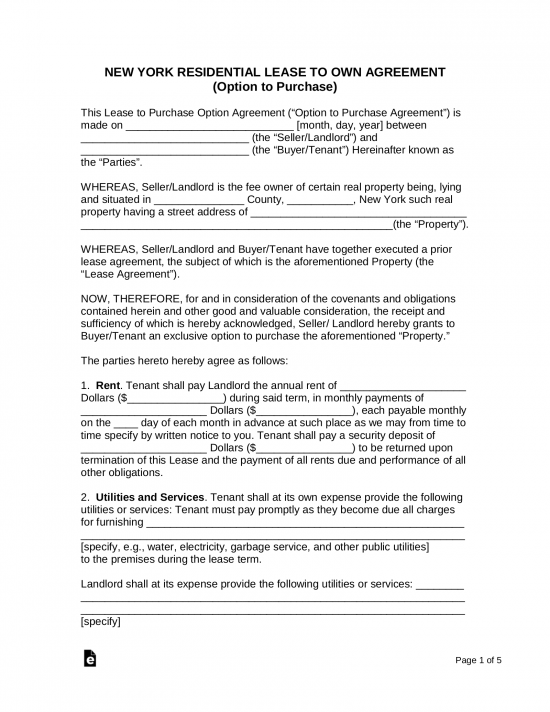 Rent-to-Own Lease Agreement – Tenant/buyer has the right to buy said property on terms agreed upon by the owner/lessor during the course of the occupancy.

Download: PDF, MS Word, OpenDocument
Room Rental (Roommate) Agreement – For the parties living in a shared home to explain the rules and fees of each living companion.

Download: PDF, MS Word, OpenDocument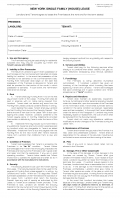 Single-Family Home (House) Lease Agreement – For a residential house that usually has a yard and driveway.

Download: PDF, MS Word, OpenDocument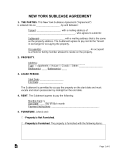 Sublease Agreement – Allows the original tenant to allow a subtenant to take over their lease for a partial or full lease term.

Download: PDF, MS Word, OpenDocument
Required Disclosures (11)
Allergen Hazards Disclosure (NYC Admin Code § 27-2017.1) (NYC ONLY) – The landlord is required to complete this disclosure and make an annual inspection of indoor allergen hazards such as mold, mice, rats, and cockroaches
Anti-Scald Valves (NYC Admin. Code § 27-2031) (NYC ONLY) – The landlord must equip all showers and bath faucets with scald valves with a maximum of 120 degrees Fahrenheit but not less than 110 degrees.
Bed Bug Disclosure (NYC Admin Code § 27–2018.1) (NYC Only) – Landlords are required to acknowledge the existence of bed bugs in the rental unit.
Copy of Signed Lease (Tenants' Rights Guide) (Rent Stabilized Tenants ONLY) – The landlord must give a signed copy of their lease within thirty (30) days of tenancy.
Flood History Disclosure & Risk Notice (Real Prop. Law § 231-b) – Residential leases must advise tenants of the previous flood history and current flood risk of the premises, including whether the property is located in a Federal Emergency Management Agency (FEMA) designated floodplain or if the property experienced any flood damage due to a natural flood event. Additionally, every residential lease must contain the following notice:
"Flood insurance is available to renters through the Federal Emergency Management Agency's (FEMA's) National Flood Insurance Program (NFIP) to cover your personal property and contents in the event of a flood. A standard renter's insurance policy does not typically cover flood damage. You are encouraged to examine your policy to determine whether you are covered."
Lead-Based Paint Disclosure – Per federal law requiring all residences built before 1978 for the landlord to issue this notice to inform the tenant of the hazardous paint within the walls and ceiling.
Security Deposit Receipt (GOB § 7-103) – If a deposit is accepted by the landlord, the name and location of the financial institution must be relayed to the tenant in writing.
Smoking Policy (NYC Admin Code 5, § 17-505) (NYC ONLY) – Buildings of three (3) or more units must have a policy outlining where smoking is prohibited.
Sprinkler Disclosure (Real Prop. Law § 231-A) – This must contain notice of whether or not a sprinkler system exists.
Stove Knob Covers (NYC Admin Code § 27-2046.4(a)) (NYC ONLY) – For tenants with children under six (6) years of age, the landlord must provide knob covers for gas-powered stoves.
Window Guards (NYC Admin Code § 27–2043.1) (NYC ONLY) – In the City of New York, if the tenant has a child that is ten (10) years of age or younger, the landlord is required to fit the apartment with window guards.
Security Deposits
Maximum Amount (N.Y. GOB §§ 7-108-1a(a)) – One (1) month's rent is the maximum allowable amount a landlord can charge.
Returning (N.Y. GOB §§ 7-108-1a(e)) – After the tenant has vacated the property, the landlord has fourteen (14) days to return the deposit.
Interest-Bearing Account (9 § 2505.4(a)) – Any deposit by the tenant must be held in an interest-bearing account.
When is Rent Due? (Grace Period)
A landlord cannot charge a late payment fee until after the five (5) day rent grace period (N.Y. RPL 238-A (2)).
If rent is not paid on the 6th day, the landlord can issue a 14-day notice to quit, allowing the tenant to pay the owed rent or move out of the property.
Late Rent
Maximum Penalty (N.Y. RPL 238-A (2)) – The landlord can charge $50 or 5% of the monthly amount, whichever is less, for the late payment of rent.
NSF Fee (Fact Sheet #44) – A maximum fee for a bounced check is not specified in the laws but must be mentioned in the lease if to be charged.
Right to Enter (Landlord)
The landlord has the right, by providing reasonable notice, to enter the tenant's property to make general repairs (Residential Tenants' Rights (Page 54), § 27-2008).
Resources