Updated November 06, 2023
Terms and conditions are a binding contract between a service provider (website or application) and a user that must operate within its bounds. Commonly found on a website's footer or when signing up, the terms and conditions include the user's rights when accessing its content and applications.
Main Purpose
Terms and conditions protect a business against liability and set rules regarding its products, services, applications, and content.
Also known as 
End-User License Agreement (EULA)
Terms of Service (TOS)
Terms of Use
By Type (9)
---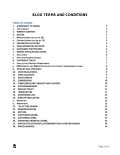 Blog Terms and Conditions – For a website with user-generated content that uses advertising or affiliate links for monetization.
Download: PDF, MS Word, OpenDocument
---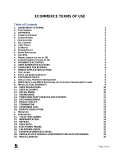 E-Commerce Terms and Conditions – Used by an online store offering products or services.
Download: PDF, MS Word, OpenDocument
---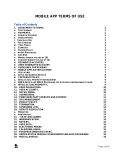 Mobile App Terms and Conditions – For either Android or iOS users, sets the rights regarding access and the use of an application.
Download: PDF, MS Word, OpenDocument
---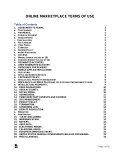 Online Marketplace Terms and Conditions – A legal disclaimer detailing the laws in which the marketplace operates between its customers/users.
Download: PDF, MS Word, OpenDocument
---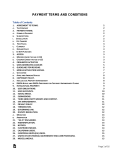 Payments Terms and Conditions – Legal clause(s) laying out the rules regarding how payments are accepted and refunded.
Download: PDF, MS Word, OpenDocument
---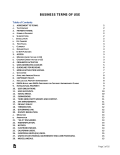 Small Business Terms and Conditions – A simple agreement/document detailing the legality in which a small business operates between its customers.
Download: PDF, MS Word, OpenDocument
---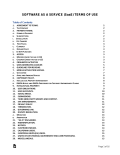 Software as a Service (SaaS) Terms and Conditions – A user signs up for an application that is billed on an annual or monthly basis.
Download: PDF, MS Word, OpenDocument
---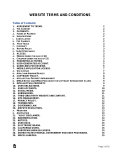 Website Terms and Conditions – A set of text allowing a website to establish a set of operating laws between the website and its users that are legally binding.
Download: PDF, MS Word, OpenDocument
---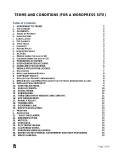 WordPress Terms and Conditions – For a website using the WordPress content management system.
Download: PDF, MS Word, OpenDocument
---
Are Terms and Conditions Required?
Terms and conditions are not required by law. Its main purpose is to protect and indemnify the website, not the user. The document will set basic rules and permissions for users to access and use their products, services, and content.
---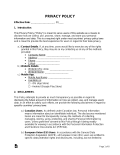 Privacy Policy – Is required if a website or application collects personal data from its users (e.g., email, user tracking, personal name, etc.).
Download: PDF, MS Word, OpenDocument
---
What Should be Included (8)
1. Business Information
This identifies the parties to the agreement. This should include the website's owner, including:
Business/entity name;
Business address; and
Website URL.
This section should also include an e-mail and any other contact information to contact support.
2. Payments
If payments are allowed for services, products, or to view premium content, its terms should be displayed, including refund policies.
Free Trials – Popular for subscription services, terms for a free trial should be mentioned if it exists.
Subscriptions – If a subscription service is offered, its pricing and cancellation terms should be included.
In-App Purchases – If the website also offers a mobile app on a 3rd-party platform, it should reference if a payment on the website can be transferred to premium services on the app.
3. User Accounts
For websites that allow the creation of profiles, users accept responsibility for activities that occur within their accounts. Such responsibility includes:
Communication – If communication can be made publicly, privately, or to other members, such messages or posts be polite and not engage in harmful activity.
Sharing – If only specific information can be obtained by a paid account, such intellectual property is not to be shared publicly.
User Access – That the profile of a user is not shared or accessed by those not permitted.
The website holds the right to terminate any account, cancel orders, and remove content at its sole discretion.
4. Age Restriction (18+)
Most websites require that minors obtain permission from a parent or guardian before accessing the website.
For minors and children under the age of thirteen (13) years old that are permitted access, the website owner should ensure that all pages are in accordance with the Children's Online Privacy Protection Act (COPPA) (see Frequently Asked Questions).
5. Intellectual Property
Informs the user that any and all materials, services, and products on the site are the website's property. This statement protects the website from any user potentially reproducing or redistributing such intellectual property in any way.
This protects any content, data, research, documents, trademarks, copyrights, and other legally protected property.
6. Privacy Policy
Namely to mention the existence of a privacy policy and enter its location on the site (such as its URL). A privacy policy is required for a website with users from the USA, European Union (EU), and many other countries if trackable data is captured.
7. Indemnification
The website is not liable for any damages due to the nature of the content or its misuse. All users, when accessing, agree to defend and hold harmless the website for any type of activity.
3rd Party Websites – If there are integrations and/or links to 3rd party websites, there is no responsibility regarding its contents and any actions that may occur. This clause will waive any liability towards the recommending website.
8. Governing Law
Protects the website from any laws that are outside of their jurisdiction. It also informs users where to bring any disputes for legal purposes.
Related Policies
---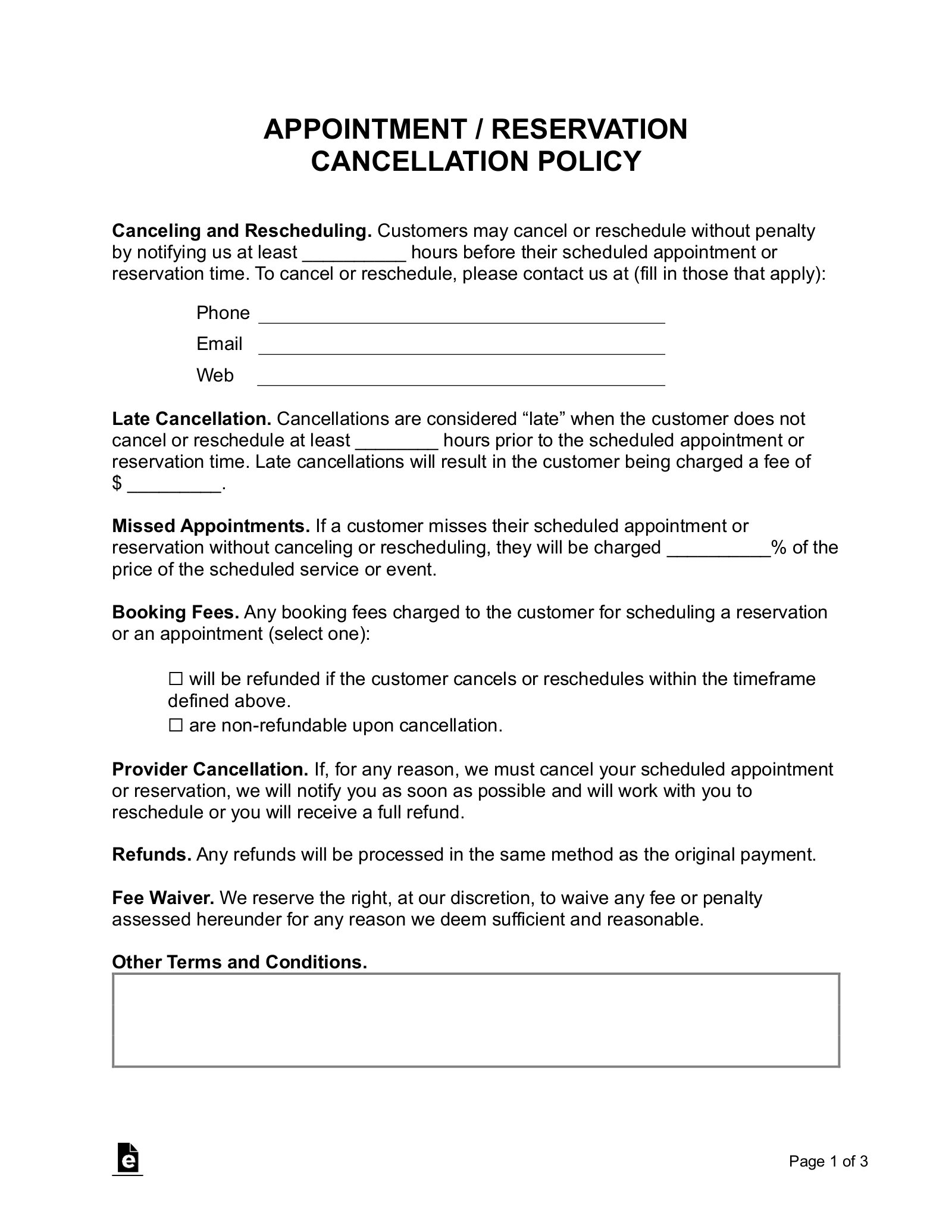 Cancellation Policy – For limiting when, how, and why someone can cancel an appointment/service or order.
Download: PDF, MS Word, OpenDocument
---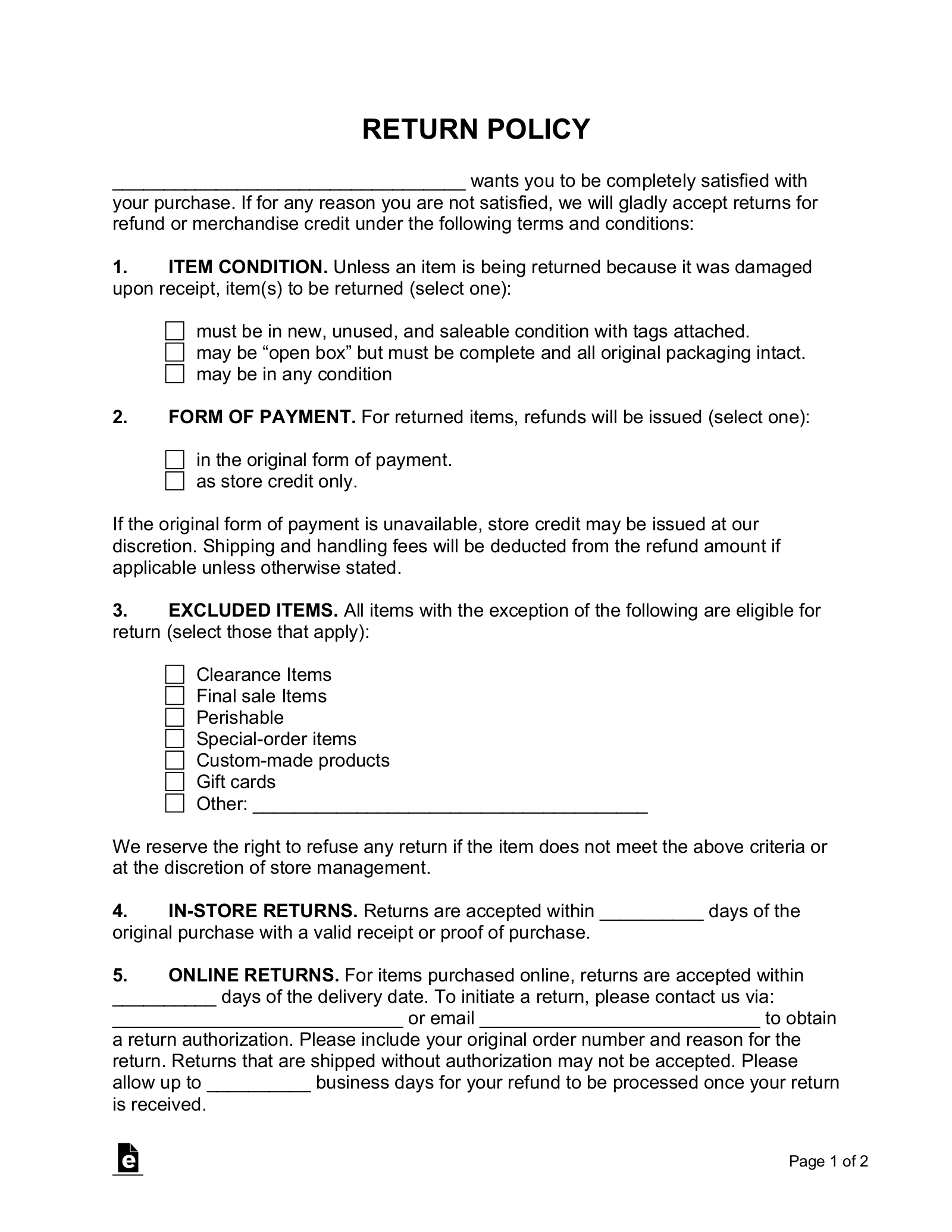 Return Policy – For stipulating how a company handles returns and refunds.
Download: PDF, MS Word, OpenDocument
---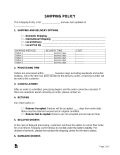 Shipping Policy – For creating an online shipping policy for a website selling products.
Download: PDF, MS Word, OpenDocument
---