Updated March 10, 2023
An Alabama lease agreement is a rental contract between a landlord that rents their property to a qualified tenant. The landlord is recommended, although not required, to obtain the individual's credit, background, and employment information before signing any real estate contract to ensure that the agreed-upon rental payment will be paid on time.
Rental Application
– Should be used by the landlord before authorizing any type of lease agreement with a commercial or residential tenant.
Agreement Types (6)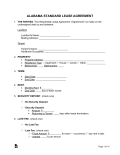 Standard Lease Agreement – A fixed contract that is usually for a length of one year.
Download: Adobe PDF, MS Word (.docx), OpenDocument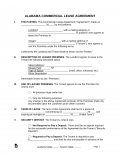 Commercial Lease Agreement – Any type of commercial type of property including but not limited to: retail (restaurants, stores, etc.), office, and industrial (warehouse, manufacturing, etc.).
Download: Adobe PDF, MS Word, OpenDocument
Month-to-Month Lease Agreement (§ 35-9A-441(b)) – Sets the terms and conditions with no end date. Either party may cancel with at least 30 days' notice.
Download: Adobe PDF, MS Word, OpenDocument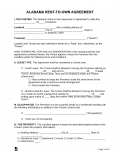 Rent-to-Own Lease Agreement – Grants the option to purchase real estate while renting from the Landlord/Seller.
Download: Adobe PDF, MS Word, OpenDocument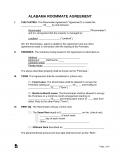 Room Rental (Roommate) Agreement – Accept a new tenant into a residence to occupy a room and share the living quarters.
Download: Adobe PDF, MS Word, OpenDocument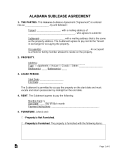 Sublease Agreement – To allow a tenant currently in a binding lease to be able to re-rent the existing property to another person ("sublessee"). Landlord's consent is usually required.
Download: Adobe PDF, MS Word, OpenDocument
Required Disclosures (2)
Lead-Based Paint Disclosure – Required for all housing structures built before 1978.
Owner/Manager Identification (§ 35-9A-202) – All agreements must state the person in charge of maintaining the premises, whether the landlord or someone instructed to act on their behalf.
Security Deposits
Maximum Amount (§ 35-9A-201(a)) – The landlord may request a maximum amount of one (1) month's rent. This does not include any other fees for pets, extra liabilities based on the tenant, or any changes requested by the tenant on the premises.
Returning (§ 35-9A-201(b)) – The landlord must return the deposit within sixty (60) days after the termination of the agreement.
When is Rent Due? (Grace Period)
Rent is due on the day mentioned in the lease agreement, usually the 1st day of the month (§ 35-9A-161). If rent is not paid, the landlord can start eviction proceedings by administering a 7-day notice to quit.
There is no grace period for rent in Alabama.
Late Fees
Maximum Penalty – There is no statutory limit on the late fee amount if the rent is late. Any late fee is recommended to be written in the lease agreement.
NSF Fee (§ 12-17-224) – $30
Right to Enter (Landlord)
The landlord must present two (2) days' notice before accessing the property for maintenance, repairs, or showings (§ 35-9A-303).
Video
Resources