Updated August 04, 2023
An Arkansas lease agreement is a contract a landlord may use to rent a property to a qualified tenant. A lease is written after a tenant has shown interest in the property and negotiates with the landlord the terms of an agreement. The landlord will run a credit report and verify their income through their employer or past tax returns. If approved, the landlord will write a lease for both parties to sign. At the time of lease signing, the tenant will be obligated to pay the security deposit and the first month's rent.
Rental Application
– Before the lease is signed, tenants may undergo a credit check and employment/income verification.
Agreement Types (6)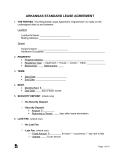 Standard Lease Agreement– Fixed term of typically 12 months for any type of residential property, including an apartment, condominium, or house.

Download: PDF, MS Word, OpenDocument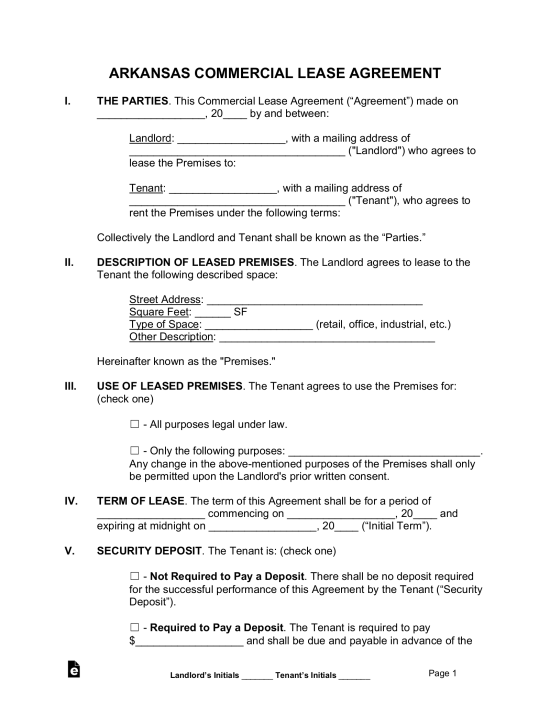 Commercial Lease Agreement – Designed for a business or individual seeking to operate from either office, retail, or industrial space.

Download: PDF, MS Word, OpenDocument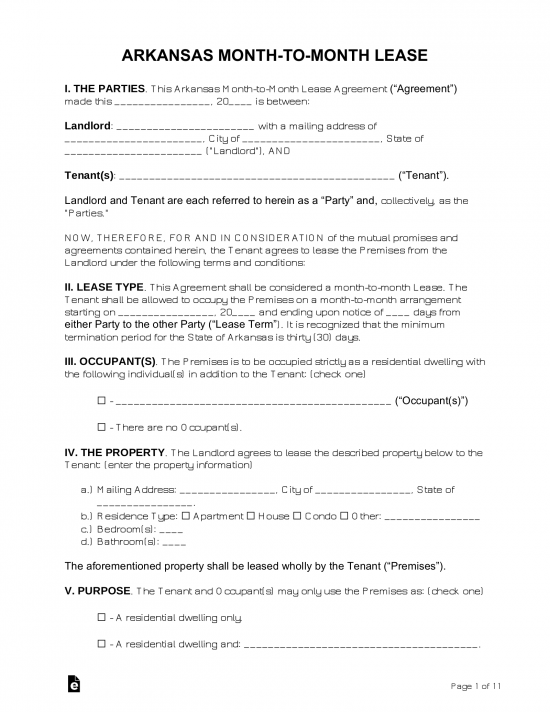 Month to Month Lease Agreement (§ 18-17-704) – Known as a "tenancy at will." The occupancy period renews automatically with payment and ends upon at least 30 days written notice (unless the contract states otherwise).

Download: PDF, MS Word, OpenDocument
Rent-to-Own Lease Agreement – A standard template with the option of purchasing within a certain period.

Download: PDF, MS Word, OpenDocument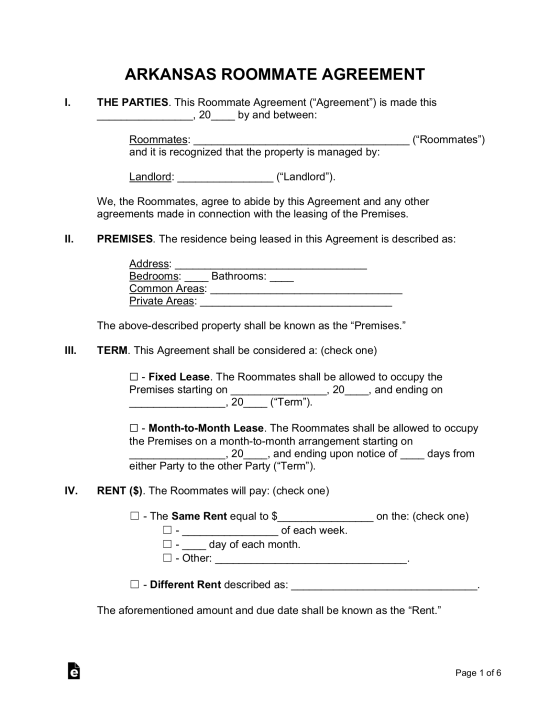 Room Rental (Roommate) Agreement – Between the members of a home where each rent a bedroom and has shared common areas.

Download: PDF, MS Word, OpenDocument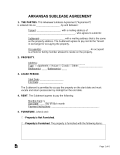 Sublease Agreement– Allows a tenant to let another individual occupy, and payments may be made payable to either themselves or to the landlord directly.

Download: PDF, MS Word, OpenDocument
Required Disclosures (1)
Lead-Based Paint Disclosure – Required for any housing structure built prior to 1978 as the harmful substance may be in prior layers of paint and pose a danger with any cracking or chipping walls.
Security Deposits
Maximum (§ 18-16-304) – The landlord may not charge more than two (2) months' rent to the tenant.
Returning (§ 18-16-305) – All funds must be returned to the tenant within sixty (60) days. If the landlord cannot find or get in contact with the tenant for up to one hundred and eighty (180) days after the termination date, then the money becomes the property of the landlord.
When is Rent Due? (Grace Period)
Rent is due at the time and place agreed upon in the rental agreement (§ 18-17-401(b)(1)).
There is no rent grace period in Arkansas.
Late Fees
Maximum Penalty – No statute. The landlord can charge as much as desired as a late fee.
NSF Fee – The landlord may charge a maximum fee of $30 for a check paid with insufficient funds (§ 5-37-307(c)).
Right to Enter (Landlord)
No State law or statute requires a landlord to give notice to a tenant before entering the premises. Although, it is highly recommended to give at least 24-hour notice.
Resources