Updated May 25, 2023
A Maryland lease agreement allows a landlord and tenant to create a rental contract for the renting of property for either commercial or residential property. After the tenant approves the space, the parties will begin negotiations over rent and each party's responsibilities during the lease.
After negotiating, the landlord will typically run a credit report and verify the tenant's employment. After approval by the landlord, a rental contract should be drafted and signed.
Rental Application
– Form used by a landlord to verify that a potential tenant is able to pay rent on time and that their previous renting history was well received.
Agreement Types (7)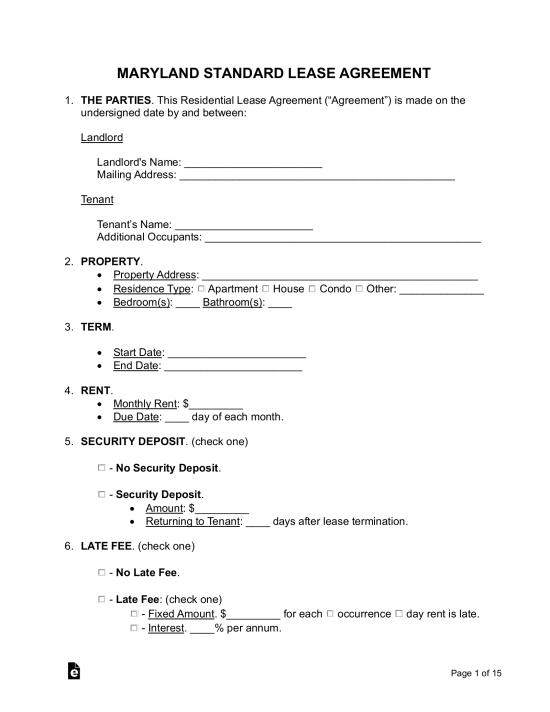 Standard Residential Lease Agreement – To be used for residential tenancies with a start and end date.

Download: Adobe PDF, MS Word, OpenDocument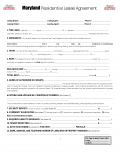 Association of Realtors Lease Agreement – For a residential property where a licensed Realtor s facilitating the transaction between a landlord and tenant.

Download: Adobe PDF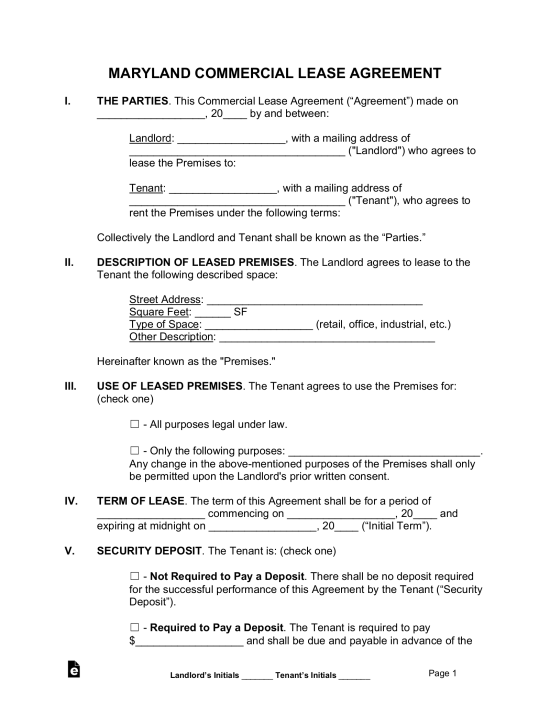 Commercial Lease Agreement – For the purpose of a business use such as storage, retail (store), industrial, office, and any other commercial type.

Download: Adobe PDF, MS Word, OpenDocument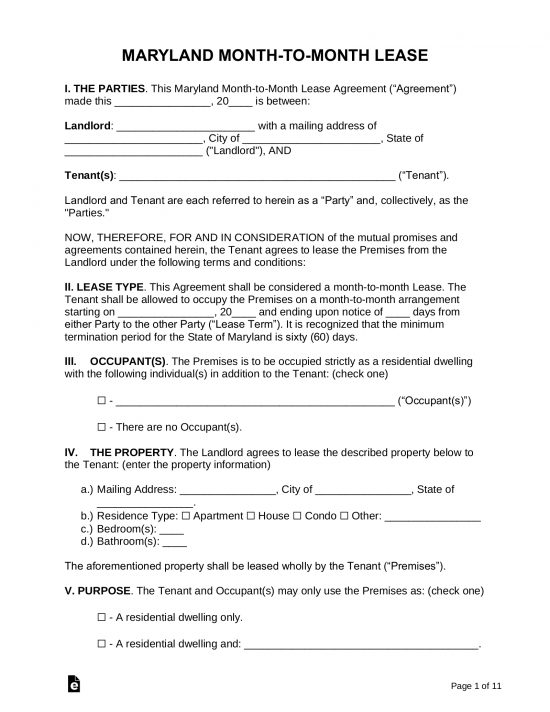 Month-to-Month Lease Agreement – Also known as a "tenancy at will," has a commencement date and must be ended with at least one month's notice, according to § 8-402.

Download: Adobe PDF, MS Word, OpenDocument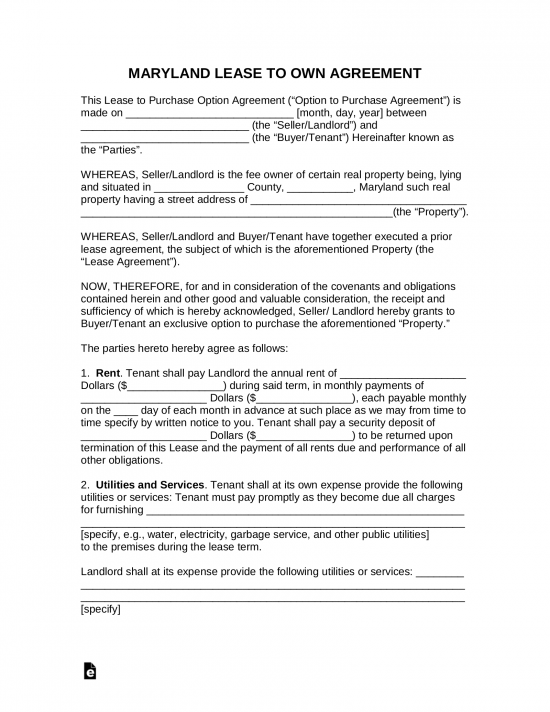 Rent-to-Own Lease Agreement – Typical residential contract which also has a provision that includes an option to purchase the property.

Download: Adobe PDF, MS Word, OpenDocument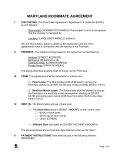 Room Rental (Roommate) Agreement – For the individuals in a shared housing arrangement so that they may be able to set parameters around the payment of bills and the usage of common areas.

Download: Adobe PDF, MS Word, OpenDocument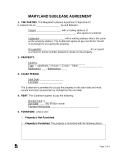 Sublease Agreement – For a tenant seeking to have someone else pay rent in return for letting them live in a residential space for a part of the remainder of their lease term.

Download: Adobe PDF, MS Word, OpenDocument
Required Disclosures (6)
Agent/Landlord Identification (§ 8-210) – The landlord and anyone allowed onto the premises must be mentioned.
Lead-Based Paint Disclosure – Only required for residences built prior to 1978 for landlords to inform their tenants of the potential of dangerous lead within the walls and ceiling.
Move-in/Move-out Checklist (§  8-203.1(a)) – The right to have the dwelling unit inspected by the landlord in the tenant's presence for the purpose of making a written list of damages that exist at the commencement of the tenancy, if the tenant so requests by certified mail within 15 days of the tenant's occupancy.
Habitability (§ 8–208) – A statement must be included in the lease agreement that states the property will be in a condition that permits habitation and list the tenant's responsibility as to heat, electricity, gas, water, and any necessary repairs.
Ratio Utility Billing System (RUBS) Disclosure (§ 8-212.4) – This disclosure only applies to landlords who use a ratio utility billing system to bill tenants for one or more utilities. This requirement does not apply to rental properties considered condominiums as defined in § 11-101(e) or to cooperative projects pursuant to § 5-6B-01(i).
Security Deposit Receipt – A receipt must be given to the tenant if a deposit was made. The receipt must also list the tenant's rights as listed in § 8–203.1.
Security Deposits
Maximum Amount (§ 8–203(b)(1)) – The landlord may ask for a maximum of two (2) months' rent from a new tenant.
Returning (§ 8–203(e)(1)) – The landlord must return all funds, minus any itemized deductions, to the tenant within forty-five (45) days from the date of ending the tenancy.
Itemized Deductions

– Must be supported by a detailed statement of costs with additional documentation that identifies the materials or services provided by the landlord.
When is Rent Late? (Grace Period)
Rent is due on the date mentioned in the lease agreement. If rent is paid after the due date, a late fee or an eviction proceeding may occur.
The landlord has the option to submit a 10-day notice to quit to the tenant if rent is late (§ 8–401(b)(3)).
Late Fees
Maximum Penalty (§ 8-208(b)(3)) – 5% of the monthly rent amount. For weekly rentals, the penalty can be more than $3 per week but no more than $12 per month.
NSF Fee (§ 15-803(a)) – $35 is the maximum service fee that can be charged for a dishonored check.
Right to Enter (Landlord)
Maryland has no statutes regarding the right of entry by the landlord. Although, it is recommended that the landlord give written notice to the tenant, usually 24-48 hours, prior to entry and to schedule the time during regular business hours (9 am to 5 pm).
Video
Resources