Updated August 08, 2023
A Texas lease agreement is a legal document that allows a landlord to rent property to a tenant for monthly payment. Before signing, the landlord is recommended to verify a prospective tenant's credit report and employment. If the tenant is qualified, the landlord will write a lease for the parties to sign. The documents may be used for commercial or residential property.
Rental Application
– For the use of verifying the tenant's employment, background, and any other information provided to ensure they are fit for the landlord's property.
Agreement Types (7)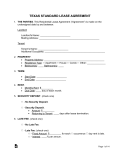 Standard Residential Lease Agreement – Most common fixed-term contract.

Download: PDF, MS Word, OpenDocument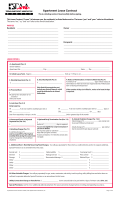 Apartment Association Lease Agreement – Provided by the Apartment Association of Texas.

Download: PDF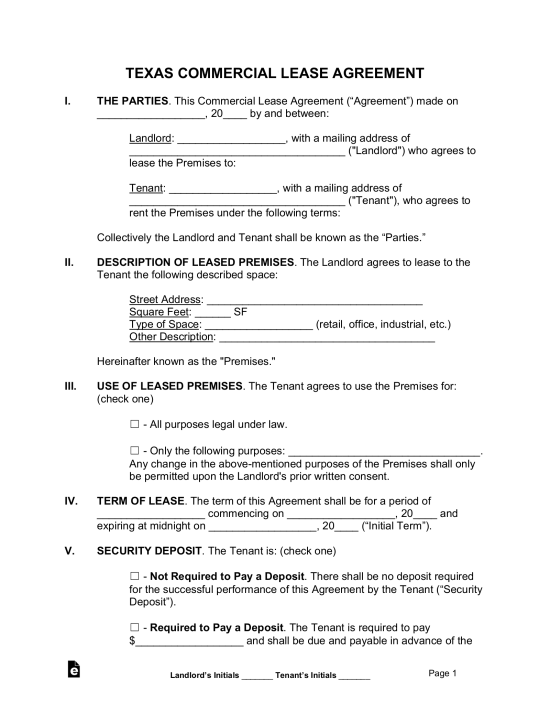 Commercial Lease Agreement – Between a landlord and tenant of a property to be used for a business or professional use such as office, industrial, or retail-related.

Download: PDF, MS Word, OpenDocument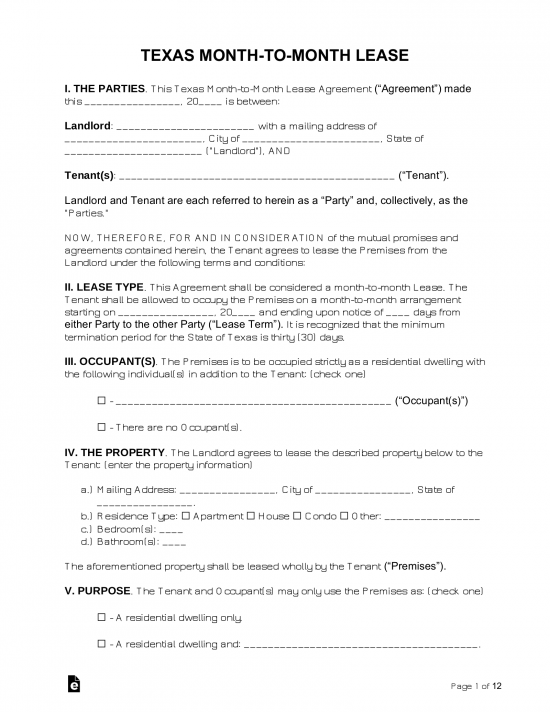 Month-to-Month Lease Agreement (Sec. 91.001) – Can be canceled at any time with at least one month from the landlord or tenant. However, the contract may have other terms for termination as long as both the landlord and tenant agree.

Download: PDF, MS Word, OpenDocument
Rent-to-Own Lease Agreement – Standard residential contract with an added clause that allows the tenant to buy the premises.

Download: PDF, MS Word, OpenDocument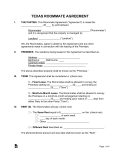 Room Rental (Roommate) Agreement – For the individuals involved in a housing arrangement that is shared with each party receiving a bedroom and allocate the common expenses amongst themselves.

Download: PDF, MS Word, OpenDocument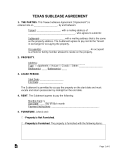 Sublease Agreement – For the use of a tenant that would like to rent their space to someone else also known as a "sublet." Most real estate contracts ask for the landlord's consent before the subtenant may be authorized on the premises.

Download: PDF, MS Word, OpenDocument
Required Disclosures (5)
Agent/Owner Identification (§ 92.201) – It must state in the contract the individual/entity on the deed of record (owner) of the premises including their name and official address. Any managers or persons on-site with access to the property must also be mentioned.
Lead-Based Paint Disclosure – A federal law for all housing units built before 1978 that requires landowners to inform their tenants of hazardous lead paint in the undercoatings of the walls and ceiling.
Parking Rules Addendum (PDF | MS Word | ODT) (Sec. 92.0131)  – Included must be an addendum or language in capital letters titled 'PARKING RULES' which state the towing or policies towards the tenant's right to place vehicles on the premises. If the rules are attached to the lease as an addendum, it must be acknowledged by the tenant's signature.
Special Conditions to Cancel Agreement (Sec. 92.016(2)(f)) – Every lease must contain this clause that states the following:
"Tenants may have special statutory rights to terminate the lease early in certain situations involving family violence or a military deployment or transfer".
The statute also requires a 30-day written notice of termination by the tenant in such an event.
Tenant's Remedies (Sec. 92.056) – The landlord must write the tenant's remedies if a repair is not completed within a reasonable time frame (seven (7) days). This language must be in either bold or underlined font.
Security Deposits
Maximum Amount – There is no limit to how much the landlord may request for the deposit.
Returning (Sec. 92.103) – The landlord must return any and all funds within thirty (30) days of the tenant surrendering the property.
When is Rent Due? (Landlord)
There is a two (2) day grace period. The tenant has two (2) additional days after the due date to pay rent without incurring a late fee (Sec. 92.019(3)).
If rent is not paid after the grace period, the landlord can charge a late fee and begin the eviction process by sending a 3-day notice to quit.
Late Rent
Maximum Penalty (Sec. 92.019(a-1)) – The late fee cannot be more than:
12% of the monthly rent for residential properties with

four (4) or fewer units

; and
10% of the monthly rent for residential properties with

five (5) or more units

.
NSF Fee (Business and Commerce Code Section 3.506 (b)) – $30 is the maximum amount a landlord can charge a tenant for a bad check.
Right to Enter (Landlord)
There are no laws related to the tenant's right to advance notice by the landlord prior to entry. Although, it is recommended for the landlord to provide written notice, generally within 24 hours, before entering the tenant's rental property.
Resources